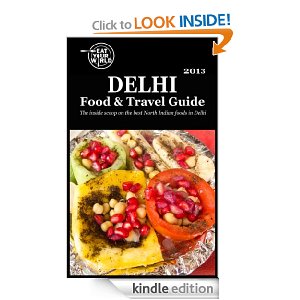 Traveling to Delhi? The local food scene can be pretty overwhelming there: What's safe to eat? Where should I go? Why am I lost (again) in the congested backstreets of Old Delhi?? We've been there, done that, and put together this, our third destination guide on Kindle, just for you.
The Delhi Food & Travel Guide includes 43 quintessential dishes and drinks from the Indian capital, and tells you exactly where to find them. It also includes a bonus restaurant guide and Agra food guide, for Taj Mahal visitors. Like our existing Amsterdam and London guides, it's conveniently downloadable to your Kindle, smartphone, or tablet for just $3.99.
Check it out on Amazon!
About the Delhi Food & Travel Guide: "Delhi, India's high-profile capital, is truly a culinary melting pot, and a food culture to the core: Good eats are everywhere—on street corners, in temples, on trains, in restaurants of countless cuisines—and when people aren't eating, they're drinking (tea, usually). But in this dynamic, perpetually traffic-clogged city of 22 million (give or take), finding authentic local food can be intimidating—and highly regrettable if you eat the wrong thing in the wrong place. Well, this guide has done the delicious dirty work for you. These 43 traveler-tested, EYW-approved foods and drinks are your crash course in real-deal Delhi cuisine: the Mughlai- and Punjabi-derived dishes (the bold spices, creamy curries, and hearty breads that dominate northern India), the tangy-spicy street chaat, the Muslims' kebabs, the Hindus' vegetarian specialties. It will take you from the back alleys of labyrinthine Old Delhi to the bustling Connaught Place business district, from an upscale tea room to a streetside breakfast vendor. As a bonus, this eBook also includes a local-food guide for Agra, the nearby site of the Taj Mahal."