If you had to choose one quintessential dish to represent your hometown, what would it be?
This is a question we at Eat Your World ask ourselves, and everyone we meet, all the time—though we ultimately step it up from one dish to, say, 40. (We never said we were completely sane.) It's a question we relish asking again and again for every new place we visit, each answer a unique culinary discovery we couldn't have made anywhere else.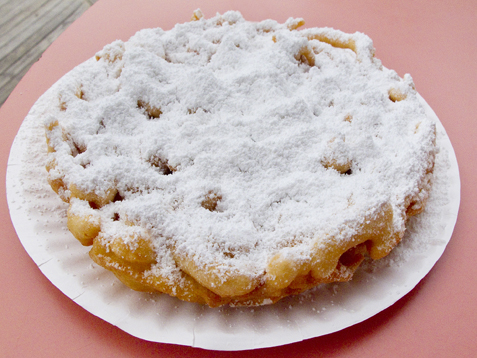 We started, of course, with our own hometowns, both original and adopted: the Jersey Shore and New York City, respectively. In New Jersey I loved revisiting the pork roll and cheese sandwich—at one point my favorite school-cafeteria lunch, I must admit—of my youth, the boardwalk funnel cake I grew up craving (pictured above), and the staple sub sandwich my family still brings to the beach every summer. In New York it was hardly work to make extra bagel runs (below) and indulge in cheesecake taste tests with friends, in the name of celebrating the city's many iconic foods. We're not even done yet—soon we will be paying tribute to Chinatown via the beloved soup dumpling. And we just may get around to giving the more recent trend of cupcakes some airtime on the site.
We've realized, in the course of slowly building up our New York City content, that it's easy to get a little lax about the place in which you live, to think you'll "do it one day"—this is precisely why many New Yorkers will reluctantly admit they haven't yet tried the pastrami at Katz's (below), or been to the Metropolitan Museum of Art, for that matter. It's also sometimes more difficult to think objectively about the foods that really speak to your city, because they're so close to you. You might not realize that the pedestrian dish you grew up eating in your hometown could be very interesting for a foreigner to try.
It's time our hometowns got the credit they deserve. We hereby declare May to be Hometown Foods Month. We want to hear from you, via photos, Food Memories, and comments, about the quintessential dishes and drinks in your own backyards. We want you to tell the world what your hometown has to offer the annals of gastronomy, no matter how minor it seems. We are practicing what we preach, too: Just today we paid heed to the evolving brand of Italian-American food in Little Italy.
So, once again: If you could choose one quintessential dish to represent your hometown, what would it be?
Get uploading here.