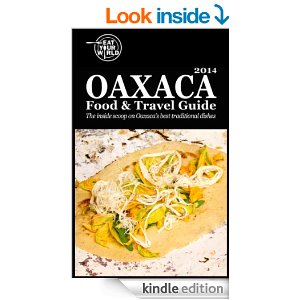 Lucky number 7! We're pleased to announce our seventh destination guide on Kindle: the Oaxaca Food & Travel Guide, now available on Amazon.com. Oaxaca is celebrated for its cuisine, but knowing what to look for—and where to find it, particularly when it comes to navigating the labyrinthine markets and choosing street vendors—is essential. Enter our latest guide, which directs you to 40 delicious dishes and drinks in Oaxaca, from the best tamales and empanadas to the harder-to-find, veggie-fresh sopa de guias. And mole, of course! Aside from our usual How to Burn It Off and Where to Stay info, this guide also includes some bonus recipes from renowned Oaxacan chef, Pilar Cabrera.
Like our existing guides, it's conveniently downloadable to your Kindle, smartphone, or tablet for just $3.99.
Mole in Oaxaca
About the Oaxaca Food & Travel Guide: You may know about the moles and the mezcal, but what of the tlayudas and tostadas de salchicha? How about the most Oaxacan of empanadas and tamales, the classic market breakfasts and street paletas? It's easy to unwittingly miss Oaxaca's best food—the real local stuff—simply because you're not sure how to navigate the sprawling markets, which vendors are vouched for, what exactly to order and where. That's where this guide from Eat Your World comes in, pointing you to 40 proudly regional and undeniably delicious dishes and drinks from our favorite market fondas, street stalls, cafes, and restaurants in the gorgeous city of Oaxaca. Don't leave home without it!