Find a good sticky toffee pudding between Olympic events!
Maybe you are among the lucky few (OK, millions) who have scored tickets to the 2012 Summer Olympics, or maybe you're just heading to London to spectate and soak up the infectious camaraderie that will flood the city by the July 27 starting date. In either case, you won't want to travel too far from the main venues and viewing areas—and you'll have to eat. Why not celebrate the host city this year by eating good, authentic British food at EYW-approved restaurants, cafes, and markets near the Games' hot spots?
As a special London 2012 offer, we're slashing the price of our new London City Guide—30 pages of quintessential Brit foods/drinks, how to burn them off, a restaurant guide, and our very own 7-day itinerary—from $9.99 to $5.99, and adding the free four-page bonus of our Olympics Eating Guide, which breaks down the Games by event and location and suggests where (and what) you might eat nearby.
For example, near Hyde Park, where triathlon and swimming events will be held, you might sit outside with a refreshing Pimm's Cup at the park's lakefront Lido Café, and you really should book a table at Dinner by Heston Blumenthal for a memorable meal of modern historical Brit foods, like the dreamy meat fruit pictured above—it's a must for any student of British cuisine, as well as anyone who loves damn good food. Flip back a few pages into the City Guide for the full historical context (and what else to order at Dinner!) of these dishes.
In Greenwich, near the gymnastics and equestrian venues, you're just down the road from an excellent gastropub called The Greenwich Union, where you might sample a great Sunday roast lunch and delicious local craft beer—which, with our City Guide in hand, you'll already be schooled on.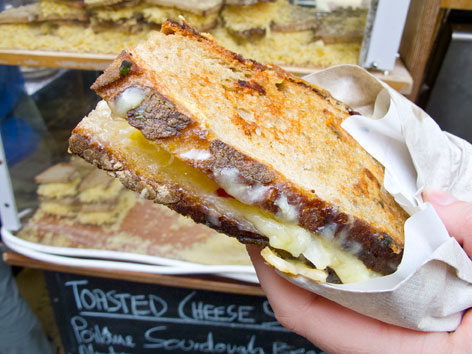 Joining the masses at Potter's Field, near Tower Bridge, for the free big-screen viewing? Don't miss the old-school pie and mash at M. Manze, the real ale at Draft House, or any of the delicious gourmet goodies at Borough Market (which is extending its hours during the Olympics), such as locally made cheese, delicious Chelsea buns, and the beloved toasted cheese sandwich pictured above.
There's a lot more where that came from. Preview, purchase, and check out the full details of this special London 2012 offer here, and get your Guide today!
It's the least we can do to keep you well fed—with good food and real London experience—during the Games.