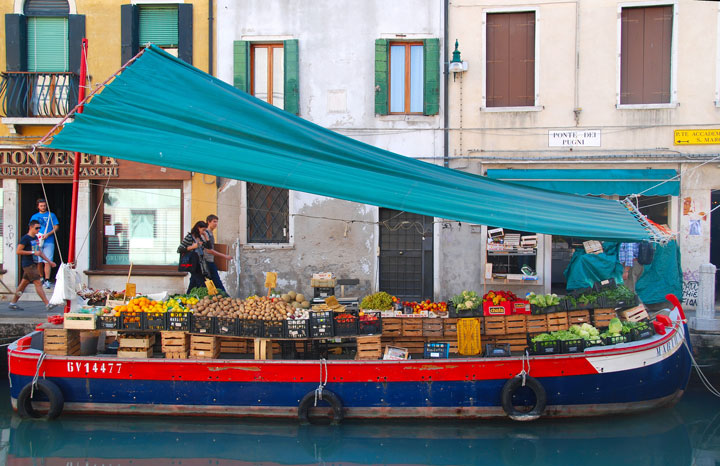 Photo courtesy of Tony Hammond/Flickr
As a visitor to Venice, you may think the foods to try are the Italian classics: Pasta and pizza are, after all, the foods we associate with this beautiful country. Enjoy those all you want, but of course we're going to say this: Don't overlook the Venetian specialties that are the true essence of this great city. Below, a short guide of what foods to eat in Venice. Seek these out for an authentic taste of Venice, past and present.

Photo from Wikimedia
Risotto al Nero di Sepia / Squid Ink Risotto
Even if squid isn't your favorite shellfish, Venetian squid ink risotto will win you over. This delicious dish combines the sweetness of the risotto, the saltiness of the squid, the savory quality of the ink. It's usually topped off with chopped spring onions, enhancing both flavor and color. If the tentacles are still too much for you, don't give up on this dish—you can ask the chef to make yours with grilled prawns, lobster, or another seafood you prefer.
Sarde in Saor/ Sweet and Sour Sardines
This is one of the greatest and most typical little appetizers to pair with a glass of wine—the class of tapas-like savory snacks known as cicheti here—and it has a long history: It was invented in the Middle Ages as a means of preserving food. Skip to today and it's become a tasty way to start any meal. It consists of fried sardine fillets left to marinate for a day or two in vinegar, onions, raisins, and pine nuts. The result? A wonderfully agrodulce—sour and sweet—delicacy that will delight your palate. It also makes an excellent snack when you're on the go.

Photo courtesy of Monica/Flickr
Baccalà Mantecato / Dried Cod Mousse
This unmissable dish is made from salted and dried Atlantic cod. Fishermen bring the fish in from the northern seas and salt it for four days. Then the salt is washed off and the fish dried, after which it is ready to be made into baccalà mantecato. The salted dried fish is combined with a little olive oil, parsley, and garlic; then the whole thing is whipped together until it has a wonderful mousse-like texture. It will usually be served with polenta, another terrific Venetian delicacy (see below).

Carpaccio
A true Venice invention, this dish was born in 1950 at Harry's Bar in the city; the owner, Giuseppe Cipriani, made it for a countess who couldn't eat cooked meat and named his concoction after the painter Vittore Carpaccio. It is still served at Harry's (along with the other famous item invented there, the Bellini) in its original incarnation: fresh raw, paper-thin beef sirloin, generously drizzled with a "secret" homemade mayonnaise-based dressing. Elsewhere in Italy (and beyond), you'll find many other variations of carpaccio, where the thinly sliced raw meat is more often paired with lemon, olive oil, and shaved truffle or parmesan cheese.

Polenta
In past centuries, this was considered food for the poor, but today it is must-try cuisine. Basically, ground semolina is cooked for about 30 to 45 minutes all the while being stirred. It is then left to chill and set so that it can be cut into squares and grilled. Top with fontina cheese for an even better taste—or order it with baccalà mantecato to go all-out Venetian.

About the author: Giacomo Montagnani is a writer based in Italy.