Want to eat local Emirati foods in Dubai? Even in such a multicultural city in the United Arab Emirates, it doesn't have to be difficult. There are plenty of Emirati restaurants in Dubai to seek out. Don't miss these traditional UAE eats on your next visit.
Dubai is home to thousands of immigrants, and as such, is one of the most cosmopolitan cities in the world. The city's multiculturalism is highly evident in its local food scene, an impressive smorgasbord of international cuisine. You'll find the best Lebanese restaurants in Dubai as well as Japanese, American, Indian, Italian, French, Chinese, Philippine and many more. But even with the abundance of international fare, you still need to experience some traditional Emirati foods in Dubai: the highlights of a simple, filling, spice-forward cuisine reflecting regional influences.
Below are some of the typical UAE dishes you cannot miss, and where to find them at Emirati restaurants in Dubai.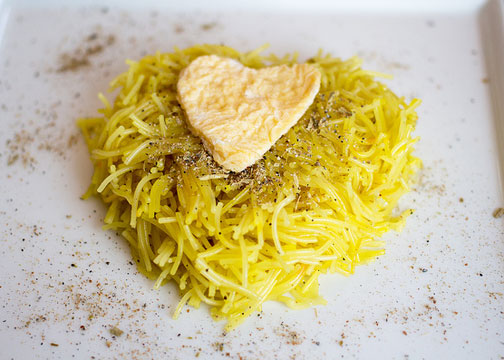 Balaleat (not always heart-shaped!). Photo by Krista/Flickr.
Balaleat
Balaleat (also spelled balaleet) is a traditional Emirati sweet-and-salty breakfast food, although it's also sometimes served as a dessert. It consists of vermicelli noodles and eggs as the main ingredients, spiced with cardamom, cinnamon, saffron and orange blossoms. Finally, the dish is topped with pistachios, to delicious effect.
Where to find it: Logma in Boxpark and Al Fanar in Dubai Festival City are two of the most popular local restaurants known for serving the best-tasting balaleat.
Khuzi
Khuzi, or ghuzi, is the United Arab Emirates' national dish. It is a complete, filling and delicious meal since this dish consists of roasted lamb or mutton served on top of a bed of rice and topped with vegetables and nuts. If you're seeking out Emirati foods in Dubai, this one's an absolute must.
Where to find it: Restaurants such as Bu Qtair Fish Restaurant (in Umm Suqeim) serve authentic khuzi in single or smaller servings—portions that you will definitely finish in one sitting.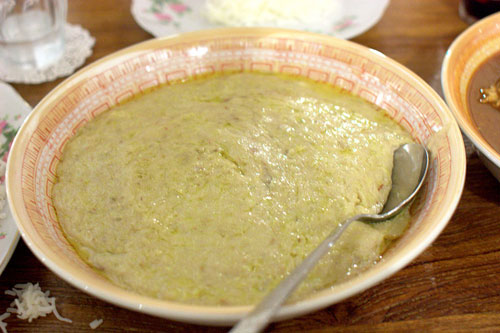 Photo by Krista/Flickr
Al Harees
Al harees is another one-pot culinary wonder, related to the Arabic dish haleem: Wheat and salt are mixed in a pot and boiled for several hours. When the mixture reaches porridge-like consistency, chunks of lamb, chicken, mutton or veal are added, and the dish is boiled or baked again for several hours. Cinnamon, salt and pepper are also added to boost the flavor of the dish.
Where to find it: Khaneen Restaurant in Al Safa and Al Fanar, one of the most sought-after restaurants in Dubai Festival City, are both highly regarded for serving authentic al harees.
Al Machboos
Al machboos is a dish made of red meat, chicken or shrimp boiled in stock with spices and dried lime powder, or loomi. When the meat is tender, the pieces are removed from the pot and rice is added and cooked in the same stock. Once the rice is cooked, the meat is added together with some fried chopped onions, potatoes, tomatoes, green peppers and other vegetables. The dish is then cooked over low heat for at least two more hours to give it more flavor and a really delicate texture.
Where to find it: You can enjoy this traditional UAE food at Gulf Mandi on Al Khaleej Rd. and Barjeel Al Arab on Al Ghubaiba Rd.

Photo by Beck/Flickr
Fattoush
If you're looking for a traditional vegan Emirati dish, try fattoush. This dish consists of fresh lettuce, diced tomatoes, cucumbers, mint leaves, onion, garlic, lemon and olive oil and is served on Levantine bread (fried or toasted slices of pita bread). This salad is a great accompaniment or start to any meal.
Where to find it: Al Halabi, located at the Mall of the Emirates, and Afiyet Olsun in Al Barsha are known for serving amazing plates of this refreshing salad.
Thereed
Thereed is a slow-cooked stew made of chicken, lamb or goat and roasted vegetables. It can also be cooked as a pure vegetarian dish. This heavily spiced stew is served on top of a traditional thin Emirati flatbread called rigag.
Where to find it: If you want to taste a legit bowl of thereed, head to the Seven Sands, a fine-dining restaurant located at the Jumeirah Beach Residence (JBR).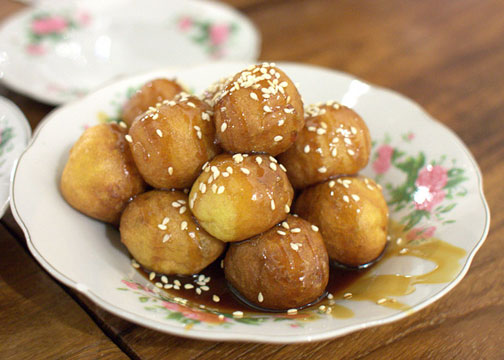 Photo by Krista/Flickr
Luqaimat
These crunchy dumplings, which are pleasantly soft on the inside, are soaked in honey or a sweet, sticky date syrup known as dibbs when served. Salty and sweet at the same time, they are the most popular traditional Emirati dessert.
Where to find it: The Arabian Tea House Restaurant and Café in Bastakiya and Milas Restaurant at the Dubai Mall are popular for their delectable luqaimat.
Whatever cuisine you're hankering for, you'll find it in Dubai. But don't forget to discover the local foods of the United Arab Emirates that the city is also known for—you'll have an extraordinary dining experience and learn some more about the unique food culture of Dubai.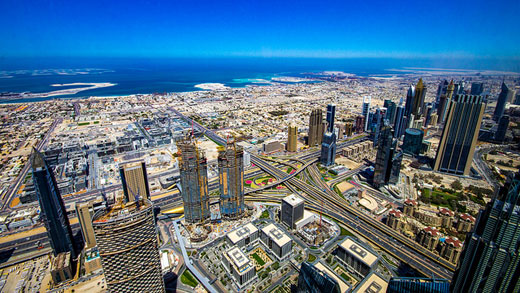 Where to Stay in Dubai

This map from our partners at Stay22 will get you started as you search for Dubai accommodations. It shows both hotel and apartment/home rentals via Vrbo.
Note: This page contains affiliate links—if you book through them, we may receive a small commission, at no extra cost to you. Thank you!
About the author: Kumar Samtani is the co-founder of MenuPages.ae. He has an educational background in industrial and operations engineering from the University of Michigan, Ann Arbor; his expertise lies in process improvement and operations management for all types of organizations. Kumar is also an experienced entrepreneur with business interests in consumer goods, hospitality supplies and real estate.
PIN THIS TO SAVE!