Mike Hess Brewing (courtesy of CityPASS)
In this guest post, our discount-snagging friends at CityPASS share some of their favorite spots for eating and drinking (local beer, natch) in sunny San Diego. Fish tacos, anyone?
San Diego's near-perfect weather and waves draw in the surfers and sand castles, but it's the city's food and drink that make San Diego a uniquely delicious destination. Enjoy your time as a local would with this guide to San Diego restaurants and breweries. First up? Get to know our two favorite areas, Ocean Beach and the Uptown area of North Park and Hillcrest.

Ocean Beach. Courtesy of Brian Roberts/Flickr
Ocean Beach welcomes people from all walks of life, but OB locals have got a stride all their own. The hippie vibes and chill aesthetic of this neighborhood have been known to turn tourists into residents, and the amazing food is partially to blame. Here, you can bring your beloved canine to the dog beach, explore the local shops, and catch some of the best sunsets in San Diego.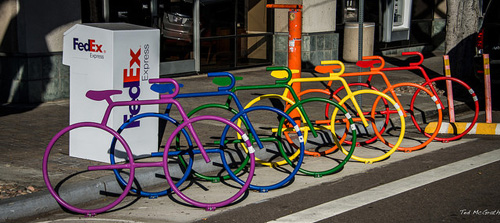 Hillcrest, San Diego. Courtesy of Ted McGrath/Flickr
Hillcrest and North Park are adjacent neighborhoods, both with a vibrant city feel and seemingly endless options for dining, drinking, and entertainment. Hillcrest is the LGBT center of San Diego, while North Park is the craft beer capital. The world-famous San Diego Zoo is located in Balboa Park, which spans both of these neighborhoods.

San Diego Local Dining
The following food and drink destinations are favorites among locals, so they're not exactly secret. Great food gets talked about, so give yourself some time at each of these locations in case there's a wait (which, if we're being honest, there probably is).

Oscar's fish tacos, by Robert Prosser (courtesy of Oscar's Mexican Seafood)
Ocean Beach
Hodad's is home to massive burgers stacked so high, they'd make for a delicious, albeit messy, game of Jenga. The quirky restaurant is plastered with stickers and license plates to provide sleepy burger-eaters with a fun backdrop. The food here is both amazing and affordable.
If you're feeling the coastal vibe, run to Wonderland Ocean Pub for Mussel Up Mondays, when oysters and mussels are half-off. But no matter what day of the week it is, join Wonderland for its Sunset Happy Hour and Toast, where guests enjoy a complimentary shot as they watch the sun go down.
Liberty Station was once a U.S. Navy mess hall and is now a popular arts district. This location of Stone Brewing World Bistro & Gardens is an elegant sit-down restaurant that encompasses more than 23,000 square feet of dining and bars, a beer garden, and even a bocce ball court. Enjoy fresh, locally sourced ingredients and arguably San Diego's most well-known locally brewed beer.
North Park & Hillcrest
Start the day off right at Snooze an AM Eatery, in Hillcrest. Farm-fresh ingredients make for some delicious brunch classics like eggs Benedict or sweet lemon-poppyseed pancakes. Savor the flavor with a tasty morning cocktail like the Mmm Mmm Mimosa or the Bangkok Bloody Mary. Get there early!
Oscar's Mexican Seafood in Hillcrest has, hands down, the best fish tacos ever. It's a bold claim, we know, but once you take a bite out of the smoked fish taco or torta, you'll know Oscar's has something special. (Pro tip: Stop at Uncle Biff's Killer Cookies next door for truly killer cookies.)
Tajima Hillcrest is a small, authentic San Diego ramen chain, with ramen to rival the also popular Underbelly. Get your ramen spicy or creamy, but always pair it with a happy-hour drink special: Tajima stocks a variety of local brews.
Carnitas Snack Shack in North Park is a triple threat—no, seriously, this delicious eatery has a Triple Threat pork sandwich that'll liven your taste buds with pork loin schnitzel, pulled pork, and bacon. Locally sourced ingredients, locally brewed beers, and lots of local love make Carnitas Snack Shack a huge favorite for lunch.


North Park beer, courtesy of CityPASS
Local Beer
As you may have already guessed, beer is an ever-expanding industry in San Diego, and these locally owned breweries have both a beach location and an Uptown location.
Modern Times Brewery has exceptionally flavorful beers, a colorful Post-It wall mural to muse over, and a great staff. Order some food to be delivered (try Tacos Perla at the North Park location) to the tasting room, or bring your own!
Belching Beaver Brewery offers plenty of interesting beers, like the Peanut Butter Milk Stout, which tastes as amazing as it sounds (really!), and the Honey Wheat. While you sip, enjoy the grooving playlist or ask about the board games available for playing with. And you can bring your dog!
At Mike Hess Brewing, you can sit back, relax, drink a Grapefruit Solis beer, and enjoy the beachy setting. Plus, there's a food truck every night of the week—don't forget to visit Hess on Taco Tuesday.

North Park Beer Co.'s tap list, courtesy of CityPASS
Inland only:
Hillcrest Brewing Company is the first and only LGBT "out and proud" brewery in the country, and the beers are top-notch. Plus, you can't go wrong with the wildly entertaining names it's bestowed upon the beers. You've got the Banana Hammock (a Scotch ale), the Crotch Rocket (Irish red), the U-Hawle (wheat beer), and much more! Great pizza and hot wings only add to the appeal here.
North Park Beer Company has a well-rounded selection of beers that includes its own brews but also a select number of guest beers. The giant mounted chalkboard should clue you in on the variety. Pair your brew with some delicious, sausagey food from local Mastiff Sausage Company.
Fall Brewing Company has a food truck out every night of the week, but, more important, it has deliciously tasty brews during all business hours. Get a 2am Bike Ride, a coffee stout sure to impress, or choose from the many specialty IPAs. Dog-friendly, people-friendly, and guaranteed good times.
Another option here: Follow a local's footsteps down 30th Street any night of the week, as North Park has many local craft and microbreweries.

Courtesy of CityPASS
Coastal only:
Pizza Port is perhaps the iconic local pizza and beer spot that offers ooey-gooey cheesy delights and an exciting variety of craft beers, like the Party Sauce, a triple IPA with 10% ABV.
Culture Brewing offers a fine mix of dog-petting opportunities and beer tasting. Bring your dog or fall in love with a local's as you take in the deliciousness of a tasty pilsner or lager.
Regardless of where you are in San Diego, there is plenty to eat and drink … and enjoy!

About the author: Dan Patterson works for CityPASS, and he wants you to know: With the Southern California CityPASS you can get 30% off the best theme parks in Southern California (including SeaWorld in San Diego), plus skip most ticket lines!