Rhode Island chef Tim McGrath (right) at the Taste of Providence event
We've always known Rhode Island has great local food—over several visits, we've sampled the excellent stuffed quahogs and tangy pizza strips; we've dug into doughboys and sipped coffee milk with hot wieners. But the vibrant food scene in the Ocean State certainly doesn't end at the quirky regional stuff; there's a wealth of chef-driven, locavore-centric restaurants in Providence and beyond—and we were lucky enough to have them come to us last week.
The Taste of Providence NYC media event featured a trio of chefs from three Providence restaurants cooking a multicourse lunch at the Institute of Culinary Education. To warm things up, there was a lot of wine—at noon, no less, and we appreciated that some of the bottles hailed from Connecticut wineries—plus charcuterie from Pascoag-based Daniele Foods and cheese from Providence-based Narragansett Creamery. Though each worked within European traditions, both companies source regionally (hogs and dairy cows, respectively), which we found impressive. We quickly became addicted to the Gouda-style Divine Providence cheese and Daniele's sliced-to-order prosciutto and hunks of mortadella, the latter of which tasted just like we remember in Emilia-Romagna.
Alas, we needed to save room for lunch–and we're sure glad we did. Chef Cesin Curi, of popular Peruvian restaurant Los Andes, plated one of the best straight-outta-Lima ceviches we've had since, well, being in Lima: a spicy, citrusy, refreshing concoction of fresh diced mahi-mahi, squid, shrimp, PEI mussels, cilantro, choclo, and herbs that were an absolute party in our mouth. Next up was a modern-day Rhode Island surf-and-turf, by Chef Tim McGrath of the Waterman Grille: butter-poached Narragansett Bay lobster paired with a short-rib arancini (made with New England-raised grass-fed beef) over a bed of pureed springtime sweet peas. A meat course concluded the lunch, from Chef Tyler Demora of Local 121: suckling pig scattered around the plate with compressed apples, sweet fennel, prinz celery root, cured egg yolk, and mustard. It was delicious, and barely left us enough room for a few macaroons from Ellie's Bakery (candied bacon, anyone?).
Suffice it to say, we'll have a few new spots to hit up when we're next in Rhode Island…
Some iPhone photos from the event: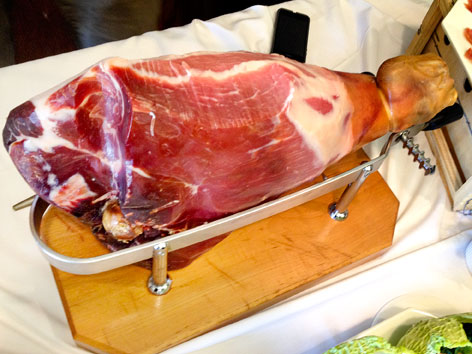 Daniele Foods' prosciutto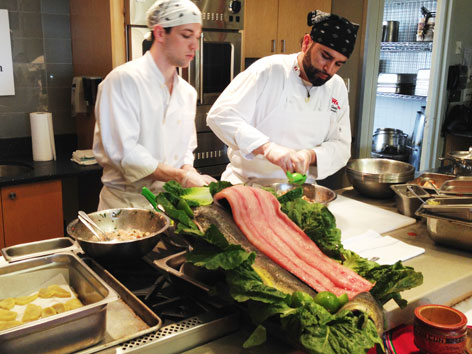 Chef Curi (right) preparing ceviche
Mahi-mahi ceviche
Arancini and poached lobster
Suckling pig
Special thanks to GoProvidence.com.