Diving into the crowded Spice Bazaar in Istanbul (with some gratuitous product placement, natch).
It's true we're biased toward food markets, but Istanbul's Grand Bazaar—with its expensive gold jewelry, leather jackets, and endless rows of mass-produced evil-eye tchotchkes—just wasn't our thing. Much more fun and interactive was the Misir Çarsisi, or Spice Bazaar, a.k.a. the Egyptian market, established in Eminönü in 1664 (it once specialized in goods brought from Egypt). It's the market you walk smack into if you approach the Old City from the Galata Bridge, as we did most days from our home base in Karaköy.
Over the years, the spice market has become plenty tourist-friendly; in fact some of those same Grand Bazaar tchotchkes have shown up between the nuts, olives, Anatolian honey, and lokum (Turkish delight) here. Someone who knows the market well will warn you that not all vendors are created equal, which surely goes without saying in any popular market. But half the fun is going there and figuring it out for yourself—most of the vendors encourage sampling, so you can taste all the goods before you buy.
We admit we let ourselves go a bit inside the spice market, buying dried fruit and accepting hunks of cheese without recording prices or even paying much heed to vendor names (for shame!). What we do have are some photos of favorite items and the remaining piece of pestil (fruit leather) we "forgot" we had in our luggage.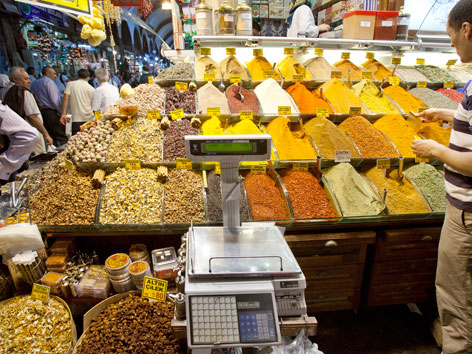 Spices
As its name suggests, this market specializes in spices, with cumin, cinnamon, sumac, paprika, mint, coriander, curry powder, Iranian saffron, several types of pepper—black, white, red, whole or ground—and more competing for display space in a riot of color. Tea drinkers might skip the packaged apple tea sold everywhere for the dried hibiscus, jasmine flowers, lemon, vanilla, and delicate dried rosebuds peddled at these stands too.
Nuts
If you spend more than 10 minutes in Turkey, you'll know that nuts are big here. Actually, scratch that; they passed out bags of Turkish hazelnuts (findik) on the Turkish Airlines flight. Pistachios and hazelnuts are among the native nuts you'll find in spades at this market, joining almonds, pine nuts, and flavored or candied nuts. These are good ones to try before you buy, as most of the nuts are shelled and freshness can be an issue.
Dried fruit
Dried fruit proved an indispensable road-trip item, ideal for a quick hit of sugar when the craving struck. Papaya, guava, kiwi, pineapple—clearly these were not all local fruits, but we loved them nonetheless, especially the super sweet strawberry (çilek) and chewy apple (elma). They weren't the cheapest purchase, but the bag we bought inside this market lasted us a full week of driving around Turkey. Note that customers often just reach right down and pick up a piece from the bin to taste; if you're buying, you might request the fruits under the top display layer.
Lokum
Turkish delight was one of the biggest surprises for us in Turkey, as our expectations, based on the ho-hum jellied squares we've tried elsewhere, were pretty low. In Istanbul is a whole new world of lokum that starts with your basic sugar-dusted sade (plain) and rose; graduates to lemon, mint, and chocolate, coated in coconut; and moves on to the pistachio- and hazelnut-studded, adding a layer of crunch to the logs of chewy sweetness. Available in a rainbow of colors and shapes, lokum is among the most photogenic of Turkish foods, and the spice market proved a great place to taste a few new flavors freely.
Cheese
These vendors are set up on the outside perimeter of the market, ready to slice off samples from huge white blocks of peynir, or cheese. Whether you like yours salty, crumbly, mild, or stringy, it's a must-stop for any cheese fan.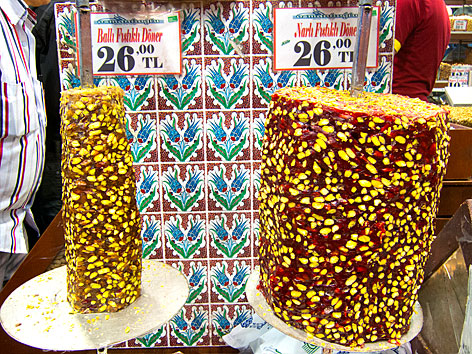 Fruit döner, pestil, sucuk
One of our favorite bites was shaved off of what's called a fruit döner, a vertical block of fruit paste studded with nuts (say, pomegranate with pistachio); like its much more common meat counterpart, it is sliced off in thin pieces with a knife. Also look out for pestil, or dried and pounded sheets of "fruit leather"—the thin, plastic-wrapped apricot variety we bought tasted like a more natural "fruit roll-up" from our youth—and its sausage-shaped cousin, cevizli sucuk, not to be confused with actual sucuk, which is a spicy sausage. This fruit-and-nut version consists of a string of walnuts (cevizli) dipped in a jelly of thickened grape must, with the end result—a long stick of chewy fruit and crunchy nuts—tasting better than it surely sounds.