Ahi limu poke from Tamashiro Market, Honolulu
.
Its time zone might be a few hours behind, but Hawaii is way ahead of the rest of the country when it comes to raw fish. While it took most of America well into the 1990s to be swept into the sushi craze, Hawaii has long loved the simple seafood salad called poke. It's a fixture of every Hawaiian restaurant menu, takeout deli, and grocery store; even the local Costco keeps a well-stocked high-quality selection.
The word itself means "to cut," and cut it has been: In all the multitude of poke variations, the components are chopped into bite-size pieces. Freshly caught local fish and seafood like tako (octopus) and ahi tuna are chopped up to serve as a base. The condiments and flavorings often indicate the strong Japanese and Korean influence on Hawaiian food, with wasabi and kimchi popping up on nearly every poke bar. Each poke brings together the same delicate synthesis of cultures and natural resources that compose Hawaii, Hawaiians, and Hawaiian cuisine.
Any visitor to the state would be well advised to forgo the traditional notion of a restaurant meal and spend some time wandering in front of poke bars, as my boyfriend and I did on a recent island-hopping trip to Oahu and Hawaii Island. "This is the one the locals eat," an elderly man explained to us, as we stood, clearly befuddled, in front of a case at Tamashiro Market in Honolulu. He was pointing to an "island-style tako." At another seafood market we learned about opihi, a type of sea snail or limpet native to Hawaii. There's no better way to meet friendly locals than to give them the opportunity to talk about a beloved local dish—and these five spots are some of the best to find it on Hawaii (the Big Island) and Oahu.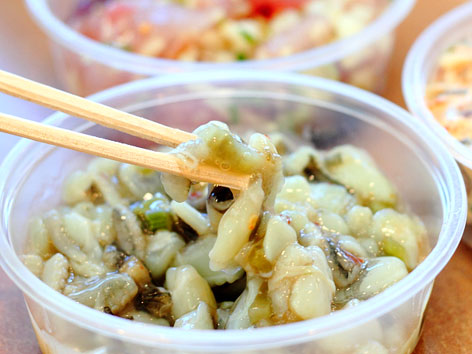 Poke Stop
Elsewhere in America, popping off the road for gas and a nibble condemns you to Fritos and French fries, but just off H2 in Mililani, you get poke. On the route from Honolulu to the North Shore, Poke Stop is the perfect place to pick up a picnic for your surf spot. We went with the wasabi tako poke (pictured), a raw octopus preparation—subtly slimy and gelatinous (in the best way) and spiked with sinus-clearing wasabi—but Poke Stop also offers a daily rotation of cooked meals, with unique options like the tempura-fried spicy poke roll, a sushi of sorts.
Poke Stop, 95-1840 Meheula Pkwy (behind McDonalds), Mililani, map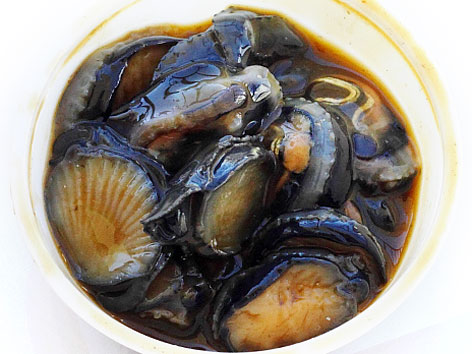 Yama's Fish Market
A tiny cubby of a room in the Moiliili neighborhood of Honolulu, this is Hawaiian food, made for locals. They crowd into the small space (more a deli counter than a market) and point at the cases of poke, which include dried ahi, a strange and savory beef-jerky-esque take. Catering to those who know what they're doing, labels are brief, so feel free to ask about the mysterious opihi (sea snails; pictured)—which turn out to be something of a cross between abalone and oysters—and grab a pastele (a tamale-like snack) while you're there. Best to take this to go, though, as the few small tables will likely be occupied.
Yama's Fish Market, 2332 Young St., Honolulu, map
Tamashiro Market
There's no doubt about the quality of fish floating around at Tamashiro, a veritable seafood supermarket. The entire back wall is devoted to poke, an impressive display that includes more than seven varieties of ahi poke alone. It can be hard to decide which to order—we loved the island-style tako poke (pictured), cooked local octopus flecked with bits of pepper and green onion—but samples are forthcoming and the various poke bento options make it easy to craft a meal from your selections.
Tamashiro Market, 802 North King St., Honolulu, map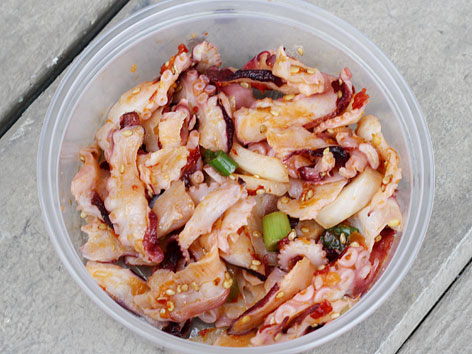 Da Poke Shack
Da name says it all: This is the place to find your fish on Hawaii Island. South of the main section of Kona town but north of Pahoehoe Beach (that's where you'll want to eat what you buy), it's in the middle of nowhere, and comprises just a little room wedged into a nondescript apartment building. A heavy burden falls on the food to stand out, and flavors that live up to that task include the refreshing and bright kimchi tako poke (pictured), with added crunch from the fermented cabbage; creamy ahi poke with pops of tobiko (fish roe); and the house special, dynamite poke (avocado and spices).
Da Poke Shack, 808-329-7653, 76-6246 Alii Dr., Kailua-Kona, map
Anywhere, Everywhere
Order poke at a dive bar (perhaps the Side Street Inn in Honolulu). Grab it from the hotel restaurant (maybe while watching manta rays swim by at the Sheraton Kona). Sample the entire selection at the supermarket (KTA and Foodland are the island standards). Despite my best efforts to stuff my face with fresh fish at every turn, I was unable to find a place where this food wasn't impeccable.
The Hawaiian Islands are filled with places serving poke. What are your favorite varieties and favorite places to find them?
All photos by Naomi Tomky.
About the author: Naomi Tomky is also known as the GastroGnome. Being a GastroGnome does not mean sitting idly on the front lawn of culinary cottages, but rather exploring the wide world of culinary creations. You can read more from the GastroGnome at www.thegastrognome.com and find her on Twitter @gastrognome. She last wrote about maguey for Eat Your World.