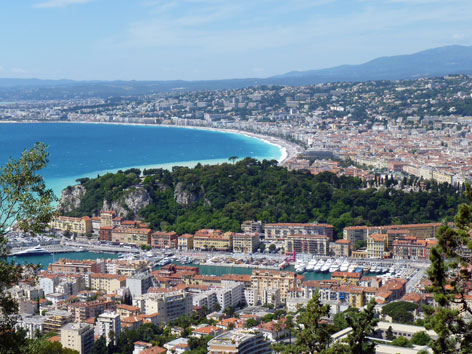 The French Riviera is known for its beaches, yachts, and famous film festival, but its largest town, Nice, is also a dream destination for foodies. An abundance of produce thrives in the mild Mediterranean climate; picturesque farmers markets and reputed local restaurants offer a feast for the eyes as well as the taste buds. While the salade Niçoise is Nice's most-traveled dish, the jewel in the Côte d'Azur's glittering crown has an abundance of lesser-known local specialties just waiting to be discovered by hungry visitors.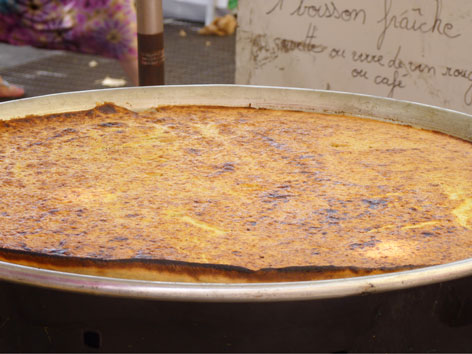 La Socca
The definitive Niçois snack, la socca is best served as an aperitif with a chilled glass of Côtes de Provence rosé. No knife and fork required, it's French fast food at its best: Chickpea flour, olive oil, and salt are combined to make a smooth mixture, which, after several hours' rest, is baked in a wood-fired oven, in large, round socca trays. The result is a crispy golden pancake with a soft, tasty interior. How to eat it? Order a large portion, sprinkle liberally with black pepper, and share with friends.
Where to try it: Tucked away behind Nice's port, Chez Pipo has been the place to go for une part de socca since 1923. Expect to wait for a table: Chez Pipo's stellar reputation has become one of Nice's worst-kept secrets among locals and savvy tourists alike. 13 Rue Bavastro

Les Petits Farcis Niçois
Les petits farcis is a dish often mistranslated on menus, much to the bemusement of tourists, who are left wondering what "a plate of stuffs" could possibly be. It is in fact a delicious local specialty consisting of baked vegetables—usually peppers, courgettes (zucchini) and their flowers, and onions—stuffed with minced veal and beef, bread crumbs, and vegetables, sometimes topped with a sprinkling of Parmesan cheese. The stuffed veggies can vary in size and are sometimes served as an appetizer, but often they make a satisfying main meal alongside a large side salad and a hunk of bread.
Where to try it: Les petits farcis feature on most restaurant menus, but for an authentic experience head to the narrow streets of the Vieux Nice and Restaurant Acchiardo. Family-run for several decades, this local institution specializes in rustic, down-to-earth Niçois cuisine, including les petits farcis. Unlike the tourist traps that desperately try to lure in visitors, Acchiardo seems to fill up effortlessly night after night—and it's closed on weekends and during the tourist-packed month of August. 38 Rue Droite, Vieux Nice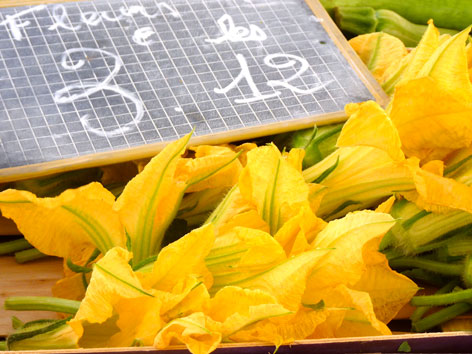 Les Beignets de Fleurs de Courgettes
The Niçois are unfailingly creative when it comes to vegetables: While the delicate yellow petals of the courgette are rarely used in other parts of France, here they are put to good use in farcis (see above) and various other dishes. The most popular way of cooking the flowers, which adorn market stands across the region from May through September, is to fry them in a light batter to make beignets (fritters).
Where to try it: Though often homemade, this dish can be found as an appetizer at a number of Niçois restaurants. A good place to start would be LaTable Alziari, discreetly tucked away on one of Nice's cobbled Old Town streets. 4 Rue François Zanin, Vieux Nice
La Daube Niçoise
Don't let the Mediterranean sunshine put you off ordering this hearty dish at any time of the year. Similar to a beef bourguignon, the daube Niçoise is made by slow-cooking chunks of stewing beef for several hours in red wine with carrots, onions, herbs, and sometimes cep mushrooms, creating a rich, flavorful sauce with exceptionally tender beef. The stew is usually served with your choice of fresh pasta. Or look for ravioli Niçois (ravioli filled with the daube meat), served drizzled with the rich juice from the daube.
Where to try it: As with the farcis, most restaurants offer a daube, but many are below par. The unassuming entrance to La Merenda may not immediately catch the eye, but it's one of the best places in the city to try local specialties like this one. The chef, Dominique le Stanc, walked away from the Michelin stars he earned at the acclaimed Le Chantecler (at the Negresco Hotel) to open this snug dining room in the Old Town, where he concentrates on authentic Niçois cuisine. It's a rare chance to taste local dishes cooked by a Michelin-starred chef at accessible prices. Reservations are essential, and made in person as the restaurant lacks a telephone. 4 Rue Raoul Bosio, Vieux Nice

Le Pan Bagnat
Ever proud of their world-famous salade Niçoise, the locals invented a portable spinoff: Generally speaking, the pan bagnat is all that's good about a Niçois salad—tuna, boiled egg, anchovies, radish, celery, artichokes, olives—drizzled with olive oil and stuffed into a sandwich. It's ideal for taking to the beach for a picnic or for a lunch on the go. Be warned, though: It's not the easiest of foods to eat. The bread, a large round bun, and its contents are predisposed to becoming an oozing mess, so eat this alone or with someone you're not necessarily trying to impress!
Where to try it: Most boulangeries are well stocked with pan bagnat, but if you prefer to sit, choose a café such as On Est Pressé, just off the Cours Saleya, where sandwiches and salads are made fresh each morning in the tiny kitchen. 5 Rue de la Poissonerie, Vieux Nice
Photos by Keely Lise Barrett
About the author: Keely Barrett is a British expat living in the sunny South of France. Read more about her expat adventures and foodie travels at www.theveryhungrytraveller.com.