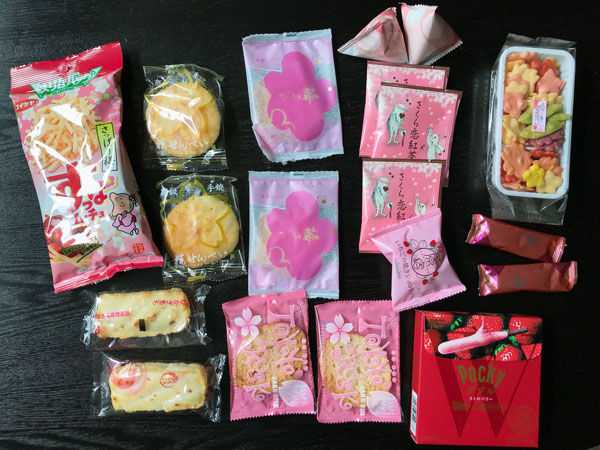 Disclosure: Bokksu sent us a sample snack box free of charge. All opinions are honest and our own (also: unpaid).
A new culinary subscription box (there are so many now!) was recently brought to our attention: Japanese snack box Bokksu, a monthly curated selection of gourmet goodies from Japan built around a seasonal theme. Already fans of gourmet Japanese confectionery Minamoto Kitchoan in NYC, we couldn't wait to try this one.
The "Blossoming Spring" box we received had a strong cherry blossom, or sakura, theme—not a surprise given it was April, that wondrous time of year when Japanese cherry trees the world over all-too-briefly erupt in pink petals. Other spring flavors highlighted in the box included strawberry and Japanese plum. If that all sounds pretty and delicate, it is—beginning with the box itself, a petite orange square artfully arranged with pink-packaged snacks.
Inside we found 10 different snacks (two to three of each one) and one lovely seasonal sakura tea to pair with them, along with a tasting menu and culture guide explaining each product and its backstory. This was especially helpful for teasing out the flavors of the colorful spring rice crackers (sour plum, matcha, purple sweet potato, shrimp, turmeric, chili pepper!) and learning the significance of products like the butter senbei, a rich (and indeed buttery) cracker hand-baked by a Tokyo craftsman, and the delicious white strawberry—the world's first white chocolate-infused freeze-dried strawberry (wrap your mind around that one).
We enjoyed the sweet tastes—who's not gonna like Pocky Double Strawberry (a seasonally limited Pocky, by the way)?—but we especially loved the more savory options, like the crispy sakura shrimp kakimochi and the Suppa Mucho potato sticks in tangy sour plum, a salty-sweet-sour flavor explosion. Japanese potato chips, baby!
It did seem like a lot of the products were crackers or cookies of a sort, which is probably more a reflection of how the Japanese snack than anything else. Each item tasted vastly different, however, so the flavors aren't repetitive, and the quality was high across the board. We appreciated the thoughtful attention given to seasonality, traditions, and sourcing with the products; Bokksu founder Danny Taing became enamored of Japanese snack culture and snack makers while living in Japan, and his passion shows.
But mostly we enjoyed the opportunity to explore some tasty Japanese snacks we'd never even heard of, and share these flavors with our family (our kids definitely got into this). It's a whole new world of snacking to dive into. I can see how receiving a monthly box, which start at $39.99 each (depending on payment plan), can be an event to look forward to.
2023 update: Another Japanese snack box has come our way! Japan Crate focuses more on candies and chocolates, but also drinks, cool toys, and collectibles, like the little magical growing cherry blossom tree we received in our gifted sakura box. Subscriptions start at $45.78 a month.