Montserrat in Catalonia, Spain (photo: Laura Siciliano-Rosen).
It's no secret that Spain is home to a rich culinary landscape. From sprawling vineyards to thriving fisheries and lush mountains teeming with life, the diversity of natural resources here is staggering. Perhaps nowhere is the richness of Spanish gastronomy better exemplified than in Catalonia, in northeast Spain. This region's unique fusion of flavors takes full advantage of the local mar i muntanya (sea and mountain) while also incorporating culinary influences from nearby France, Italy, Greece, Portugal, and Africa. And although tomato, olives, aubergine, and bolets (mushrooms) may be the first foods to come to mind when you think of Catalan cuisine, treats like pastries, custards, nuts, and cheeses are equally important to the Catalonian diet. Here are five quintessential Catalan sweets you simply can't miss: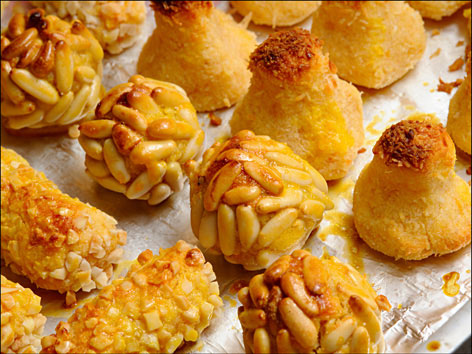 Photo: Rofi (Roger Ferrer Ibáñez)
Panellets
Panellets are the traditional pastry of Castanyada, or All Saints Day, which falls each year on November 1st. Their origin dates back to the region's Jewish communities of the Middle Ages, but today they are eaten indiscriminately by pastry lovers all throughout Catalonia and sold in bakeries year-round. The name itself, panellete, means "little bread." The bite-size puffs come in countless varieties, but all are made from a base of flour, sweet potato, and sugar. The most common type is coated in pine nuts.
Photo: abrackin
Crema Catalana
Made from sugar, milk, egg yolk, cinnamon, and citrus peel, crema Catalana is among Spain's most luscious desserts. The surface of this rich yellow custard is sugar-coated and fire-glazed—much like a crème brûlée, though this dessert sets by chilling, not baking—so you have to break through a thin, crunchy top layer to reach the dense cream underneath. Mouth-wateringly delicious!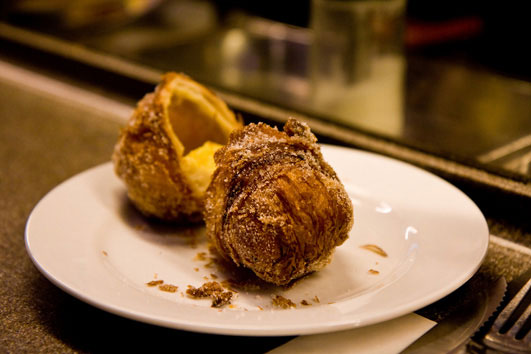 Photo: GSZ (Garrett Ziegler)
Xuixo
These cylindrical deep-fried pastries, pronounced "shoo-shoo," are native to Girona, in the northeast of Catalonia. Dating back to about 1920, xuixo are coated with a thin layer of crystallized sugar on the outside and are commonly eaten for breakfast with coffee. And on the inside? They're fluffy, multilayered, and—most important—filled with crema Catalana.
Photo: qgil (Quim Gil)
Mel i mató
Simple and delicious, mel i mató is soft, unsalted white goat cheese (mató) drizzled with honey (mel) and topped with toasted walnuts. Mató cheese is somewhat similar to Italian ricotta or curd cheese; the region's most famous variety comes from Montserrat, near Barcelona. Mel i mató is typically eaten as an after-dinner dessert, and has been a part of the Catalan diet since the 14th century.
Photo: jacové
Bunyols
Bunyols have a long tradition in the Catalan culinary landscape. They originated in the region's 15th-century Morisco communities (Muslims who were forced to convert to Christianity during the Inquisition), and have since spread to nearly every corner of the Spanish-speaking world. Often called buñuelos elsewhere, today they're an important staple of the Mexican diet, are widespread throughout Central and South America (including Colombia), and are even eaten in Turkey, Greece, Italy, and Morocco. In Catalonia, bunyols are a popular midday snack, though they're most traditionally eaten during Lent. Made from flour, eggs, sugar, and often anise, the dough is rolled into little balls, fried, and given a sweet topping. Some varieties are also stuffed with custard, cheese, or jelly.
About the author: Katie Whittle is a traveling foodie and freelance writer. She is part of the blogging team at HouseTrip.com, and fell in love with Catalonia and its capital, Barcelona, on a recent food tour of Europe.