A tribute to New York City's culinary traditions, fine dining when it counts, and 10-plus years of loving food—and each other.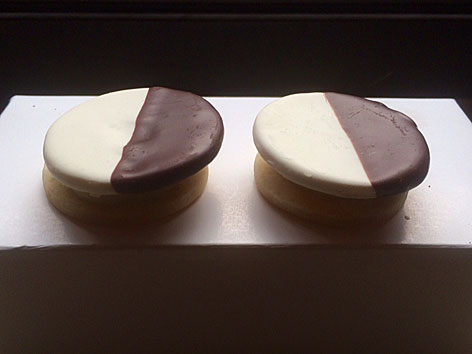 Eleven Madison Park's playful take on the B&W cookie, filled with lemon verbena
Anyone who knows us knows we don't, for several reasons, make a habit of dining at pricy Michelin-starred restaurants. In fact, Scott and I generally prefer to eat at small, hole-in-the-wall-type places that deal in unpretentious homemade food—like many of the restaurants found in our Queens neighborhood, for example. But certain occasions call for a real culinary splurge, and our 10-year wedding anniversary was definitely one of them. Tibetan momos, as much as we love them, just aren't gonna cut it for a decade of marriage.
We set our sights high this time. We'd recently traveled to Copenhagen, and while we didn't have a shot at getting into Noma, we became a little obsessed with the rankings that placed that restaurant at No. 1 in the world for four of the five past years. According to the S.Pellegrino World's 50 Best Restaurants, we'd been to just one of the top 10 restaurants on Earth—the excellent Dinner by Heston Blumenthal, in London (No. 5)—and here we've been living in New York City, home to a handful of top-100 restaurants, for 15-plus years. The highest-ranked in our town? Eleven Madison Park, No. 4.
A classic Manhattan from the restaurant's roaming Manhattan cart
.
(Fortunately there's a great mocktail list, too.)
At $225 per person for dinner, it qualifies as a huge splurge. Gigantic. But I was six months pregnant (no wine pairings!) and we'd already ruled out another big trip before baby No. 2 was born, so this was it. Getting a table wasn't too tough—Eleven Madison Park opens its books for reservations exactly 28 days in advance, so by paying close attention to the calendar, we were able to snag a 9pm dinner for the night before our anniversary. (Incidentally, calling at the exact hour the reservations office opens still yielded a choice only between before 6pm or after 9pm.)
It was a late reservation for us parents of a young toddler—we'd been warned it was a three-hour dinner, and, in fact, we were at the restaurant for four hours altogether. It turns out 15-course meals require something of a time commitment! But we knew by the end of our first real course that this experience would be well worth the extra tiredness the next day. That shallow bowl of morel custard caught us off-guard with its delicate, earthy creaminess and salty hits of trout roe. We asked the assistant GM, with whom we quickly became friendly, if it was acceptable to lick the bowl, to which she replied, "We encourage that!"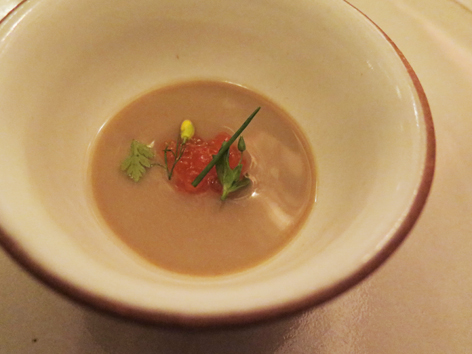 Morel custard with trout roe and mustard flowers
And so the tone was set for our expensive, fancy meal: beautiful food, friendly service, and a decidedly not-too-fancy atmosphere that suited us well. As the GM later told us, the servers here—and there are many, one for each course, it seemed—look to the diners to gauge just how outgoing or demure they should be; we fell unmistakably into the more interactive category, asking lots of questions (me) and cracking jokes (Scott) from our well-positioned corner table that let us constantly scan the dining room's action. Oh, look, there's Chef Daniel Humm making his rounds among the room's VIPs (not us, sadly); over there is Chef José Andrés, in town from D.C. and treating a team of sous chefs to dinner here tonight (he mysteriously stayed at the bar most of the evening). What on earth is that table eating and when do we get that course??
English peas in whey
The food itself, of course, was the real scene-stealer, with some of the early vegetable-based dishes being our favorites. Following the morel custard was an alarmingly simple-looking pile of bright-green English peas, presented in a bowl atop water-buffalo yogurt and ladled tableside with a clear sauce made from the whey of said yogurt. The buffalo are from Ithaca, New York. And the dish? Spectactularly flavorful in a way I never imagined peas could be.
We especially loved the creative tie-ins with classic New York gastronomy. While most of the dishes had a seasonal, locavore streak to them—seared Hudson Valley foie gras, butter-poached Maine lobster, a Connecticut-sourced cheese course—many others fit Eat Your World's traditional-food ethos to a modern-day T. This is a rarity among top-tier restaurants—London's Dinner by Heston Blumenthal is another exception, but whereas that restaurant reinterprets long-forgotten medieval British dishes, Eleven Madison Park finds inspiration in NYC foods still very much in existence.
Radish with pike and nasturtium-leaf sauce
The meal opened and closed with a take on the iconic black-and-white cookie, first savory (with cheddar and apple) and then sweet (lemon verbena). The beautiful radish course, paired with fresh pike and its roe, was a play on whitefish salad, and indeed its taste was reminiscent, in a very grown-up way, of that deli staple; the "eggs Benedict," meanwhile, paid heed to that omnipresent NYC-invented brunch dish in name and a handful of ingredients only, combining a poached quail-egg yolk with a gelée of white and green asparagus, bits of ham, caviar, a dollop of Hollandaise-like sauce, and two surprisingly delicious mini English muffins, served warm (we giddily requested, and received, more of those little babies). Also, it lived in a caviar tin. And each spoonful was a little taste of heaven.
Eggs Benedict, reimagined
The restaurant's "NYC steakhouse dish," carrot tartare
Perhaps most imaginative of all was the "carrot tartare," a shout-out to the city's storied steakhouses, at which steak tartare is commonly offered. Ground at the table, looking remarkably like raw meat, a handful of raw carrots are doled out to each diner on a wooden plate holding two sauces and nine different add-ins, from pickled quail-egg yolk and grated horseradish to dried bluefish and mustard seeds. The idea is to experiment with your own flavors, mixing each in to your taste. Naturally, we used all of our add-ins—no way were we leaving a morsel of food behind here!—and it was a quite pleasing, if not showstopping, course No. 7.
One of several sweet closers, strawberry with elderflower and vanilla
Following a beautifully roasted Finger Lakes-sourced duck, its crackly skin glazed with honey and fragrant with coriander, lavender, and Szechuan peppercorns, our meal wound down with a series of desserts that peaked with an artful, refreshing plate of fresh and poached strawberries, interspersed with dollops of vanilla and elderflower ice cream. We left the restaurant around 1am exhausted and full, arms laden with small gifts both edible and commemorative.
For Scott and me, the shared experience of eating and drinking has long been an integral part of our relationship. The seeds of our young romance were sown many moons ago over Pisco sours at a downtown Peruvian restaurant, our first real date; we got engaged at our favorite Mexican restaurant in Brooklyn; we honeymooned in Basque Country, for the famously incredible food just as much as for the beaches, culture, and art. We've cooked alongside each other nearly every night in three different NYC apartments; we've eaten our way through more than 35 countries together. And we started this website, our first baby. Eleven Madison Park, in our own backyard, was ultimately a no-brainer for celebrating 10 years of each other, and eating with each other. Fortunately, it did not disappoint.
Happy anniversary, indeed.
Our takeaways. Three weeks later, we're still enjoying that granola.