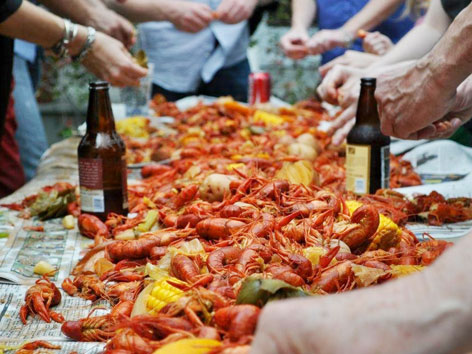 Photo courtesy of Chris Davis
Crawfish boils are a springtime rite of passage in southern Louisiana, whether you're in a bar, at a festival, or in a friend's backyard. I'll never forget the boil we went to, at New Orleans' Maple Leaf Bar, where a small door fee covered both music and food (the Uptown bar holds crawfish boils on Sunday nights during the season). In an alley outside the bar, we glimpsed the giant pot of critters, and all the delicious stuff going in along with them—mushrooms, corn, potatoes, quail, andouille and boudin sausages—and knew we were in for a treat.
Backyard boils are, of course, more the local way, the equivalent of having friends over for beers and a BBQ elsewhere in the country. The good news is, with a little planning, cash, and a good recipe, crawfish boils are easily replicated anywhere. We recently spoke to the NOLA Crawfish King about how to go about throwing your own crawfish boil, for MensJournal.com. We won't give away the whole recipe here, but here's a hint: It starts with potatoes and ends with wet naps.
Check out the full article at MensJournal.com.