Street food: In the advent of the recent food-truck revolution, it's been given a romantic connotation. But street food to us has always meant those dirt-cheap, true-blue local joints that you find while wandering a new city, the kind of places that make you immediately envious of the patrons and skeptical of the grub—a healthy suspicion that your gut instinct will either embrace or ignore. It might be termed the five stages of street food:
"Look at all the people chowing down on this corner! They are clearly enjoying that food."
"Damn, does it smell good right here!"
"I wonder if this will make me sick."
"Eh, it'll be fine: big crowd, no flies, everything's freshly cooked. I see plastic glov—oh, maybe not. Well, there's a washbasin, at least."
[mouth full] "Pass the hot sauce?"
At Eat Your World, we know we have a lot more street food to cover—and we look forward to one day eating our way through the great street eats of Morocco and Taiwan, Turkey and South Korea, and documenting them on these pages. This list is clearly not meant to be a "best of the world." (To date us just a bit, the last time we traveled throughout Southeast Asia, we both had film cameras, and it did not even occur to us to use a precious shot or two on Bangkok's or Ho Chi Minh City's street food.) But while we have street food on the mind, we'd like to highlight a few of our favorites that we've encountered while traveling for this website. Some embody the down-and-dirty type described above, some are more refined, but all were sold and eaten outside, on the street or in a market.
Torta de Tamal, Oaxaca
We loved many street foods across Mexico, but this simple torta de tamal—a tamal Oaxaqueño, with chicken and mole negro sauce, sandwiched inside a soft, slightly hollowed-out bolillo roll—surprised us with a level of deliciousness we did not expect from a carb-on-carb concoction. The woman selling them outside our guesthouse in Oaxaca quickly became a part of our morning routine. (Read more.)
Dahi bhalla, Delhi
Delhi's a gem for street food, and this chaat, from a perpetually crowded counter in the heart of Old Delhi, is one of the most popular in town—particularly on a sultry day, when the cooling, creamy dahi (yogurt) beautifully balances the hot curries you're undoubtedly also consuming. Smothered unseen by the yogurt is a peppery bhalla (bready fried lentil fritter); on top are pomegranate seeds, chewy raisins, and sweet tamarind chutney. Like many chaats, this is a perfect amalgam of sweet, tangy, creamy, and spicy. (Read more.)
Halal chicken/lamb over rice, NYC
You either love or hate New York's omnipresent "street meat." At the good stands, we are firmly in the former camp, finding its aroma irresistible and its simple mix of seasoned meat, fluffy rice, fiery red sauce, and cooling white sauce seriously satisfying…especially at 2am. (Read more.)
Poffertjes, Amsterdam
These fresh, pillowy mini pancakes stole the show for us at Amsterdam's Saturday farmers market in the Noordermarkt: hot and doughy vessels for lots of powdered sugar and butter. What's not to love? (Read more.)
Elk & buffalo brats, Denver
A former repo man and biker is now Denver's resident tubed-meat genius, grilling up "gourmet game dogs" on the street (and now in a restaurant too). Served with a healthy schmear of cream cheese, the elk jalapeño-cheddar brat and the Southwest-style buffalo brat were both excellent—juicy and spicy, with a crazy-addictive creaminess thanks to the cheese—and the meat is locally sourced.
(Read more.)
Arepa con queso, Cartagena
The most classic Colombian street food, the arepa is a hot, savory disk of corn and white cheese, slathered with butter. 'Nuff said. (Read more.)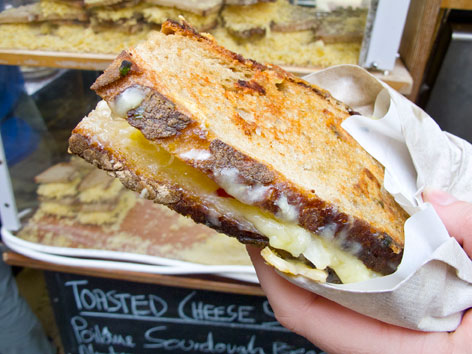 Toasted cheese sandwich, London
The humble cheese toastie, what some of us would call grilled cheese, gets elevated by top-notch ingredients—shredded Montgomery's cheddar, chopped leeks/onions/garlic, Poilâne-baked sourdough bread—in London's outdoor markets. The crunchy, gooey, nutty result is comfort food at its artisanal best. (Read more.)
Local scallop sandwich, Victoria, B.C.
From a refurbished shipping container on the harbor came this incredible "burger": three local Qualicum Bay scallops with aioli, tartar, and lemon-pickled onions, topped with a tempura pickle. The fresh taste of the sea mingled with crunchy, creamy tang. Heaven. (Read more.)

Your turn: What's your favorite street food? (If you have a picture of it, show us!) And where MUST we go next for the best street eats?