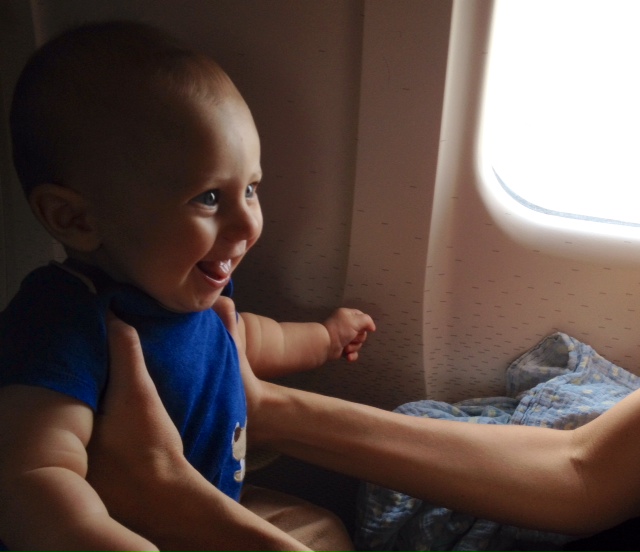 In preparation for the holiday travel season, we are sharing a few of our hard-earned tips for traveling with that most delightful of age brackets: babies and toddlers.
OK, parents of little ones: We've all been there. You arrive to your Airbnb and realize you forgot to ask about a high chair. Your 2-year-old decides to wake up at 5am every day on your trip and the hotel doesn't serve breakfast until 8am. The iPad runs out of power midway through the flight and WHAT ARE THE KIDS GOING TO DO NOW?
It isn't always a blast, but traveling with little kids is infinitely easier and more enjoyable if you come well stocked and well prepared—physically and mentally. We've already covered tips for tackling culinary travel with little ones; now we are giving you the specific gear and toys we've loved over the years. You got this!
In Porto, Portugal
FAVORITE TRAVEL GEAR
Iglesina Fast Table Chair: This packed right into our luggage when we needed high chairs for apartment rentals or restaurants. Because, let's face it: It's always better to have little ones strapped in while they're eating rather than spilling cereal all over the couch in your Airbnb.

In Charleston, SC
Ergobaby carrier: This one's no surprise: A baby carrier is a must! Ours predated this awesome 360-degree version, but we managed to snag a matching Ergobaby backpack that no longer seems to be on the market. No matter: Pair one of these front carriers with a soft, lightweight backpack diaper bag and you can go anywhere, hands free. I can't even tell you how many on-the-go naps we did with our Ergo while sightseeing, museum wandering, or beach strolling. Those were the days…

Skip Hop Zoo Little Kid Luggage: Once our older son had his own bag to roll, he stopped dragging his feet and asking to be held in the airport…in fact, we could barely keep up with him! Bonus: These bags act as toy- and snack-filled carry-ons for kids, so you save some space in your own bag.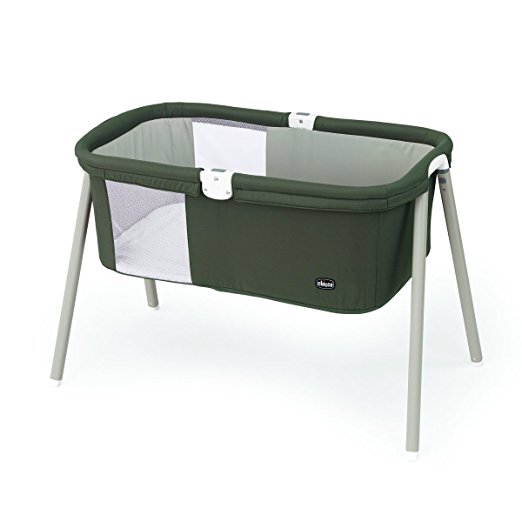 Travel cribs: We've mostly used pack n' plays for this purpose, but have never actually flown with one…we've had luck borrowing in our destination (many Airbnb hosts have been able to provide this for us, and we once used a rental service in Mexico). But we'll give a shout-out to two travel bassinets we used a lot at home (and the beach, the backyard, etc.) when our kids were babies: the lightweight Chicco Lullago Travel Crib, which just seemed wonderfully comfortable, and this Phil & Ted Nest Crib, with a mesh zip-up cover that made it particularly great for outdoor use.
Bottle ice bag: If you're traveling with milk- or formula-drinking babies, a bag with a built-in ice pack, like this one, is your friend. I used mine on countless flights, day trips, and even to cart pumped breastmilk home sans child.
Two kids, many countries, one orange bowl.
Mealtime essentials: Our kids are both big eaters, and we visit a lot of restaurants when traveling, so this is high-priority stuff! Friends make fun of us for bringing this Boon Catch bowl with us everywhere we go, but we love it: It fits into our diaper bag, it washes easily, and the "spill catcher" lip really does keep things a bit neater. Especially essential for little soup eaters! We also love (and still use) these suction-cupped Munchkin Stay Put Bowls. Our kids know and like their own bowls, so this is like bringing a tiny bit of home with us on the road—plus, at restaurants, it's nice to not have to worry about a ceramic bowl crashing to the floor. Another "spill-catching" essential? This OXO waterproof silicone bib. And kid-size utensils (we like the Gerber Graduates forks and spoons) live in our travel diaper bag too.
As for the never-ending quest to find a water (or milk) bottle that won't leak or mold easily? We've tried many, and our top picks are the stainless-steel Thermos Foogo and the Munchkin Miracle 360 Sippy Cup. But you can't slack on washing them out well while you travel: Bring a straw cleaner for hard-to-reach spots.
Food storage: For storing baby food, kid-size leftovers from a restaurant, and small amounts of snacks, we use the versatile OXO Tot Freezer Storage Containersand these Gerber Graduate bowls with lids. To save on plastic bags (and avoid having to pack them), we like reusable Bumkins snack bags.
Veggies from home: When our kids were babies, we always packed a few vegetable pouches (we liked the Happy Baby organic line), so that just in case they rejected whatever local food we put in front of them (or if it was lacking in the veg department!), they could have something nutritious to eat.
And something else on our radar for when our kids are a tad older:
Trunki Boostapak: The backpack that turns into a booster seat, recommended by a lot of traveling moms I know. When our older son moves to a booster, this genius invention will surely be traveling with us.
FAVORITE TRAVEL TOYS
A few small cars: Duh. We never leave home without a car or two for our boys. Take my advice and keep one in every bag you take out with you!
Melissa & Doug Water Wow Reusable Activity Pads: The key word here is "reusable." Also, they are no-mess, don't take up much room, and all you need is some water!
Coolplay Magic Pen Water Mat: More reusable, non-messy art fun with water.
Melissa & Doug Sunny Patch of Bugs: Or snakes, or lizards. Kids like having lots of little things; these are cute and small, and it's not a big deal when you inevitably lose a few.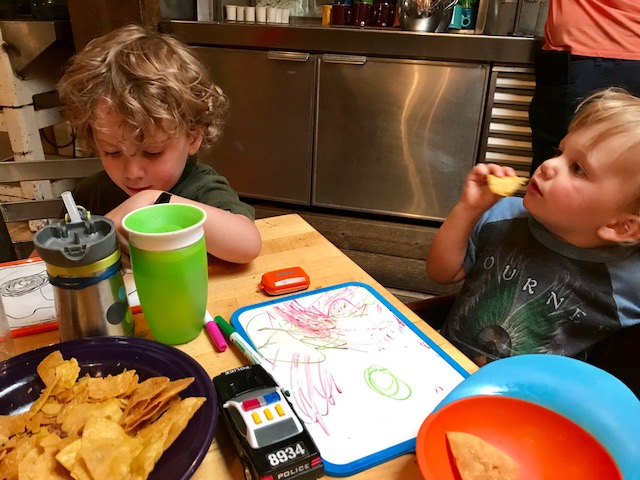 In Santa Fe, NM. Car? Check. Whiteboard? Check. Water bottles? Check.
A dry-erase board and some markers: Check your dollar store for the small cheap ones; whip 'em out on the flight (or while waiting for lunch to arrive).
Crafty items, like pipe cleaners and Wikki Stix: Sometimes it doesn't take much to entertain a little kid. I particularly like Wikki Stix because they're reusable (also, my kids seem to love sticky things in general).
Melissa & Doug Reusable Sticker Pad: Are you noticing a theme here? Reusable = endless hours of entertainment (also less environmental waste, ultimately). These sticker pads are awesome, not so much for airplanes but definitely for packing flat into your luggage…especially if you have early risers who will need a quiet activity at some godawful hour of the morning.
Small jigsaw puzzles in travel tins, like this: Again, a nice quiet morning activity.
Crayons and coloring books: Not to sound like a Melissa & Doug shill, but I (and my kids) love these jumbo coloring pads.
iPad or tablet + headphones. We don't have a fancy kid tablet, just our regular iPad that we loan out to our older kid when appropriate. But we like these LilGadget headphones for airplane movie-watching.
Outdoor explorer set, like this one: Great for getting your kids interested in exploring nature, wherever you're going.

Disclosure: We are a participant in the Amazon Services LLC Associates Program, an affiliate advertising program designed to provide a means for us to earn fees by linking to Amazon.com and affiliated sites. Some of the products on this page are affiliate links, meaning we will get a small commission if sales are made; however, each of these is here only because we really truly recommend and use them ourselves. Like, very often. See the FAQ for more on our editorial policy.

PIN THIS TO SAVE!