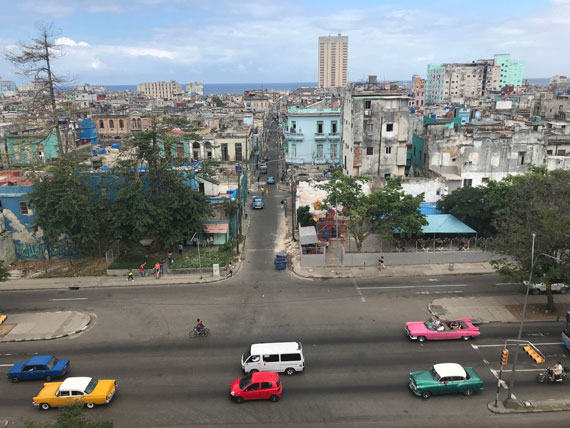 Centro Habana
It may not be as easy as hopping on a flight to the Bahamas. But there's no place on Earth like Cuba—and it's not nearly as hard (or illegal) to get there as the U.S. government would like you to think. Americans can travel solo to Cuba. Here's how.
It seems with every U.S. administration there are new rules about Cuba. Can Americans go or not? Independently or group only? Is tourism still banned? (Yes, it is.)
It wasn't until 2016 that it became clear that former President Obama was actually relaxing the rules, and independent travel by Americans to Cuba was finally permitted. American travel to the island skyrocketed; the Cuban private sector grew. Anticipation was high for mobs of tourists and business investment, but—whether or not that would be a good thing for a country with such aging infrastructure and increasing food shortages—it never fully materialized.
Despite the current U.S. president's undying resolve to reverse every step forward his predecessor took, including thawing relations with Cuba, it is still perfectly, legally possible to travel there alone as an American. Since the latest updates in November 2017, however, the rules are more confusing than ever, which in hindsight was probably the government's plan in order to discourage travel to Cuba without outright banning it. Don't be dissuaded! Now, as in 2016:
• You can still fly direct from the U.S.
• You can still book your own accommodation online via Airbnb.
• You can still easily get the required Cuban visa online or via your airline at the gate.
• You can still travel independently once you're there as long as you're not going expressly as a tourist. (Translation: You must have an itinerary that goes beyond sunbathing and rum swilling.)
Of course, you can also still go as part of an organized, U.S.-owned tour group, so long as a representative from that tour group accompanies you around the country. But solo travelers remain subject to those 12 acceptable purposes for travel to Cuba that you've probably heard about—to qualify for a general license, you must declare one of them. Under Obama, the broad individual "people-to-people" category was the one selected by most indie travelers; it required that you were actively engaging with Cubans, not just vacationing. Now Trump's removed that option, but guess what? It's essentially still there; it's just called something else. Which brings us to our first step.
Centro Habana. Photo by Scott B. Rosen
Step 1: Choose an authorized category of travel.
If you want to travel independently, and you are not a journalist or have a specific religious, humanitarian, educational, or family reason to be there, your best bet is the broad category known as Support for the Cuban People. Per the Electronic Code of Federal Regulations, one of the three groups for whom this activity is permitted is "individuals and non-governmental organizations that promote independent activity intended to strengthen civil society in Cuba." Bingo.
This is the easy part: If your travel is covered under a general license, as this category is, you do not need to obtain any special licenses from the Treasury Department's Office of Foreign Assets Control (OFAC)—it is a myth that this process entails a ton of paperwork. Certain types of travel, like journalism, do require you to jump through extra hoops (those visas must be issued by the Cuban consulate), but for this category, all you need is a $50 Cuban visa/tourist* card, usually offered at the gate by your airline (this was the case with our flight on JetBlue). If it's not offered, you can pay $85 (there's a service fee) with a company like Cuba Visa Services.
And don't be confused by the term "general license"—this is not a physical license you need to obtain. You only need to choose a category so you can declare it when prompted, such as when you book your flight and lodging.
(*Finally, remember that your travel to Cuba is "tourist" in nature to the Cuban government only. The U.S. government doesn't consider or permit any travel to Cuba that's mere "tourism," requiring instead one of those approved categories of travel. On the flip side of that, those U.S. categories of travel mean absolutely nothing to the Cuban government.)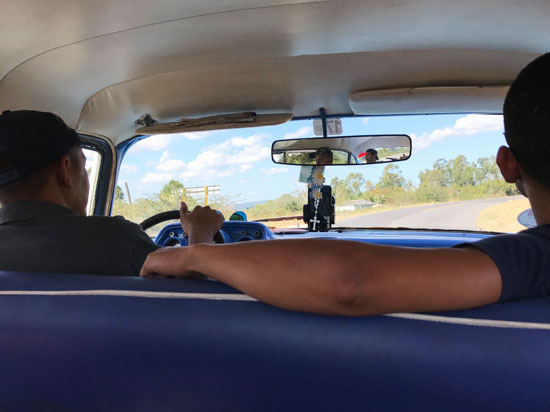 Hiring a private taxi driver for a day trip is one way to support local business in Cuba.

Step 2: Plan an itinerary that fulfills your chosen category.
The big takeaway here is: You can't just go to Cuba and wing it. This isn't anything new. You need to have a game plan that includes eating local, staying local, and booking local activities. And to travel responsibly to Cuba, you need to be doing this stuff anyway.
To sufficiently support the Cuban people, according to the U.S. guidelines, one must engage in a "full-time schedule of activities" (at least six hours per day) designed to "enhance contact with the Cuban people, support civil society in Cuba, or promote the Cuban people's independence from Cuban authorities" as well as "result in meaningful interaction with individuals in Cuba." An additional note decrees there must not be "free time or recreation in excess of that consistent with a full-time schedule."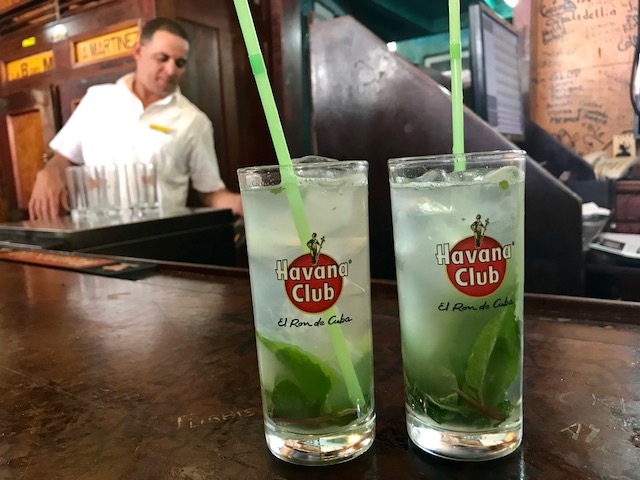 You can still drink mojitos, just not full-time.
The guidelines go on to provide some specific examples, including the following:
An individual plans to travel to Cuba, stay in a room at a rented accommodation in a private Cuban residence (casa particular), eat at privately owned Cuban restaurants (paladares), and shop at privately owned stores run by self-employed Cubans (cuentapropista) during his or her four-day trip. While at the casa particular, the individual will have breakfast each morning with the Cuban host and engage with the Cuban host to learn about Cuban culture. In addition, the traveler will complete his or her full-time schedule by supporting Cuban entrepreneurs launching their privately owned businesses. The traveler's activities promote independent activity intended to strengthen civil society in Cuba. Because the individual's qualifying activities are not limited to staying in a room at a rented accommodation in a private Cuban residence (casa particular), eating at privately owned Cuban restaurants (paladares), and shopping at privately owned stores run by self-employed Cubans (cuentapropista) and the traveler maintains a full-time schedule that enhances contact with the Cuban people, supports civil society in Cuba, and promotes the Cuban people's independence from Cuban authorities, and that results in meaningful interaction between the traveler and Cuban individuals, the individual's travel qualifies for the general license.

If that sounds a bit over-the-top to you, well, it is. Most travelers accustomed to exploring a country on their own would be doing lots of this anyway, but just know it's a legal requirement if you are American. Additionally, the more you learn about Cuba, the more you realize that this is the best way to travel ethically there regardless of the rules.


We knew we'd be staying in a casa particular (booked easily in advance, via Airbnb) with a local family, shopping at local stores, visiting independently owned museums, and eating at paladares. It was also a given that we'd be engaging with people we met whenever possible. But as the guidelines specifically state that isn't enough, we also booked a few tours and activities that support private businesses: a Havana food tour, an art class with local graphic designers, a private-taxi day trip to Viñales (with a tobacco farm visit and horseback ride there). Airbnb Experiences in Havana lists countless other ideas, from history walks and salsa dance lessons to cooking classes and music immersions. The activities add up—expect to pay anywhere from $5 a person to $100 per person—but, more important than appeasing the U.S. government, they are actually pretty great, and give you a good excuse to learn from and hang out with Habaneros.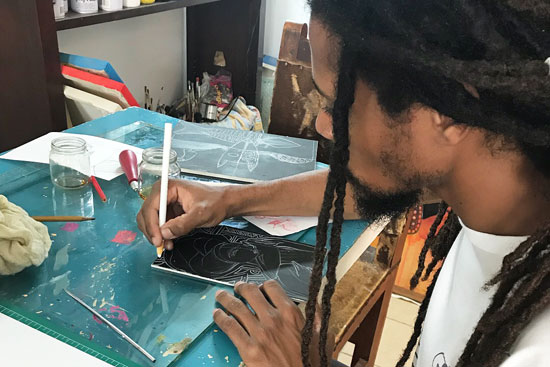 Make art (and drink rum) with self-employed artists in Havana.
If you are pressed for time or want help with this, check out ViaHero, a service that pairs you with a local expert "hero" to create an itinerary for $25 per day of your trip. We liked the idea of consulting with a local on both activities and restaurants, since we wished to maximize our short stay in Cuba—and wanted to meet the U.S. requirements, which were still murky to us (the company specifically markets itself to Americans wanting help with that). So we signed on. Our Habanera hero arranged our transport for us in advance of our arrival, was available via phone during our stay, and, as a bonus, invited us out a few times to parties to meet her friends. Win!

A roadside in Viñales, Cuba. Photo by Scott B. Rosen
Step 3: Plan your budget.
Spoiler alert: This part kind of sucks. But it's totally doable if you're armed with some knowledge (and a calculator).
Americans going to Cuba must have a very clear idea of how much money they will need, because everything is cash-only. That's right: No credit cards, no ATM withdrawals; nothing associated with a U.S. bank will work there. What you enter with is what you have to work with, unless you go the expensive money-wiring route.
The first thing to understand is the dual-currency model: convertible pesos (CUC, pronounced "kook") for tourists, which are roughly 1:1 with the American dollar, and Cuban pesos (CUP) for locals ($1 equals about 26 CUP). The former is primarily what you'll be dealing with, but you will want to have a few local pesos on hand for tipping bathroom attendants and buying street snacks or coffee, or you'll be overcharged—for example, you may end up paying $2 for a small cup of churros versus 2 CUP, about 7 cents. (To get CUP, ask for it in change from a taxi driver or street stand.) Fun fact: CUC have monuments on them; CUP have people on them. You do not want to get these mixed up, so this is actually very important to know.
Churros in Old Havana.
Money-changing happens at José Martí International Airport first and foremost, but you may find better exchange rates in Havana or, ideally, another town like Viñales. (If you want to bet on that, at least change over enough money so you're covered for two days.) Unfortunately for Americans, changing American dollars incurs a 10% fee—a penalty that was briefly lifted during the warmer Obama years, but is now firmly back in place. You have the option, then, of changing your dollars over to euros or Canadian dollars before you leave the States, but you need to give your bank a few days' notice for that.
Ropa vieja from a local paladar in Viñales.
Fortunately, if you've sketched out your itinerary up to this point, you'll have an easier time producing your budget. First get your accommodations squared away—if you're booking on Airbnb, you can still pay in advance with your credit card (tip: If you want to stay reasonably connected while you're here, search for properties with Wi-Fi, like the one we stayed at). You'll know the cost of your various activities, and if you're eating at any restaurants with online menus, you'll have a good idea of what a meal costs. Most eateries don't have online menus, of course, but if you're eating at those it's safe to assume you'll be paying less. (A good estimate for more local paladares is about 8 CUC a person.)
The trouble comes in all the extras. We were told 3-5 CUC per taxi ride between central Havana (where we stayed) and Old Havana, but despite our negotiating, we almost always paid 5 CUC. To go a bit further, to Vedado, it was minimum 5-8 CUC; at night the drivers attempted to charge up to 10 CUC. Old Havana was bigger than we anticipated, so we wound up taking a bunch of private bici (bicycle) taxis, usually another 5 CUC. Expect to pay between 25-30 CUC to travel between the airport and central or Old Havana.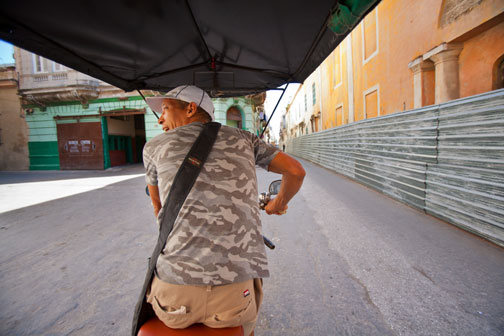 A bici taxi in Old Havana. Photo by Scott B. Rosen
Then there are the cocktails (2-4 CUC each time, more or less)—we stopped for lots of those—the bottles of water (can't drink tap there), the shopping for art/rum/cigars, the Wi-Fi (if your lodging lacks this, you can purchase a card and use the hotspots that exist in certain parks), and the street snacks, which we overpaid for at first because we didn't have local pesos on hand. We ultimately lost a lot of money on the exchange, not only because we paid that 10% penalty but also because—heeding everyone's advice to BRING EXTRA CASH—we wound up having too many CUC at the end and so needed to change it back into U.S. dollars before flying home. Every time you exchange, money is lost—sometimes more than others, as it's a common scam to not be given the right amount—so try to be as exact as you can, and limit your time visiting the exchange counter.
A bit of good news here is that there's no exit tax to leave Cuba, as there used to be. So go ahead and spend your leftover CUC in the airport, on rum from the duty-free shop. (Just brace yourself, because as is the norm in Cuba, chances are good there will be a long wait on a slow-moving line.)

Step 4: Follow the "rules" in Cuba.
Both countries have some rules while Americans are in-country. On the U.S. end, thanks to the newest State Department rules, it mostly consists of not staying in certain forbidden state-owned hotels (including Ernest Hemingway's Old Havana haunt, the Hotel Ambos Mundos) or shopping in particular state-owned stores. In total, Americans are prohibited from doing business with 180 entities. See the full list of banned businesses in Cuba here.
The good news here is that OFAC has removed the earlier monetary value limits on the stuff you buy in Cuba (previously it was $400 or less for personal-use merchandise, with no more than $100 of that reserved for alcohol and tobacco products). Now there's no limit on how much you buy of anything, as long as it's for personal use only.
On the Cuba side, there's not too much to worry about. Don't try to leave the country with any CUC in your wallet—that's apparently illegal—and don't photograph government buildings or military personnel in Cuba. They don't like that.
As for red tape, you are required to have that Cuban "tourist card"—the visa you buy in advance—as well as Cuban health insurance while you are in the country (this is meant to cover you in case you need to see a doctor while there). Most airlines, such as JetBlue, include the cost of basic Cuban health insurance in your fare; if not, you'll have to buy it from a stand in the airport upon arrival for a few dollars a day. Be sure to double-check what's included in your fare before you get there.
In our experience, none of these rules affected our travel in the country much at all. And it's worth noting that upon our reentry to Florida, when the U.S. customs officer asked us where we went and we said Havana, he responded with, "Havana, KOO-ba," with a nod, as if to say: That's cool.
A plaza in central Havana. Photo by Scott B. Rosen.

Step 5: Keep a record for five years.
This part isn't new: Keep a record of all of those legal activities you did, places you stayed and ate, and transactions you made while traveling under that Support for the Cuban People category for five years. Receipts are specifically mentioned, which is funny because almost no receipts are given out in Cuba. We imagine a reasonably detailed written-out itinerary with names and addresses and amounts spent will suffice, but don't quote us on that.
Obama's administration required this as well, but the current one is acting as if it will be a more enforced thing. We will see. (Ask us five years from now.)
***
The irony in all of this backtracking on Cuba is that the growing number of entrepreneurs in Cuba—the private sector the U.S. government claims it wants to boost—are overwhelmingly in the tourist industry. This clearly presents its own set of problems, since it's more financially viable to work as a privately licensed taxi driver than as a state-paid doctor. But in Cuba, it's a start toward empowering the people, and the confusing U.S. policy only harms that effort when it restricts independent American travelers—the ones most likely to be supporting private eateries, staying in local lodging, spending money on food/history/art tours, tipping, and naturally engaging with Cubans, thus enhancing the free flow of information in a place with severely limited internet access. (Tour groups? More likely to be shepherded onto government-run buses with state-employed tour guides, though of course there are ethically minded exceptions.) We met a lot of Cubans who were devastated when they heard of the latest rule changes. They thought things were finally going to improve for them.
The discussion of what, exactly, must happen for things to truly improve for Cubans is better left to another publication. But for responsibly minded American travelers interested in the island's romantic legend, its complicated reality, and everything in between, just know that you can go and see for yourself.

RECOMMENDED READING


Havana, a Subtropical Delirium, by Mark Kurlansky. If you're read Kurlansky's other fascinating books, Cod and Salt, you'll be familiar with the level of historical detail he brings alive in his pages. This one combines that cultural insight with personal travel experience, as he knows the city well, plus photos and even recipes. The perfect companion for a trip to Cuba.

Moon Cuba:
Published in January 2018, this is the most recent travel guide out there to Cuba, and brings with it Moon's customary in-depth knowledge and tips.
Disclaimer: We are not legal experts on federal regulations; this is merely based upon our own extensive research, common sense interpretation, and direct experience traveling to Cuba in February 2018.
WANT TO SAVE THIS FOR LATER? PIN IT HERE.
Disclosure: We are a participant in the Amazon Services LLC Associates Program, an affiliate advertising program designed to provide a means for us to earn fees by linking to Amazon.com and affiliated sites. Some of the products on this page are affiliate links, meaning we will get a small commission if sales are made; however, each is here only because we really truly recommend (or have used) them ourselves.