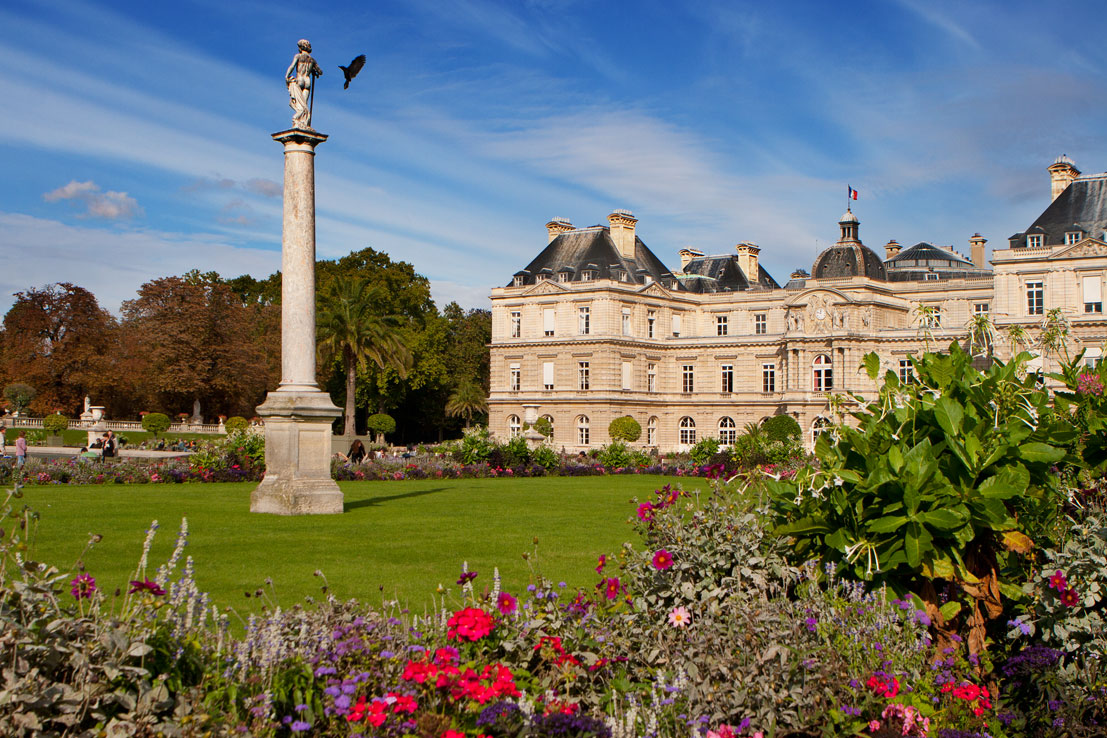 Jardin du Luxembourg, Paris (Scott B. Rosen/Eat Your World)
In this guest post, our savvy friends at INSIDR—a service that provides travelers with a digital guide to explore Paris like a local—share what a typical day of eating looks like for a Parisian. Spoiler alert: There's a lot of wine.
To really feel Parisian, you'll have to eat like one. A few tips: Avoid grabbing a bite around the main tourist sites, where you'll mostly find overpriced average bistros, tourist traps, and the usual international fast food chains. (The Champs-Elysées area is probably the worst place to have a decent lunch or dinner, so plan accordingly!) Instead, seek out non-touristy spots and learn the local rituals of when and what to eat (and drink). What does that mean, exactly? Take a look:
Brasserie Thoumieux's lemon tarts, at brunch. (Pics courtesy of INSIDR except where indicated.)
8am: A croissant a day keeps the doctor away!
Start your day with a croissant—you'll find one of the best in town at Au Caprice Gourmand. It makes delicious pastry using only top-quality ingredients, such as real farmhouse butter.
Parisians always pair croissant with black coffee. The Paris specialty-coffee scene has grown widely in recent years, with several local coffee-roast companies and coffee labs opening up. It's said that Paris could be the next coffee epicenter of Europe! If you are a true coffee lover, don't miss Fondation Café and Café Coutume, two great options.
Here on the weekend? Parisians gather around a giant brunch on Saturdays and Sundays. One of our favorites is the exquisite brunch at Brasserie Thoumieux, which gathers the finest French specialties: delicious cheeses from Cantin, amazing bread from Secco, Bordier's salted butter, and wonderful pastries from Gâteaux Thoumieux.
Steak frites for lunch at L'Aller-Retour
1pm: A real Parisian would never skip lunch!
Parisians love taking their lunch break in a typical French bistro, as you can find really good deals for lunch.
At L'Aller-Retour, the lunch menu offers a large piece of delicious red meat, French fries, vegetables, and a glass of wine for less than €11. Many gourmet restaurants (including those Michelin-starred) have special deals for lunch as well; we highly recommend Septime and Auguste for this.
From April to October, when the sun is out, Parisians love to pack their lunch and improvise a picnic in gardens and parks. Our secret insider-combo is to hit up the local food market Le Marché des Enfants Rouges and then the lawn of the Square du Temple, which is right nearby.

The fabulous Marie-Antoinette pastry at Carl Marletti
4pm: A Parisian's heart beats for an afternoon treat.
Paris is a city with a bakery or pastry shop at every street corner. And there's a reason for that!
If you have a sweet tooth, don't miss Carl Marletti's pastry shop and his jaw-dropping creations. Be prepared to fall for the Marie-Antoinette, a raspberry macaron filled with rose cream.
Parisians love tea as much as coffee, and many French tea brands are internationally famous (e.g., Mariage Frères Thés). For trying new flavors and blends, we recommend Artéfact, an amazing salon de thé and art space—it blends and creates its own tea flavors in a cozy, intimate atmosphere.

Lockwood's apéritif spread
7:30pm: Whet your appetite!
The apéritif is a French tradition dating back to the 19th century: The habit was to have a glass of liquor with medicinal properties before dinner in order to whet the appetite. The tradition remains, and Parisians cherish it! They gather with friends and co-workers over large plates of cheese and charcuterie and a glass (or two) of wine.
A great place to start the evening with some tasty food and liquor is Lockwood, where wonderful craft beers, homemade cocktails, French wine, and tapas are offered during the hours of aperitif (6pm-8pm). Le Baron Rouge is another great bet, a fantastic wine bar with a vivacious atmosphere and terrific selection of wine.

"Bistronomy" dinner at Elmer
9pm: Time for a tasty discovery!
Paris is the land of "bistronomy," a huge trend in modern French cuisine.
Bistronomy is, of course, the combination of bistro and gastronomy. It can be summed up as a fine, traditional French meal with a twist of creativity, served in a typical bistro atmosphere. Our latest discovery is Elmer, a hidden gem ideal for a date or dinner with friends over a delicious bottle of wine.
So there you go: You're part Parisian now! Enjoy your time in the city!
About the authors: Nina Forlani and Ophélie Bielawski are Paris-based writers and contributors to INSIDR, which provides travelers with a digital guide—including maps with all the best non-touristy spots!—to discover Paris like a local. INSIDR gives access to customized maps and a community of English-speaking Parisians for real-time support.
Note: This post contains affiliate links.
WANT TO SAVE THIS ARTICLE FOR LATER? PIN IT HERE.