Team EYW visited Port Antonio, where the Blue Mountains meet the sea in northeast Jamaica, to cover the north coast's local foods for this site. The birthplace of jerk, this gorgeously green, serene region is one that rewards an exploratory spirit—even if you have a 2-year-old in tow. Here's what to know about eating and traveling around Port Antonio, Jamaica.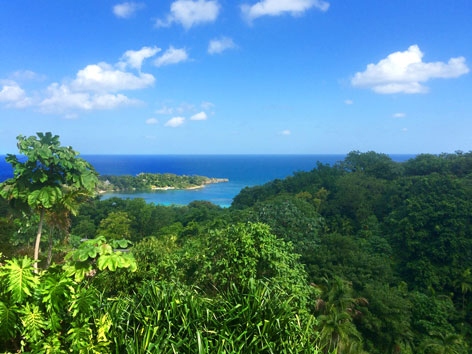 To be perfectly honest, we arrived to Port Antonio, on Jamaica's lush northeast coast, a little beaten down. Scott and I had just survived a nearly five-hour drive (with stops, including two by the speed-gun-happy local cops) along the coast from Montego Bay, the last two hours slow and winding, with our temperamental nearly two-year-old, and we were already dreading the drive back in a few days. It was getting late, we were hungry, and we had no idea where to park: Our beautiful hotel-villa, perched steps from the Blue Lagoon (yes, that one), was set between two narrow, jungly roads, no lot in sight.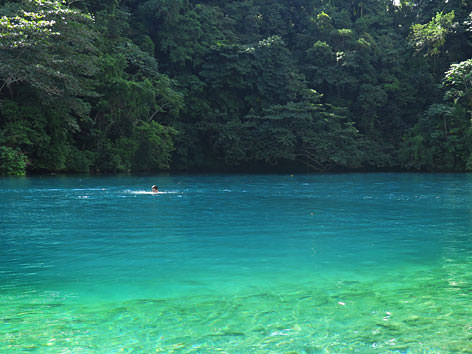 The Blue Lagoon
And once that was resolved, and we'd lugged all our stuff into our two-room suite, there was our second pressing issue: food.
It was close to 6pm, our son's bedtime was approaching, and we needed to feed him something other than road-trip snacks. We'd forgotten that our hotel doesn't serve dinner without advance notice—in fact, several restaurants in the region operate this way; you need to reserve your meal the day before so that groceries can be purchased. Nothing was walkable, so once we accepted we'd have to get back in the car, we turned to the staff for help: What were our options?
We settled for burgers and fries on a nearby crescent-shaped beach, Frenchman's Cove, and raced over with our cranky boy just before the deserted restaurant closed. Our meal was so-so and not particularly Jamaican, but we had the darkening sands and rolling waves to remind us where we were. Basic needs met, we retired for the night, wondering aloud, as we often do in moments of toddler-travel exhaustion, if perhaps an all-inclusive resort is the more relaxing way to go next time.
Gratefully, things improved over the next few days.

A winding beach road in Port Antonio
Port Antonio, we learned, rewards an exploratory spirit, and a little bit of research. This mellow, remote region, often called the forgotten "real Jamaica," doesn't lay it all out for travelers; you have to navigate the dusty city and its rural, startlingly gorgeous outskirts yourself to find the gems. It pays to see what's around the corner here—to push on to the next free beach, to continue down that green-lined road, to wander into a few shacks and find out what's bubbling beneath the pot lids. Do your homework and you won't have to settle for mediocre burgers for dinner.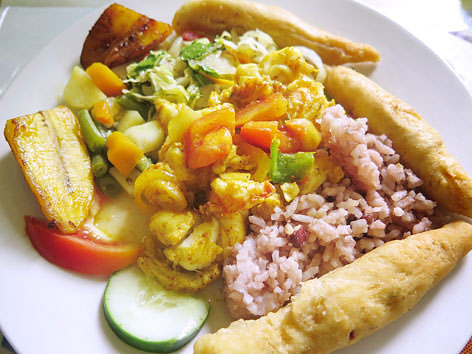 Curried lobster with festival dumplings

Winnifred's beach
Expect to work a little. To reach the beautiful public beach Winnifred's, we made a few wrong turns and then realized we had to ease our rental car down a long, steep, bumpy dirt road. But then we spent the better part of a day there sipping fresh juices and cold Red Stripes, swimming with our son, taking shelter from a passing storm in a Rasta shack with excellent curried lobster, and chatting up the few friendly local peddlers.
The laid-back enclave of Long Bay, a short drive further east, we visited quite by accident, when our son fell asleep in the car and we kept on driving. There, we discovered another pretty beach and a slew of tempting roadside shacks—when he finally awoke, we wandered into the welcoming musical confines of Fisherman's Park, lingering over delicious conch soup, jerk pork, and baked chicken with a content, well-rested kid.

Fisherman's Park, Long Bay

Gettin' our jerk on
At the famous Boston Jerk Centre, said to be the birthplace of jerk—the Jamaican style of cooking meat in which a spicy dry rub is applied before grilling over hardwood charcoal, typically in a steel drum jerk pan—our first vendor was a miss, but then we found the jerk chicken we craved, super moist and flavorful. Back in Port Antonio, we discovered we could have the clear, tranquil Blue Lagoon completely to ourselves if we timed our daily visits just right—after breakfast, while there was still morning sun but before the day-trippers showed up.
And Woody's Low-Bridge Place, celebrated for its (admittedly very good) burgers during the day, deserves a shout-out for serving us one of our favorite dinners of the week, a curry goat we'd had to special-order the day before with Woody himself. Eating in the garden's empty thatched-roof dining room feels exactly like eating in a local's home, with Woody and his wife, Cherry, personally preparing and serving the meal, with plenty of chat in between. (Special thanks to our hotel staff for watching our baby monitor a few nights so we could sneak out for peaceful dinners alone.)

Lagoon feet
Of course, it's all a little harder with a 5am-waking, tantrum-prone toddler. We like to think we are putting our kid (and ourselves) through the ringer early here, but the truth is, just as with any sort of travel, the low points are quick to fade, leaving behind great memories that only sustain and strengthen our growing little family.
It might not be the most baby-friendly destination in the world, but Port Antonio will make it worth your while. Tell Woody we sent you.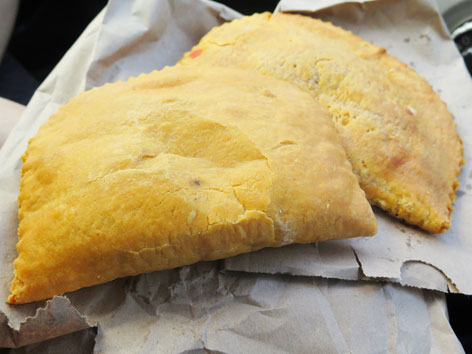 Jamaican beef and chicken patties: the best road-trip food!

Our terrace at Moon San Villa

Waiting for the storm to pass

Port Antonio jungle

Long Bay

Check out our full guide to the local foods—and where to find them—on Jamaica's north coast. Yes, that's right: We made this trip even more difficult for ourselves by running around to multiple restaurants/roadside eateries/street vendors in three different cities over five days! But, you know—worth it.