Our picks for eating and drinking in Japantown, San Francisco.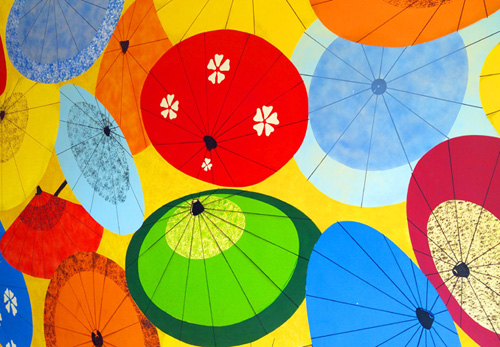 Japantown mural. All photos by Mary Charlebois
Ethereal tonkotsu, silky ramen. Tangy, crisp pickles. Sushi, sashimi, spicy-sweet ginger, and sake. Sweet, chewy mochi. Soak it all up with 36 hours in San Francisco's Japantown.
Six square blocks embody Japanese food, history, and culture. Traditional and modern ideals thrive side by side: kimonos and cosplay, silk paintings and anime, antique bowls and dollar-store plastic. Japanese-language signs describe produce at the corner market. There are noodle shops and hibachis, tea and sake. A pagoda made of cement. Lattes and matchas served at the same counter. Youngsters and elders walk together from school. Victorian mansions cozy up to glass-front cubes. You get the picture: This is a neighborhood of contrasts.
The city's compact Japantown is one of just three remaining Japanese communities in the U.S. Like most of San Francisco, it's a walking neighborhood. Because of its diminutive size and lack of "big" tourist attractions, visitors often overlook one of San Francisco's most enduring districts.
Take 36 hours to soak up the food, history, culture, and people of Japantown. Here's how to do it.
Books at Kinokuniya
Where to Stay
Located in the heart of Japantown, at the edge of the Peace Plaza, the Kimpton Buchanan (map) is the perfect home base. Asian-inspired décor features local artists and designers, and the crew is unrivaled—always welcoming and helpful, with attentive staff who are glad to make suggestions, give directions, and help you make the most of your Japantown visit. Bonus: There's a daily happy hour in the lobby with sake and more. The best San Francisco views are, naturally, on the top floor of the 131-room hotel.
Sake and Apps
From the hotel, cross the plaza and go inside the west mall. On the Bridge (map) is a tiny Japanese bar and restaurant, and your first stop for sake and an appetizer before dinner. Share an order of gyoza (juicy meat-filled dumplings) or munch on edamame—both are perfect with sake. If you're hungrier, split one of the curries or interesting pastas this place is known for (mentaiko pasta is always a good bet). As the name implies, it's located on the bridge in the mall.
Tonkotsu ramen
Slurp Your Ramen
A two-minute walk from the mall, Ramen Yamadaya (map) specializes in tonkotsu ramen. Tonkotsu means pig bones; the deeply umami broth is made with pork bones simmered for more than 20 hours. The first slurp of Yamadaya's broth is downright transformative. The house tonkotsu ramen is served with pork belly, a soft-boiled egg, mushrooms, vegetables, fresh green onions, and silky, house-made ramen. Other styles of ramen are available too, including a vegan version.
Post-Dinner Fun
Festa Wine & Cocktail Lounge (map), a karaoke bar and your after-dinner entertainment spot, is located on Post and Webster, just two blocks from the Buchanan hotel. Come in a group or alone and sing your heart out—all are welcome! Karaoke, munchies, cocktails, sake, and wine are offered. Try the strawberry saketini for a fun East-West blend in a glass.
Break for Breakfast
Take a breather from Japanese cuisine for just a second, because Sweet Maple (map), about an eight-minute walk from the hotel, serves one of the best breakfasts you'll find in San Francisco. This place is famous for its brown sugar-glazed "millionaire's bacon": thick, sweet, spicy, and unforgettable. There's also 11 types of eggs Benedict, 12 different omelets and scrambles, locally sourced organic ingredients, and a laid-back neighborhood feel. But again: millionaire's bacon.
Walk Through History
Beginning at the Peace Plaza (map), the Japantown History Walk is a self-guided walking tour that illuminates the area's jumbled history via 16 interpretive panels along a 10-block stroll. As you walk through the neighborhood, you'll encounter schools, a lively senior center, and an interesting mixture of modern, Asian, and Victorian architecture. It's an ideal—and free—way to get a broad overview of the area from a historical perspective. Along the route, don't miss a photo op at the iconic five-tiered Peace Pagoda, a 1968 gift from San Francisco's sister city, Osaka.
Mochi and tea
Mochi and Tea Time
Opened in 1906, Benkyodo Company (map) is one of the original Japantown businesses, located just across the street from the Buchanan hotel. Family-owned and operated, Benkyodo makes the wonderfully sticky and sweet traditional Japanese confections mochi and manju; the latter are filled with bean paste or fruit. Just one or two of these inexpensive indulgences will satisfy your sweet tooth. When in season, the peach-filled mochi are pillows of joy. Pair your sweet treats with a cup of jasmine tea for a nicely balanced combo.
Take a Break
Relax and recharge at Kabuki Springs and Spa (map). Time-honored Japanese baths, massage, acupuncture, facials, and detox are among the services offered at this day spa; try the Radiance package (from $120), which gives you access to a variety of skin-glowing treatments. For the record, communal baths are coed on Tuesdays. Sundays, Wednesdays, and Fridays are for ladies; Mondays, Thursdays, and Saturdays are for men. Try your luck as a walk-in or call for an appointment (415-922-6001).
Super Mira snacks
Picnic Lunch
Just browsing at Super Mira Market (map) is satisfying. The family-owned and operated Japanese organic grocery and deli, just across the street from the Buchanan hotel, is sparkling-clean and beautifully stocked. Deli foods are made daily with fresh ingredients and generations of experience. There's hot ramen, katsu, tempura, and curry; alternatively, the super fresh sushi, sashimi, salads, and bento boxes are perfect for lunch in a park or to take back to your hotel. Cottage Row, a quiet little oasis of a pocket park (and my own favorite Japantown picnic spot), is two blocks west on Sutter.
Now for the surprise: Super Mira has a four-star French bakery within its walls. The must-have, locally beloved favorite? Coffee crunch cake: delicate, moist sponge cake with a hint of coffee that's layered and frosted with thick, smooth coffee crunch. Do yourself a favor and take a slice of this secret-recipe favorite to go.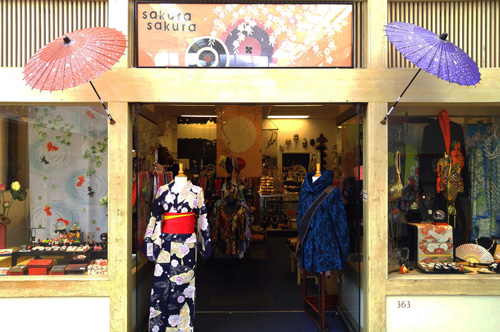 Hit the Shops
Japantown is an extraordinary shopping area. The countless stores and markets are filled with irresistible Japanese imports. Located on either side of the Peace Plaza, Japan Center Malls (map) are home to authentic Japanese culture, shopping, eating, and entertainment. Wander around Kinokuniya Books, where Japanese-language books, videos, magazines, and novelties fill the shelves. Sakura Sakura specializes in traditional Japanese clothing, cosmetics, and accessories (wallets, scarves, necklaces); it's full of great imported finds. Tiny Shige Antiques sells antique kimono, dazzling beauties that have been meticulously cared for and preserved for decades, each with a long and interesting history. There's even a Taiko dojo in the mall—a combination school and studio, where Taiko drum masters teach the physically demanding, exacting beats and rhythms used in stage performance, celebrations, and parades.
Lanterns at Soko Hardware
On the northeast corner across the plaza from Japan Center sits Soko Hardware. Locals shop at Soko for everything from shoji screen making/repair and superb-quality woodcarving tools to Japanese kitchenware and just ordinary nails and screws (it is a hardware store, after all!). But there's also a wide variety of well-priced traditional Japanese decorative items. Once I found a beautiful painted silk wall hanging of gardenias, my favorite flower, for less than $20, packaged in a tube for safe transport home.
Shabu shabu fixin's
Cook Your Own Dinner
Mums (map), in the Kimpton Buchanan building, offers American and Japanese cuisine, but specializes in shabu-shabu, the traditional Japanese hotpot. Slices of meat, fish, poultry, and vegetables are cooked by you at your table. A bubbling pot of broth is seasoned to your liking. Don't worry, the staff will guide you if it's your first shabu-shabu experience. And you'll be just downstairs from your room, ready to pack up your things—or stay on for another day of exploring underrated Japantown.

About the author: Mary Charlebois is a freelance travel writer and photographer who lives in coastal Northern California. See more of her work at MaryGo.