It's not uncommon these days to see a city's best local foods represented in its sports stadiums: Tony Luke's iconic cheesesteak in Philly's Citizens Bank Park, Shake Shack burgers in New York's Citifield, peach cobbler in Atlanta's Georgia Dome. But we were still pleasantly surprised with the offerings we saw this weekend at Marlins Park, the brand-new high-tech home of the Miami (née Florida) Marlins. Despite resembling a futuristic alien spacecraft, with its gleaming-white exterior and cool retractable roof, the stadium goes the extra mile to spotlight cuisine reflective of the multi-culti coastal city's roots—and even those of the visiting team.
Along the perimeter of the stadium are some ballpark standards—hot dogs, pizza, popcorn, pretzels, nachos (served in a helmet!)—but you can also track down locally sourced shrimp burgers (Burger 305), grilled mahi-mahi tacos (Miami Mex), Cuban-style rice and beans (Goya Rincon Habana), and 100% kosher deli sandwiches (Kosher Korner). In what we can only hope will be a new ballpark trend, the food program here encompasses a "farm to fork" initiative, sourcing seafood and veggies locally when possible. But the real magic happens behind left field—and no, we don't mean poolside among the dancers and DJs at the Clevelander, an outpost of the iconic South Beach club also in this part of the park. Around Section 28 is a little area called Taste of Miami featuring three city institutions—go there, and be hungry.
First stop: Papo Llega y Pon. Apparently this eatery was long an Allapattah hole-in-the-wall until some meat-loving Marlins employees got to it and introduced its signature pork sandwich to the baseball masses. The pan con lechon ($7) is a mess of chopped roast pig (tender pork shoulder and crunchy bits of skin), piled into a soft white roll with salt, onions, and hot sauce. We wanted more meat and less bread, particularly with that addictively crispy chicharron mixed in, but it was still delicious—and much more interesting than the (still tasty) Brother Jimmy's pulled-pork sandwich on the stadium's other side. Papo also sells tamales and chicharrones.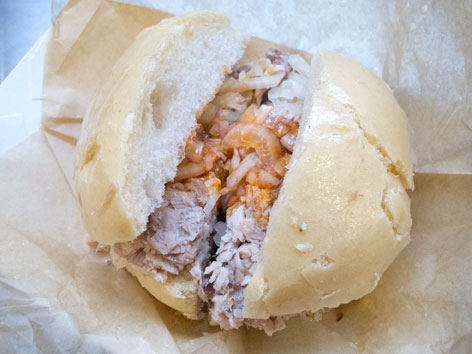 Next is Latin American Grill, an offshoot of the popular three-restaurant South Florida chain, here focusing its energies on Cuban sandwiches (and their kin, the medianoche). This place is a veritable assembly line of perfectly executed Cuban sandwiches—one after another, handmade in front of you, leaving no doubt they are as fresh as can be (see video at bottom). Hot off the press, served with crispy mariquitas, or plantain chips, this simple sandwich is a stadium highlight, despite the fact that ours alone lacked pickles—an unfortunate oversight for a $12 sandwich. Get a side of extra mariquitas ($6) to bring back to the stands; the garlic mojo sauce alone is worth the cost (pictured at top).
Finally, there's Don Camaron, for all your seafood needs. We settled on some comparatively light fish ceviche ($10), made with tilapia and including tomatoes, corn, red onion, and cilantro. The citrusy flavor was muy refreshing, and if we'd had any money left we would've gotten a few oysters on the half shell, too. This is the stand where you forget you're at a ball park.
We hope that visitors to Miami make a beeline for these quintessential eats, but there's something in it for Florida residents here, too—they can try a different local food every game from the visiting team's city, as the Burger 305 stand in Section 19 serves a suitably regional dish depending on who's in town: lobster rolls for the Red Sox, fried ravioli for the St. Louis Cardinals, cheesesteaks for the Phillies. For the Mets on Sunday there was supposed to be corned beef Reubens, which, in our quest for Cuban pork, we failed to notice. But we love the idea of welcoming opponents with a taste of their home, and celebrating regional dishes in the process. I have to admit I'd try the fried ravioli if the Cardinals had played this weekend…
Here's a peek into the making of those Cuban sandwiches: