A recent jaunt through NOLA had one of our friends pronounce, at the end of a long night, "I think I've drunk every drink this town has to offer." Did she, though? (She was still standing, so it's highly unlikely!)
It's a task easier said than done, that's for sure. No less than five classic cocktails trace their origins back to the old-line Creole restaurants and divey drinking dens of New Orleans, and a slew of others have somehow migrated down to the bayous, gradually adopting the Big Easy as their home. Then there's the regional craft beers, the quirky lunchtime 25-cent martinis, and the more modern mixology-driven drinks on the scene today. Too much to handle in one sitting? Don't worry, in NOLA you can take what you can't finish out on the street in a go-cup.
We've managed to work our way through quite a few of the city's drinks during our time there—not all in one night, we assure you. Here are some of the highlights.
Sazerac
The most iconic of NOLA cocktails, the Sazerac combines rye whiskey or bourbon with a bit of simple syrup and native Peychaud's bitters (giving it its bright pink hue) in a glass that's been coated with Herbsaint, a local anise-flavored liqueur and one-time absinthe substitute. A lemon twist is the single, elegant garnish. No trip to New Orleans is complete without one of these babies, invented here in 1870 (or so).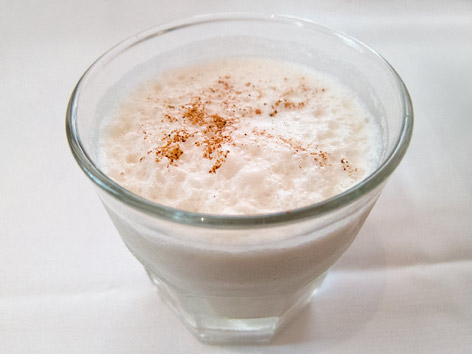 Milk punch
Kind of like eggnog without the egg—or just a delicious boozy milkshake—this classic NOLA brunch drink pairs brandy or bourbon with milk, sugar, and nutmeg. You really can't go wrong.
Hurricane
As the story goes, this bright pink, super-sweet, fruity cocktail—made with rum, lime, and passion-fruit syrup, garnished with cherry and an orange slice—was invented by bartenders at Pat O'Brien's in order to dispose of giant surpluses of rum. It's still fun to grab a Hurricane at Pat's, but versions that actually taste good can be found elsewhere about town.
French 75
Composed of champagne, cognac (sometimes gin), lemon juice, and sugar, the French 75 is one of the daintier cocktails found around here. Sipping one (or three) in Arnaud's French 75 cigar bar is a transporting experience.
Pimm's Cup
For reasons unknown, at some point in the 20th century New Orleans took a cue from London and adopted the Pimm's Cup as a favorite hometown cocktail. Combining the British gin-based liqueur Pimm's No. 1 with lemonade and 7-Up, it's served in a highball glass and garnished with cucumber. The dark and atmospheric Napoleon House is the place for Pimm's.
Daiquiri
No, not necessarily of the frozen tropical variety (of course, you can find that here, too). Daiquiris in NOLA mean one of two things: the classic daiquiri, a rum-lime-sugar concoction that makes a pretty mean go-cup; or a host of frozen yummies—often swirling in slushie machines and best dispensed of via a drive-through. We particularly liked the frozen Pimm's Cup variety at St. Lawrence (where handmade syrups are used; pictured above), as well as the Voodoo daiquiri (a.k.a. "purple drank") at historic Lafitte's Blacksmith Shop.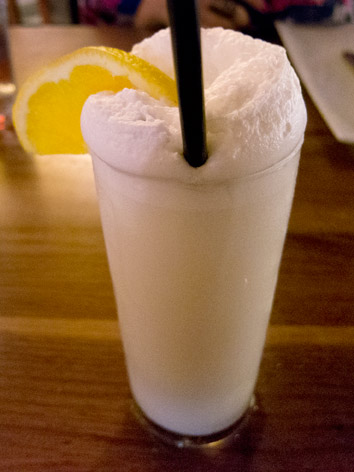 Ramos gin fizz
One of the more complex NOLA cocktails, said to have been invented at a bar here in the 1880s by one Henry Ramos, the gin fizz is a delicate concoction of gin, lemon and lime juice, egg whites, cream, and orange flower water. Order one to test a bartender's mettle.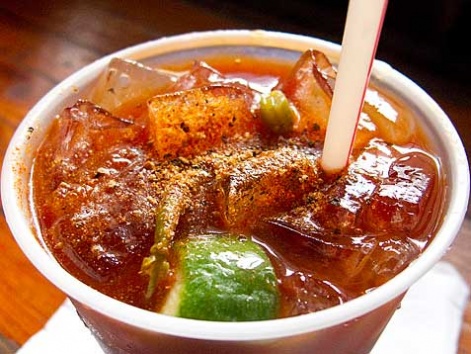 Bloody Mary
While nothing unique, the peppery, tomato-y, vodka-y Bloody Mary is particularly ubiquitous in New Orleans, a city that loves its boozy brunches. It's also done very well here—usually served with pickled okra or green beans and a generous dusting of Cajun spices.
Local beer
Yeah, it's not a cocktail, we know. But the craft of beer brewing, nearly lost here after Prohibition, has made a nice comeback. So if you've had a few cocktails and want some longevity to your night, it's time to switch to beer, preferably the local stuff: Abita, Covington Brewhouse, NOLA Brewing Company. This time of year we love Abita's subtly citrusy Satsuma witbier, made with Louisiana satsumas, and NOLA's hoppy Hurricane Saison.