Sometimes a dip into another world comes at you fast and furious, and you're buoyed by its thrill for days. Like that time in Portugal.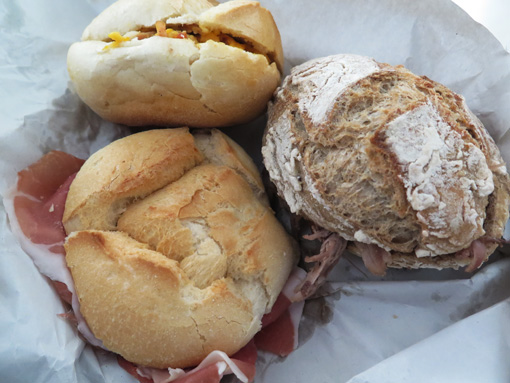 I was supposed to just run in for sandwiches.
Our kids had both fallen asleep en route to the Museu Serralves, a short drive from downtown Porto. Scott was behind the wheel. He would drop me off in front of this old-school tasca someone had recommended to us—a casual, traditional bar/eatery called Tasca da Badalhoca, known for its ham sandwiches—pull over, and hope the boys didn't wake up while the car was unmoving (it happens). I'd be back in a flash.
But when I ran in through the heavy wooden doors, my eyes struggling to adjust to the dim interior, I was swallowed into another world. At the back of the boxy, crowded space was the meat and sandwich counter, lorded over by fast-moving, loud-talking staff and, above their heads, suspended legs of dry-cured pork. The front was a dark, hanging-out kind of room, a bar, I suppose, where men in blue jumpsuits and a few women stood around, chatting and eating sandwiches on the thin wooden counter that ran the length of the space. Nearly everyone was drinking glass mugs of pink sparkling wine. It was 11:30 a.m.
I gravitated toward the back, the Portuguese words swirling around my head. Amid the mementos, photos, and press clippings on the walls, I glimpsed a taped-up menu, covered in indecipherable text, near the counter. Then I noticed the towering stacks of sandwiches inside the glass display case—all on small, round rolls freshly baked, I'd later learn, just across the street—and understood that those were the ones to order. That's what everyone was eating, and they were going fast—even better. In line, I tapped an older woman next to me on the shoulder. Fala inglês? I asked. She shook her head and gestured around, as if to say: Not in here.
I tried my Portuguese, pointing to each of the sandwiches on display. Sandes de presunto? Sim, she replied, confirming it was the country's proscuitto-like sliced dry-cured ham. Ovos e presunto? She nodded, smiling. Eggs and ham. I was 2 for 0, but stuck on the third. Her partner jumped in, eager to help. Leitão, roast suckling pig, he said. Muito tradicional. I was familiar, having gorged on the stuff in the middle of Portugal, suckling pig country. The man took a sip of his pink wine.
Isto?
And the wine? I didn't catch his reply over the din and hurry, as it was my turn to order, but I later learned it was Espadal, a sparkling dry rosé often paired with meaty sandwiches.
I ordered one of each of the sandwiches. My new female friend stood next to me, clarifying for me that I wanted it to go. Just as the counterman handed me the paper bag of sandwiches, I impulsively asked for a glass of the wine too. When in Porto.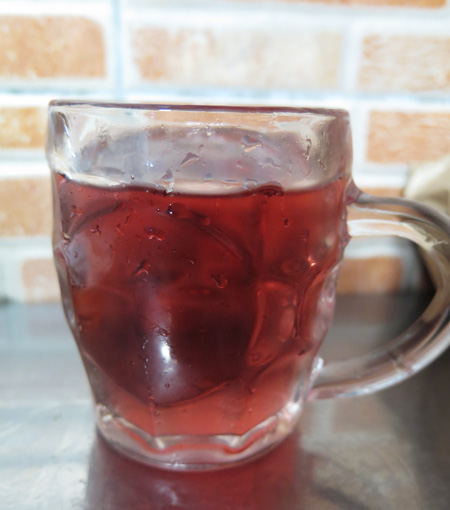 After paying the man practically nothing, I thanked the couple with a quick toast (saúde!) and moved slowly back toward the porthole-shaped door. I wasn't ready to leave just yet, this foreign place where this here was an everyday noontime occasion. It was the sort of spot Scott and I would stumble onto and linger in for hours in our pre-kids travel days—and probably leave with new local friends on some spontaneous afternoon adventure.
Traveling was different nowadays, with our two little boys. Still great … but different. You can't exactly lose yourself in a faraway setting when you're being a parent. But that perfect storm of spontaneity and surprise, foreignness and acceptance, does still happen, and even when it's brief, you're just about electrified by it. Maybe it's a meal, maybe a conversation. Maybe it's a really legit sandwich spot you weren't quite expecting. But suddenly all the effort of traveling is worth it. And you're reminded, with a thud, of your love for this world, and the thrill of really being in it.
I thought of our sleeping boys, Scott pulled over somewhere, waiting. My own world, packed into a Renault. The four of us would soon split the sandwiches in the garden of the museum, the boys showing a strong preference for that presunto. I took a final sip of the pink wine and stepped into the sunlight to look for them, a newfound but familiar spring in my step.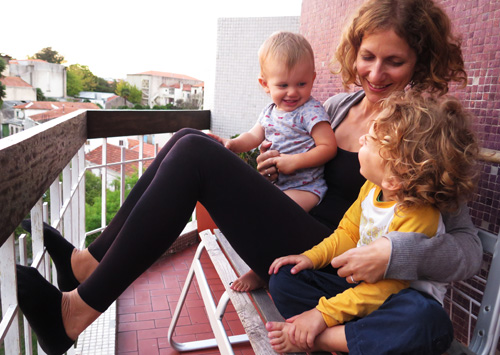 Later that evening …