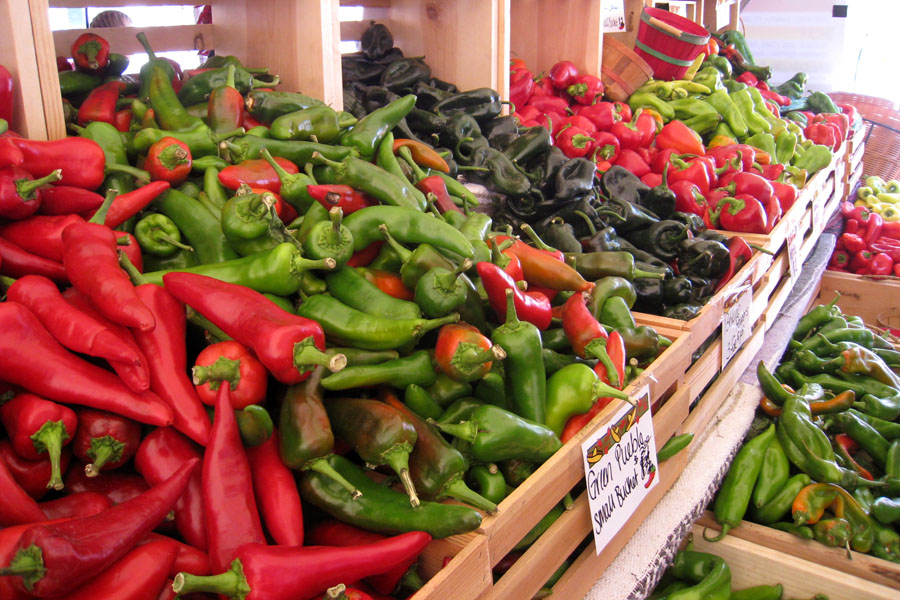 It's hard to find a restaurant in Pueblo, Colorado, that doesn't serve green chiles. This is prime pepper country, a smaller—and, some would argue, tastier—alternative to Hatch, New Mexico.
In autumn, at harvest time, the scent of roasting chiles wafts from roadside stands, supermarkets, and the annual Loaf 'N Jug Chile and Frijole Festival, which I was lucky enough to catch this September. (Among pepper enthusiasts, the preferred spelling of the capsicum fruit is chile. The dish containing meat, chile, and vegetables, like the one we tried in Denver, is chili.)
The chiles are roasted over an open flame in rotating black-wire drums, and then hosed down in a cloud of steam. It's hypnotizing to watch, but will sear your eyes if you get too close.
At the festival, I ask a farmer what made this area so special for pepper growing. "The cool nights are what create the thickness and that meat in our chiles," says Shane Milberger, the owner of Milberger Farms, one of the establishments that lie just east of Pueblo on the St. Charles Mesa, a 17-mile stretch along the Arkansas River Valley. [See EYW's Q&A with Shane here.]
Like many farmers here, Milberger grows a variety of peppers: mild and hot Anaheim, Fresno, and extra hot. But he's most proud of the Pueblo chile, also known as the Mira Sol ("looking at the sun" in Spanish) because it grows upward. "It has the most flavor," he says.
The pepper packs a fair punch—between 5,000 and 20,000 Scoville Heat Units, the measurement method used to rank chile heat. That's comparable to a moderate jalapeño pepper. At the festival, I try a chile wrap, a tortilla layered with roasted Pueblo chile, cheese, and beans. It's hot enough to make my nose run, but that didn't keep me from polishing the whole thing off.
After all, it's not every day I get to eat a Pueblo chile. The pepper is unique to the Mesa. No one quite knows where the first plant came from, but around 1912 an Italian immigrant was the first farmer to grow the chile. It remained largely confined to ethnic communities until the 1970s, when Mexican food became a mainstream hit.
In the 1980s and '90s, as Pueblo's steel industry collapsed, the community redefined itself through the Pueblo chile. In 1995, the chamber of commerce held the first Chile and Frijole Festival. Pete Giadone was the only farmer who brought chiles that year, and he sold out to the 5,000 attendees. Other growers liked what they saw and began converting their fields to chiles. But most of them lacked a key marketing item: a roaster. Chiles need to be roasted before they can be frozen, an essential process for extending the lifetime of the product beyond a few days.
Giadone began making and selling roasters for $1,000 a piece to area farmers, and by 1999 a dozen farmers were roasting chiles from sunup to sundown for three days before the festival. Some 25,000 people showed up that year.
Aficionados use Pueblo chiles in salsa and chili verde (green chile stew), on nachos and pizza, in pasta, and for the most classic Pueblo dish: the slopper, a hamburger swimming in chili verde and topped with chopped onions (pictured above). I even try some goat cheese studded with Pueblo chiles from Milberger Farms.
Farmers in other areas have tried to grow the Pueblo chile, but nowhere else has the same combination of hot days, cool nights, sandy loam soil, and abundant irrigation water. These days the festival draws 100,000 people from all over the U.S. to a rejuvenated historical district and river walk. The transformation of Pueblo's identity from gritty steel town to heritage tourist destination is complete. To which I say: Keep the antacid handy. I'll be back.
You can visit Milberger Farms and other farms on Highway 50 East, heading out of Pueblo. Or check out the next annual Chile and Frijole Festival, which is always held the last weekend in September.