For this guest post, Tim and Nat Harris of food and travel blog A Cook Not Mad share with us the recipe for caillette ("ky-YET"), a pork-and-greens meatball dish from south-central France that dates to the 16th century.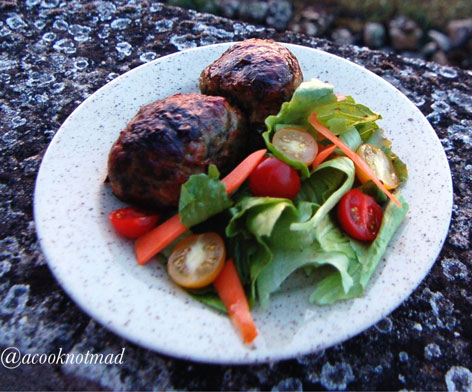 The first time we visited Les Vans, a small town in the Ardèche department of France, we fell in love with it. It was quaint, and because it was 15 years ago and during the off-season, we shared the village with only its 2,660 inhabitants. We had rented an apartment from a family friend for a month and spent our time exploring the nearby mountains and villages extensively, foraging for wild mushrooms and chestnuts, making soups and confiture.
The couple who owned the apartment picked us up one Sunday and drove us out into the mountains, where they had a wood-burning oven and hosted long lunches in the rough. The spread they put before us was amazing, with housemade verbena liqueur and several different meat dishes. The one that stood out the most was a dish called caillette, typically made on a pig-slaughter day: large meatballs made of ground pork meat, pork liver, Swiss chard, spinach, pig's blood, and herbs, wrapped in caul fat, that lacy piece of fat that surrounds the stomach in pigs and other animals (it's used to wrap pâté and other dishes that need support while cooking and pretty much melts into the final product, keeping it moist). Traditionally, caillette was eaten hot on the night of the pig slaughter or cold (more like a pâté) the following day. It is a regional specialty that has been around for centuries; in the 1700s it was known as "petit pâté."
We were told that, like many recipes, the ingredients for caillette tend to vary from family to family and from village to village. The ratio of meat to greens is usually 60-40, but if a family had little money, they might add more greens than meat, and vice versa.
We've since returned to Les Vans, finding increased development and, in peak season, a nearly doubled population—but the same delicious caillette. These days you can find it in most restaurants and delis in the Ardèche region, or you can make it yourself at home.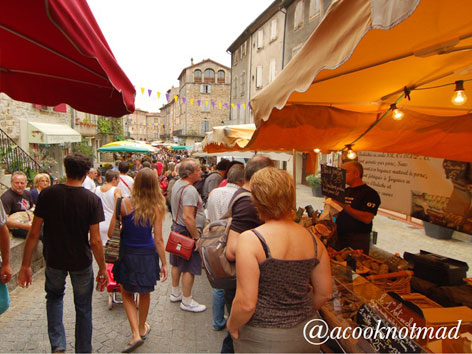 Market day in Les Vans, 2011

CAILLETTE
Serves 2-3.
500 g ground pork
250 g pork liver, chopped
1 large bunch Swiss chard, white veins removed
1 small bunch spinach, stemmed and cleaned
1 Tbsp fresh thyme leaves
2 tsp kosher salt
7 or 8 twists of fresh black pepper
caul fat

1. Soak caul fat in plenty of water for 2 hours, changing water at least twice.
2. In a large pot of boiling salted water, quickly blanch spinach and chard, and remove to a bowl of ice water. Drain and squeeze in a clean dish towel.
3. Chop greens finely.
4. In a large bowl, mix all ingredients (except caul fat) thoroughly and shape into baseball-size caillette.
5. Wrap each ball in a small piece of caul fat cut to size.
6. Place in a baking dish, loosely touching, and bake for 25 minutes at 350°F or until done.
7. Serve with mixed salad.
About the authors: Chef Tim & Nat Harris are A Cook Not Mad, food travels guided by a chef's stomach and a photographer's eye. Read their stories at acooknotmad.com or find them on Twitter and Facebook.