My introduction to Portuguese cataplana stew couldn't have been in a more traditional and idyllic setting. Facing the coast on the Algarve, in southern Portugal, in great company and the light of a beautiful sunset, I sat awaiting a dish I'd seen on almost every blackboard menu during my time in this region. Having been assured of the freshest, tastiest ingredients by the enthusiastic waiters, my expectations were high for this local dish. My group of four opted to share two large cataplanas so we could try both the meat and seafood variations.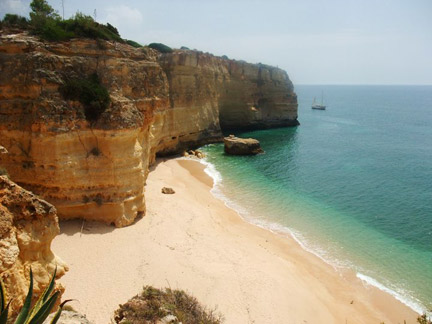 The Algarve, where cataplana is most popular. Photo: Alexandra Jackson
While we sipped red wine and picked at a basket of bread and warm butter, the waiters placed a small table next to ours. We watched in anticipation as they returned to the busy kitchen, alive with the sizzling of food. Delicious aromas traveled the distance to our table on the soft sea breeze, and within minutes we were greeted by a smiling waiter and a pair of huge, shiny copper dishes hinged like clamshells—the traditional cookware, also called cataplana, used to prepare this dish. He placed both down on the second table and warned us to steer clear of the billowing steam as he opened them, revealing an abundance of colors, textures, and mouth-watering smells. I was handed a large ladle, and with it the privilege of taking the first scoop of seafood cataplana. Large chunks of white fish, mussels, prawns, and squid poured into my bowl in a thick and creamy sauce.
Photo: Tranchis
I will never forget that first bite. But though the experience is near impossible to replicate, I believe I've been able to approximate the cataplanas of Portugal in my own kitchen since returning home. By adding plenty of spices and combining the seafood and meat versions, I've even won over my fish-hating boyfriend, which I take as a sign of great success!
Ingredients:
· 15 new potatoes
· Olive oil
· 2 onions, finely chopped
· 3 peppers, chopped
· 2 cloves of garlic, crushed
· 600g (about 1 lb.-1.5 lb.) prawns
· 100g (3.5 oz) chorizo, chopped
· 1 tbsp paprika
· 1 jar tomato passata (or tomato sauce/puree)
· 1 tbsp tomato puree
· Zest of one lemon
· 2 glasses white wine
· 1 tbsp oregano
· 300ml (10 oz) chicken stock
· Salt and pepper
· Handful of parsley
Method:
Boil the new potatoes until they're cooked but still firm, as they will be reheated in the cataplana later. Once they've cooled, cut into chunks.
Heat the olive oil in a wok and sauté the onions. Add the peppers and garlic to the wok. Sauté until cooked but still crunchy. Add the prawns, chopped chorizo, and paprika.
When the prawns turn pink and firm, add the tomato passata, tomato puree, lemon zest, white wine, and oregano. Simmer for a few minutes, and then add as much as the chicken stock as you need to give the dish a soupy consistency. Bring to a simmer once again, add the potatoes, and season with salt and pepper. If it seems too thin, you may wish to add a chicken stock cube; if too thick, add more liquid stock or an extra splash of white wine.
Simmer on a gentle heat until all ingredients have warmed through and softened. Serve topped with parsley, and enjoy!
About the author: Alexandra Jackson is a self-confessed foodie who loves attempting to cook dishes she's tasted on holiday and adding her own personal twist to them. She works in the travel industry regularly blogging for airport parking site SkyParkSecure and constantly trying out new recipes.