Here's a recipe from the Bahamas for pigeon peas and rice, provided by our friends at The Foreign Fork. A staple of Bahamian cuisine, this dish is typically seasoned with tomatoes and tomato paste, onions, thyme or oregano, and often salted pork or bacon (vegetarians, beware!). Check out the recipe below, and see our guide to Bahamian foods.

Courtesy of The Foreign Fork
Bacon fries in one pan and then cooks alongside rice and peas to make this scrumptious main or side dish. A one-pan wonder and 40 minutes from start to finish, this dish is fantastic for a quick dinner after work!
Pigeon peas have been a staple in the Bahamas since the 19th century. Pigeon peas and corn were planted next to each other in fields and harvested around the same time. Because of this, corn was ground into grits and mixed with pigeon peas to make a hearty and delicious side dish.
As the years went on, rice finally found its way into the Caribbean through America, and became the grain of choice. Corn grits moved to the side, and Bahamians began mixing their pigeon peas with white rice, cumin, tomatoes, and more. The method of cooking "browns" the rice and leaves the eater with a flavorful and satisfying side dish.
When making this, feel free to add any other vegetables that you want into this rice as well! Though it may not be traditional, pea pods, corn, cabbage, or broccoli would also be fantastic additions. Customize it any way you'd like—it's a great way to use up those veggies. Moreover, this dish is even better the next day, topped with a fried egg. Breaking the yolk over the rice makes a beautiful sauce that adds an extra special pop to the dish.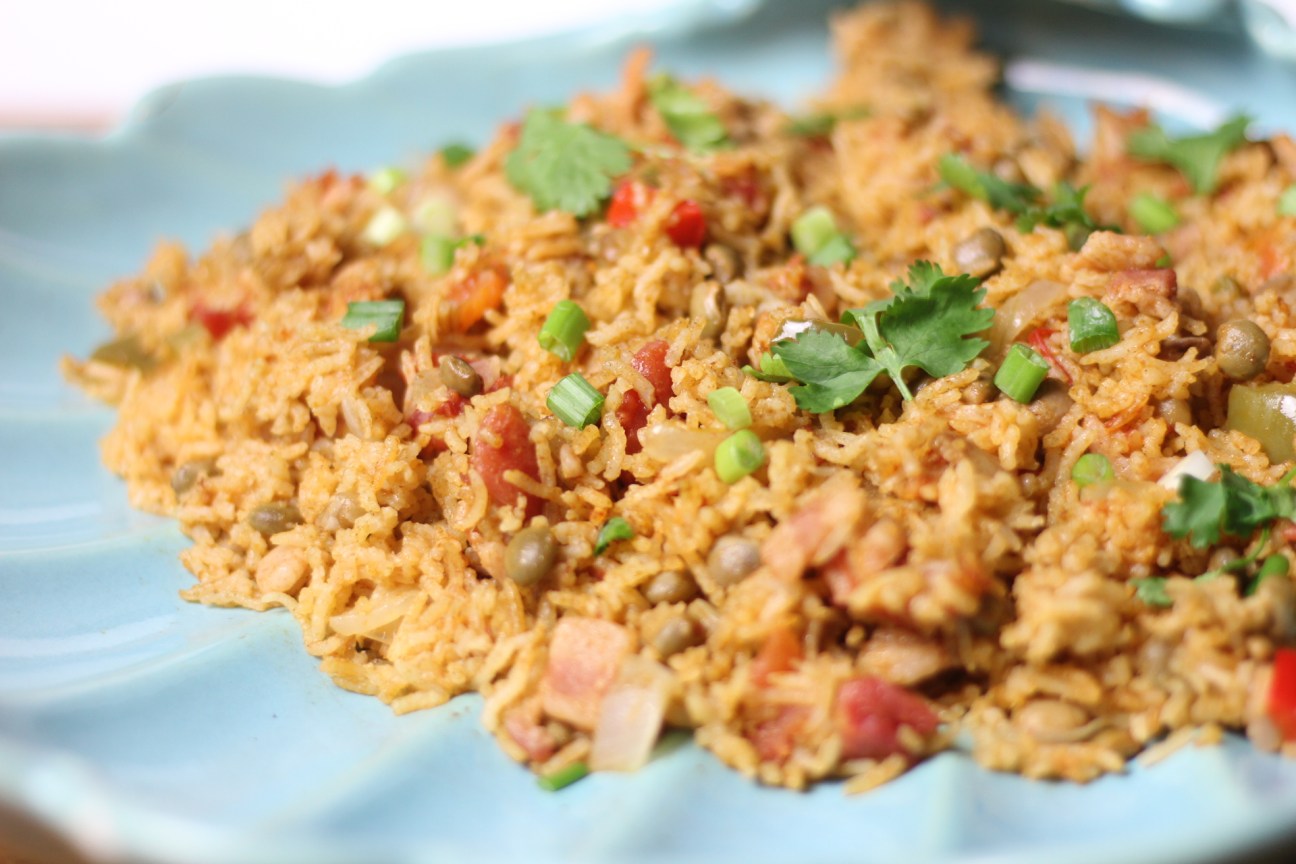 How to Make Bahamian Pigeon Peas and Rice
Prep time: 5 minutes
Cook time: 35 minutes
Total time: 40 minutes
Makes 8 servings.
Ingredients
1 Tbsp olive oil
8 strips bacon, finely chopped
3/4 cup chopped onion
1/2 cup red pepper, finely diced
2 cups long-grain white rice
2 tsp kosher salt
3 Tbsp tomato paste
1 tsp oregano
1 tsp ground cumin
1 15 oz can pigeon peas, drained and rinsed
1 14.5 oz can chopped roasted tomatoes
1/2 15 oz can corn
2 cups low-sodium chicken stock
1/4 cup cilantro leaves, finely chopped
1/4 cup chopped scallions, for garnish
Place a large Dutch oven over medium heat and add the oil and bacon. Cook, stirring, until the bacon is crispy and golden and the fat has rendered, 4 to 5 minutes.
Add the onions, red peppers, rice and salt; cook, stirring, for 5 minutes, until the onion is soft and the rice is lightly toasted.
Add the tomato paste and cook for 2 to 3 minutes, stirring. Add the oregano, cumin, pigeon peas, corn, tomatoes, chicken stock and 1 cup water.
Bring to a boil, then reduce the heat to a simmer. Cover with a lid and cook until the rice is tender, 25 to 30 minutes.
Remove the lid and fluff the rice with a fork. Garnish with cilantro and scallions.
Adapted from Guy Fieri/The Food Network.
About the author: Alexandria Drzazgowski is the crazy cook behind The Foreign Fork, a project that she started to cook a meal from every country in the world. She's been to 21 countries in her 21 years and is using her blog to explore more of the Earth every single day. Check out her website for global recipes, great flavor profiles, and the wild experiences that come with cooking the world! You can also visit her Instagram here.