A few months ago, we published a Q&A with a saunier, or sea salt harvester, from Île de Ré, a small island off the west coast of France. In it, our subject mentions two can't-miss dishes from the island, both of which make good use of its famous salt: sea bass baked in a salt crust and fava beans à la croque en sel. EYW contributor Cristina Sciarra, who's just returned from the area—see our new Charente-Maritime food section—notes that these dishes are not as commonly offered in restaurants as prepared at home. Here she tells us how to make them.
Sea bass baked in a salt crust
Buying (and cooking) whole fish is not only more economical than buying filets, but it's also a lot more flavorful. There's a level of quality control you don't get with filets—look for fish with firm flesh and bright, clear eyes. And ask the fishmonger to clean the fish for you, if you prefer. Baking fish in sea salt looks impressive, but it really could not be any easier. Sea bass is ideal, but any flaky white fish will work: snapper, halibut, or sea trout. A one-pound fish feeds one person; for more, buy a few one-pounders, or one larger fish. For a dramatic flourish, break the salt shell open at the table.
Serves 1
4 cups kosher salt
6-8 egg whites
1 lb. whole white fish, cleaned and fins removed
1 small lemon
4 sprigs fresh thyme
black pepper
drizzle of olive oil

1. Heat the oven to 450°F.
2. Empty the salt and egg whites into a large bowl. Mix everything together with your hands—you are aiming for the texture of damp sand. Add more egg whites, if needed.
3. Make sure the fish has been gutted and cleaned. If the fins haven't been removed already, cut them off with kitchen shears. Pat the fish dry.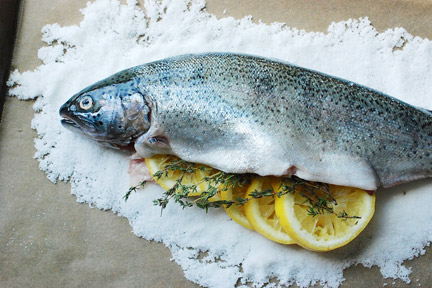 4. Cut the lemon, crosswise, into slices. (Save a wedge to squeeze on the fish as you eat.) Place the lemon slices, in one overlapping layer, into the cavity of the fish. The thyme sprigs also go into the cavity, as pictured.
5. Line a baking sheet with a piece of parchment paper. Scoop a handful of the salt mixture onto the baking sheet and flatten it, until it's just long/wide enough to accommodate the fish. Lay the fish on top of the salt, and sprinkle it lightly with a pinch of black pepper.
6. Cover the fish entirely with the rest of the salt. Pack it, sand castle-style, so that no air will reach the fish in cooking.
7. Put the fish in the oven. Bake for 20-25 minutes, or until the salt crust is golden-brown on top.
8. When the fish comes out of the oven, let it rest for about 10 minutes. Then crack it open, removing the salt in pieces. Dust any remaining salt off the fish.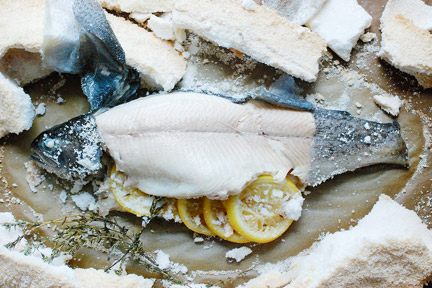 9. Filet the fish, and portion it onto a plate. Drizzle on a measure of olive oil and the remaining lemon juice. Enjoy!

Fava beans à la croque en sel
The only trouble with fava beans is that they come encased in not one, but two, shells. Once you get through them, though, this simple preparation is really delicious, and worth the effort. Since this recipe has so few ingredients, it's important to spring for quality. Look for fava beans with firm, bright pods. Use the best sea salt and butter you can find.
Serves 2
1 lb. fava bean pods
1½ Tbsp butter
1 Tbsp sea salt

1. Shell the fava beans: Remove the beans from their outer pods, and collect them in a medium bowl. Discard the pods.
2. Set a medium pot of water to boil. When it reaches a simmer, add the beans to the water. Cook for about 3 minutes, or until they start to shrivel.
3. Remove the beans from the water, and let them cool slightly. Using your fingers, slide off the waxy shell encasing each bean. Place each shelled bean in a small bowl.
4. Cut the butter into thin slivers, and set them over the still-warm fava beans to melt. Sprinkle on the sea salt. Give everything a little stir. Serve warm.
About the author: Cristina Sciarra is a writer, a photographer, and a culinary enthusiast. In her spare time, she travels and creates recipes for her website, theroamingkitchen.net. She is a frequent contributor to the Eat Your World blog, and most recently wrote the full food section for Charente-Maritime, France.