In Sevilla, traditional local sweets, made by cloistered nuns, abound inside centuries-old convents. You just have to find them.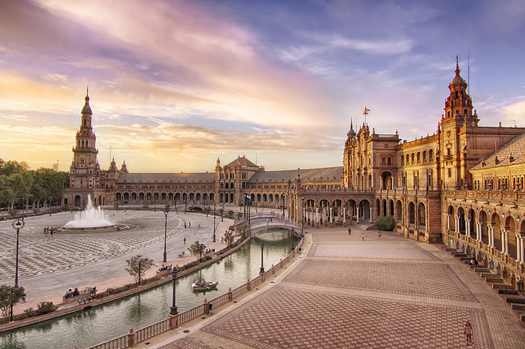 Plaza de España, Sevilla. Courtesy of Francisco Collinet/Flickr
.
"Ave Maria," comes the soft unseen voice.
Not sure of the proper response to the greeting, I simply say, "Buenas dias," then: "Una caja media, por favor."
The conversation takes place through the metal grillwork inside the entryway to the Convent of San Leandro; I am there to buy the sweets that the cloistered nuns are famous for. The Augustinian sisters at San Leandro, like several other convents in Sevilla, support themselves through their skills in the kitchen.
After a few minutes, the big wooden lazy Susan – the torno – that fills the window beside the grill begins to spin, and on it appears a box. I take the box, replace it with a 20-euro bill, and send the turntable back around. "Vaya con Dios" – go with God – comes the reply, along with my change. I never see the nun behind the grill.
My partner and I had heard about the cookies and pastries that cloistered nuns in Sevilla's convents had for centuries baked from secret recipes. So we'd arrived in Sevilla on a mission, drawn by the irresistible lure of a unique local-food experience: buying from nuns hidden behind the walls of their convents. There are seven sweets-selling convents in the city. Finding this one hadn't been easy.
Buying sweets at San Leandro. All photos by Stillman Rogers Photography except where indicated.
We were staying in the heart of Sevilla's old Judaria, a neighborhood of narrow streets and winding passageways that date to the centuries when the Moors ruled all of Andalucía. The owner of Hosteria del Laurel suggested that the closest convent was San Leandro, at the far edge of the medieval Santa Cruz neighborhood (the convent dates to the 13th century). We could get there by following passageways alongside the tall wall enclosing the Alcázar gardens, then setting off into a maze of narrow streets that connected lively little plazas.
There seemed little order to their arrangements, just a warren that had grown organically as churches, convents, and grand homes were built amid the lanes of the old Moorish medina. While looking for San Leandro, we discovered one of these noble houses, Casa de Pilatos, built in the 1500s. Easily sidetracked, we stopped to tour its elegant rooms decorated by tiles and intricate stuccowork.
We had a map, but found it of little use when confronted with oddly shaped squares, unmarked corners, and narrow alleys that might – or might not – be streets. A few more twists and turns brought us to the small, irregular Plaza San Ildefonso, into which jutted the steps of San Ildefonso church. We paused to admire its interior and continued around a corner to find – at last – Plaza de San Leandro. But there was no sign of a convent. We asked a woman pushing a stroller; she pointed back the way we had just come.
Returning to San Ildefonso, we gave the little square a closer look and spotted a nondescript entryway just opposite the church steps. A discreet tile panel announced it to be the Convent of San Leandro – it was so inconspicuous that we'd walked right past it.
Buying the convent sweets wasn't so challenging as finding the old convent, but it wasn't exactly like walking into my local bakery. A list told me the prices for their specialty, yemas, and it further told me the ingredients for these sinfully rich confections: just egg yolks and sugar.As I stood inside the convent wondering how to proceed, a woman walked up to the window and rang a little bell. I couldn't hear the conversation, but I could see the exchange via the torno, so I followed the same drill. Even in my high-school Spanish the transaction was pretty easy. As for the yemas, they are about the size of large walnuts, intensely sweet, with a smooth silky texture and a slightly crunchy exterior (due to being rolled in sugar to cool). They quite literally melted in my mouth – after all, there's nothing to them but egg yolks and sugar.
The menu at San Leandro
Finding Santa Paula Convent was a lot simpler. Somewhat less cloistered and with an eye to the 21st century, the Hieronymite nuns at Santa Paula have a website with directions and a map. We had intended to explore the colorful old neighborhood of La Macarena anyway, to see the church that houses the much-loved Esperanza Macarena, the Virgin of Hope that's paraded through the streets during Holy Week.
The sisters at the Convento de Santa Paula make too many products to sell conveniently through a torno. Instead, Sister Maria Bernarda invited us into a small courtyard. There the convent's shop was lined with jars of glistening jellies and marmalades in 14 flavors that include lemon, Seville orange, pear, apricot, kiwi, and blackberry. More exotic are the floral jelly candies, made from rose, jasmine, and orange blossoms from the convent garden, handpicked by the nuns as the flowers reach the peak of fragrance.
Mini doughnuts from Santa Paula
Caramel cookies called alfajores mozárabes have hints of anise and cloves, and Magdalenas are rich little cakes flavored with lemon zest. Every bit as sweet as San Leandro's yemas is the tocino de cielo – literally "heavenly bacon," meaning a slice of heaven – a caramel flan made with the same ingredients: sugar and egg yolks. These are "suave y dulce, pero nunca empalagoso" – smooth and sweet but never cloying – the sister assured us. Heavenly bacon is not the oddest of the names for convent sweets, either. At other convents you'll find nun's sighs, friars' ears, and gypsy's arms.
Along with jars of rose jelly and lemon marmalade, we left with sugar-covered miniature doughnuts to munch with our breakfast coffee, and a box of turrón a la piedra. How could we resist a local candy made of toasted almonds, lemon zest, and cinnamon, especially when it's packaged in a wooden box? With the first bite, our tastebuds immediately recognized Andalucía's Moorish heritage: The flavor was almond, but the texture was distinctly that of halvah.
The nuns of Santa Paula are fortunate to have the convent's original garden and orchards, where they grow many of the fruits and fragrant blossoms they preserve. And we were lucky to have shown up just as Sister Maria Bernarda was opening the big wooden gate for a visiting group, and invited us to join them.
Behind the high wall was a peaceful garden of neat hedges and orange trees, and what's considered among Sevilla's finest remaining examples of Mudéjar, the unique blend of Muslim and Christian architecture styles that gives a distinct Islamic feel to buildings constructed long after the Moors were driven out. The Gothic door to Santa Paula's church is decorated with tiles by Renaissance masters Niculoso Pisano and Andrea della Robbia. Inside, the church is awash in gold, a reminder that Sevilla was the gateway for the early Spanish explorers returning in ships laden with precious metals from the New World.
Santa Paula church
More treats are to be found at the convents of Santa Ana, Santa Ines, San Clemente, Santa María del Socorro, and Madre de Dios. In our own quest, we'd found some local sweets, and a lot more. We'd seen hidden art treasures, magnificent churches, and a noble mansion; we'd strayed into neighborhoods we might never have wandered into otherwise. To wit: While looking for San Leandro, we found Plaza de la Alfalfa, a lively square filled with happy children – as well as a bar with a handwritten sign advertising caracoles. It was the perfect opportunity to rest our feet and nibble on tiny snails – along with tall glasses of sangria – before continuing our hunt for a slice of heaven.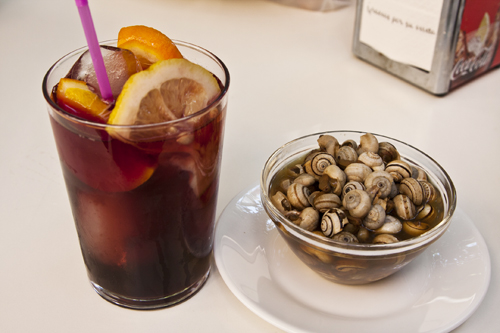 Cheers!

About the author: Barbara Radcliffe Rogers is a travel and food writer who, with her husband, has co-authored guidebooks covering Spain, Portugal, Italy, and several regions of the U.S. You can follow her at her Worldbite blog, or on Facebook at Worldbite.