What to do if you're traveling long-term and cannot stop thinking about your favorite comfort foods from home? You find local substitutes to quell the craving, as LandingStanding.com's Meg Rulli explains in this guest post.
Dulce de leche ice cream in Argentina
My husband, Tony, and I completely adore food. We are more inclined to spend 30 euros on an exquisite local meal than in a random boring museum. For us, learning about the culinary traditions of a place is one of the best activities you can do to learn about the culture of a country.
As much as we love eating our way around the world, though, we still miss certain comfort foods and staples from home (Florida, in our case). Luckily, some dishes we've discovered abroad have been wonderful substitutes for our stateside favorites.
In no particular order, here are our most cherished treats from back home and their "taste bud doppelgangers" from our round-the-world trip:
Home favorite No. 1: Peanut Butter
Peanut butter used to be my go-to daily snack. Whether paired with apples, slathered on toast, or in chocolate ice cream (instant foodgasm!), this spread was my kryptonite.
Nutella crepe in France
Global doppelgangers: Dulce de leche in Argentina and Nutella in France
Back home, grocery stores have entire shelves dedicated to peanut butter. However, this American condiment is impossible to find outside of the U.S. In Argentina, the grocery stores are instead filled with dulce de leche. And in France, it's Nutella.
Dulce de leche turned out to be too sweet for my taste, but it does make a killer ice cream flavor!
Nutella in France, on the other hand, was my weakness. Whether on sliced baguette or dripping out of a warm crepe, this chocolate-hazelnut spread was heaven.
My appreciation for dulce de leche and Nutella will never live up to my love for peanut butter, but they have been great friends overseas. Now I just need to invent some crazy dessert/ice cream where peanut butter, dulce de leche, and Nutella have a baby!
Home favorite No. 2: Popcorn
Back home, Tony and I had a hot-air corn popper in our kitchen. Ladies and gentlemen, once you go air-popped, you will never slum it with greasy-bagged popcorn again!
Our most addictive recipe was popcorn with coconut oil and truffle salt. Amazing!
Global doppelganger: Cancha Salada in Peru
To curb our popcorn craving, we discovered cancha salada in Peru. This traditional Peruvian snack of roasted salted corn is served as a welcome dish at restaurants and bars.
Cancha salada is deadly! It never is a pretty sight when the waiter brings me a fourth plate of these incredibly nosh-able kernels before taking my drink order. It may not be quite as good as our homemade coconut-truffle popcorn, but it's close!
Home favorite No. 3: Ice Cream
My biggest weakness of all. Weekends at home typically involved taking a Ben & Jerry's pint to the face Friday, Saturday, and Sunday night. It wasn't a healthy habit but, man, was it good!
Global doppelganger: Gelato in Italy
There are plenty of gelato places in the States, but nothing compares to gelato straight from the motherland.
I love the creamy and light texture of gelato. I may love it even more than ice cream. However, I am a huge fan of toppings (mmm, Coldstone and Ben & Jerry's Phish Food), which gelato typically lacks…so maybe not.
Home favorite No. 4: Calzones
Don't get Tony started on his obsession for calzones. Just mention the words "Buff Chick" (Buffalo chicken), and he goes weak in the knees.
Global doppelganger: Empanadas in Chile
Calzones are big in the U.S., but you rarely see them abroad. Empanadas in Chile are the next best thing.
Empanadas consist of fried or baked dough stuffed with a variety of fillings. In Chile, we loved empanadas de pino, which are filled with olives, eggs, onions, and ground beef. They are especially scrumptious fresh out of the oven/fryer.
Home favorite No. 5: Pecan Pie
I don't mean to brag, but my pecan pie recipe is the bomb. Tony and I loved making this pie on the weekends when we felt like lounging around, watching TV shows, and eating pie in our underwear.
While traveling on the road, we don't really have the luxury to be lazy and eat pie. This is one activity that I definitely miss!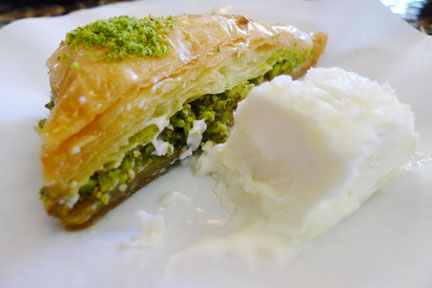 Global doppelganger: Baklava in Turkey
We recently visited Turkey, and the trip was anything but lazy. With all the touring around, we worked up quite the appetite. Baklava to the rescue!
Sold in almost every restaurant and café, baklava is a rich pastry made of layered phyllo dough and filled with nuts and honey. It is divine and reminded us of our much-loved pecan pie from home. And if it's served warm out of the oven, ohhhh man!
Your turn: What are your favorite foods from home and what "substitutes" have you found abroad to help fill the gap?
About the author: Meg Rulli is a writer for the travel blog LandingStanding. Meg and her husband, Tony, are six months into a RTW trip and are loving the location-independent lifestyle. They are aspiring entrepreneurs & digital nomads who blog about travel, food, and all things ridiculous. Check out their EYW profile here.