What is Latvian food and where to eat it in Riga? We have you covered.
Bryan Ledgard/Flickr
Latvia, the tiny Baltic country sandwiched between Scandinavia and Central Europe, is a fusion of beautiful architecture, a buzzing arts scene, and food like no other. Food is what makes the world go round in Latvia. Any Latvian will tell you that they've forged a special connection with nature, and it is reflected in their cuisine. They grow, hunt, fish, forage, pickle, smoke, and preserve anything they can get their hands on.
Influenced by centuries of foreign powers and Nordic, Germanic, and Slavic ingredients and techniques, Latvian cuisine always surprises with its inventive flavors and modern takes on traditional cuisine. Here are eight Latvian foods not to miss, and where to eat them in Riga.


Griķi (Buckwheat)
This grain-like crop is a popular side dish to many beloved homemade Latvian meats like pork cutlets and schnitzels as well as various cream-based meat sauces. Grown and eaten in the Baltic region for centuries, buckwheat is a staple ingredient of Latvian food, and no kitchen pantry is imaginable without it. Traditionally, it can be enjoyed with just a spoonful of butter stirred through or with a big dollop of sour cream.
Where to get it: You'd best head to a roadside cafe or a home-style eatery—beware, though, the portion size is enormous! When in the city center, try LIDO, a bistro-style canteen that serves traditional Latvian dishes to a soundtrack of Latvian folk songs. If you're looking for a more sophisticated take on the humble grain, book a table at one of Riga's contemporary restaurant. FERMA has great buckwheat risotto, and Kolonāde. Our Stories… offers buckwheat honey-steamed leeks.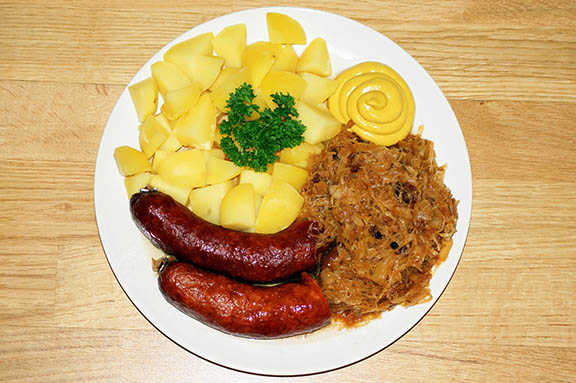 Štovēti Skābie Kāposti (Sauerkraut)
No decent Latvian Christmas table is imaginable without hot stewed sauerkraut. However, Latvia's love for this vegetarian dish remains strong throughout the year. Unlike with German sauerkraut, Latvians have several types of pickle: sweet, salty, or sour. When it's stewed, caraway seeds, grated carrots, softened onions, and, occasionally, cubed pork belly are added. A classic sauerkraut meal must also include soft-boiled potatoes and roasted meat.
Where to get it: You have the greatest chance of tasting the best sauerkraut if you visit Riga during the holidays, when most cafes and restaurants are doing special Christmas menus that include stewed sauerkraut. At other times of the year, head to the Riga Central Market, where you can sample different pickles before choosing your favorite.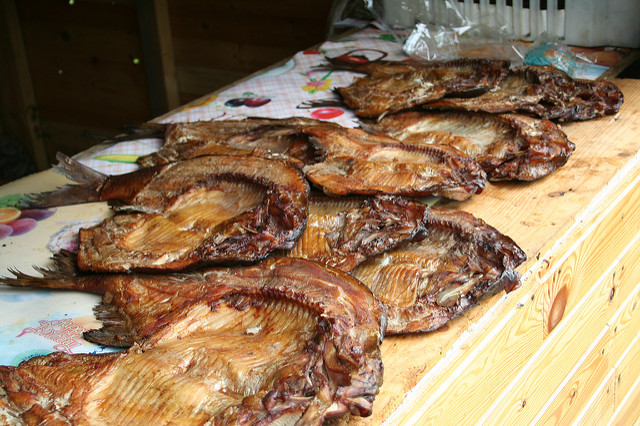 Patrina_io/Flickr
Kūpināta Zivs (Smoked Fish)
With the Baltic Sea, the many rivers snaking through the country, and lakes peppered across the land, there's an abundance of fresh fish in Latvia. It's no surprise, then, that smoked fish is a must-eat food in Latvia, and Riga is no exception. Villages along the Baltic coast have been smoking their fish in one of two ways—hot smoke or cold smoke—for centuries. Particular attention is paid to the wood that is used to create the smoke, as it has a big impact on the flavor. Popular types used include alder, birch, and maple.
Where to get it: The freshest smoked fish can be found north of Riga, in the coastal towns of Saulkrasti and Zvejniekciems, where fishermen sell their own smoked catch in local markets. If your time is limited, however, try any of the food markets in Riga (including Central Market), or a beloved fish restaurant like Dome.


Krists Luhaers/Flickr
Rupjmaizes Kārtojums (Black Rye Bread Trifle)
A much-loved dessert, the rye bread trifle combines the tanginess of cranberries, the sweetness of whipped cream, and the crunch of a black rye bread crumble. Unique to Latvia, this dessert is usually present at any celebratory event; every family has their own secret recipe to making the perfect one.
Where to get it: Salve, in the heart of the Old Town, offers an incredible tasting menu that includes a classic rye bread trifle. Additionally, Riga's top fine-dining establishment, Vincents, serves a sophisticated yet delicious take on this simple dessert.
Asinsdesa (Blood Sausage)
As in many other cultures, Latvian farmers had to learn to use all of the animal, head to tail, out of necessity due to poverty and the cold, harsh winters. Enter blood sausage. Made from pork blood and various fillers like barley, oatmeal, and speck, this hearty sausage is usually eaten in winter with lingonberry jam, potatoes, or rye bread.
Where to get it: In Old Town, try Salve or Milda; both of these popular spots usually offer traditional-style blood sausages.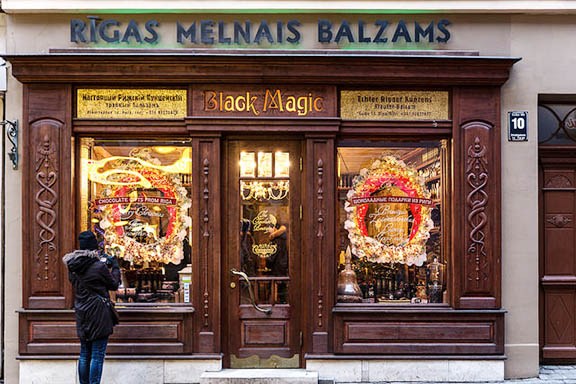 Chris/Flickr
Melnais Balzāms (Riga Black Balsam)
Something between medicine and a disinfectant (it has an alcohol concentration of 42%), Riga Black Balsam is a herbal liqueur. It's made from mixing vodka with natural ingredients, including various plants, flowers, and berries. Balsam can be enjoyed on the rocks or, ideally, with a glug of blackcurrant juice.
Where to get it: Riga Black Magic Bar boasts a large selection of balsam-based drinks and sweet treats, like plums in balsam and black balsam ice cream, while B-Bar serves up mouthwatering balsam cocktails (as well as delicious food).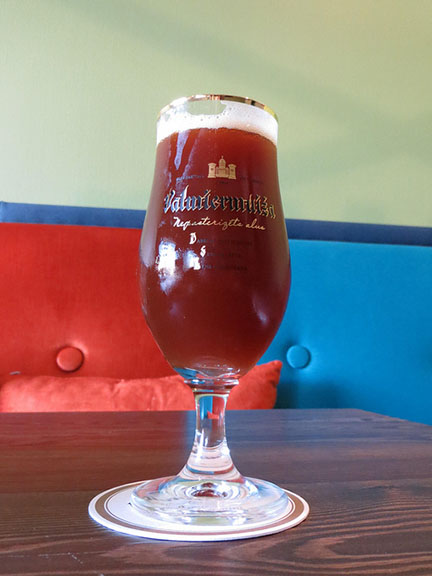 Bernt Rostad/Flickr
Alus (Beer)
What to pair with Latvian food? Alus, or beer, of course! The abundance of grains grown around here means that almost every midsize town has its own brewery. Many types of local beer are produced all across Latvia, from a pale lager to a German-style dunkel. Unfiltered and unpasteurized versions—"live" beer served on draft—have grown extensively in popularity in the past decade. It's a must-try.
Where to get it: In Riga, Valmiermuiža Embassy shop sells more than 15 craft beers on tap as well as a selection of artisan Latvian produce. The adjacent beer kitchen is a great way to sample different beers, as it offers an affordable beer and food pairing menu. Your waiter will be able to advise on which brew best matches your chosen dish. If you've got a day to spare, definitely venture just under two hours out of Riga, to Valmiermuiža. You can book a visit to the brewery, sample up-and-coming beers, and satisfy your hunger in the exceptional restaurant.

Pelēkie Zirņi ar Speķi (Gray Peas with Speck)
The pinnacle of Latvian cuisine, gray peas with speck has been around for centuries. Traditionally, this dish is an indispensable part of any Christmas and New Year's feast. Similar to chickpeas, gray peas are soaked and then boiled, before a stew is made with fried onions and cubed speck (a type of smoked bacon made from pork belly). It's a very hearty meal, and very much a Latvian comfort food during the cold gloomy winters.
Where to get it: Key to Riga restaurant serves an array of classical Latvian cuisine, including gray peas with speck. Amber Way Tavern is another great choice for sampling traditional Latvian dishes like this one.
About the author: Latvian-born Karlina Valeiko lived in Scotland and the Netherlands before moving to London to obtain a master's degree and pursue a career in journalism. Her passion and interest in other cultures started at a young age, when traveling with her parents. Now she's explored most of Europe. In the future she's looking to travel farther and get to know Japan as well as Southeast Asia and South America.