What on earth is a datil pepper and why is it found only in St. Augustine, Florida? Our writer fills us in.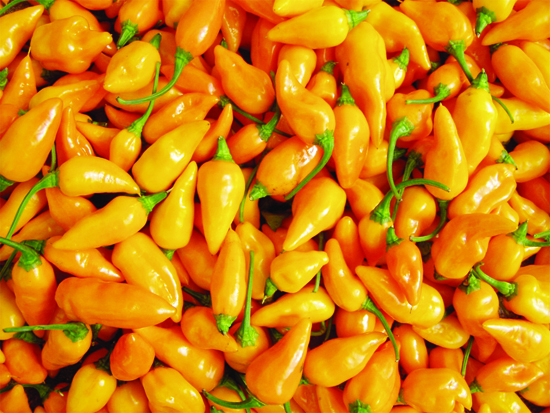 Courtesy of St. Augustine, Ponte Vedra & the Beaches Visitors & Convention Bureau
St. Augustine, in northeastern Florida, has a short-and-sweet secret: the datil pepper. Never heard of it? You're not alone, nor are you to blame: Though the datil has been a part of this region's agriculture and local cuisine for centuries, it is rarely found outside St. Augustine. It's a small hot yellow-orange pepper that falls between 100,000 and 300,000 on the Scoville scale, ranking it with habaneros, but unlike those peppers' four-alarm scorch, the burn of the datil is short, and then sweet and fruity.
This little firecracker, often called the Minorcan pepper, was likely brought to St. Augustine by Minorcan immigrants aboard Spanish ships (Minorca is an island in the Mediterranean, belonging to Spain). Exactly when and how—datils are known to be a New World food, and not indigenous to Spain—is debated; some say in the 1600s, others argue not until the 1800s. (Another origin theory points to its striking similarity to the African fatalii pepper, suggesting African roots and arrival via the slave trade; yet another claims it was brought by a Chilean jelly maker in 1880.) In any case, the seeds of the datil were planted in coastal northeast Florida, and the rest is history. Today the peppers thrive in backyard gardens and farms all over this area.
The Spanish started settling St. Augustine 400 years ago (it's not called the Historic Coast for nothing). Minorcan slaves and tradesmen worked on plantations or built settlements along this historic part of Florida's coast. Thanks to this, the local cuisine in St. Augustine is decidedly Spanish and often includes datil peppers. Minorcan families have passed along recipes for regional sauces and dishes, many using datils for seasoning—classic Spanish dishes such as Minorcan clam chowder, spicy beans, sausage, fish, shellfish, chicken, and pilaf.
Nowadays, datil peppers are most commonly found in shrimp and grits, shellfish, chicken wings, chowder, fish sandwiches (my personal favorite), pilaf, beans, soups, stews, breads, desserts (chocolate-covered!), and even cocktails. Locally produced datil sauces, relishes, mustards, and other spicy condiments are common sights in shops and on tables in eateries.

Datil pepper condiments (courtesy of Mary Charlebois)
Where to Try a Datil in St. Augustine
The datil is so beloved by St. Augustinians that they hold two major events each autumn honoring the little hot shot: The Datil Pepper Fall Festival, in early October, features a datil cookoff for restaurants and an amateur hot sauce competition, plus vendors offering their own special sauces and condiments. Fresh peppers and datil plants are for sale; everything is local.
A month later, in early November, The Great Chowder Debate takes place. Since 1984, this festival celebrating the cuisine's signature datil-spiked tomato-based clam chowder has seen local chefs, many of them using family recipes, contending for the grand title of "Best Minorcan Chowder." Attendees can taste as many as 40 chowders from St. Augustine's top restaurants and vote for their favorites (tastes are $1 each).
Go deeper with datils by booking a cooking class with Hot Shot Bakery chef Sherry Stoppelbein, the "duchess of datil" and a five-time winner of that Best Minorcan Chowder award. Sherry can teach you how to make her famous chowder, a grouper sandwich—with datil, of course—and a particularly delicious coleslaw made from cabbage, pineapple, and just a touch of datil. She also makes award-winning condiments, which are available at Hot Shot Bakery or via mail order.
"I'm always looking for new ways to tweak old datil recipes, or develop new levels of hotness," Sherry says. Her husband is a datil farmer and provides her with fresh peppers from June through October.

The makings of Minorcan chowder (courtesy of Mary Charlebois)
If you just want to taste the datil in some of its myriad forms, we've got you covered:
Lots of area restaurants serve up Minorcan chowder, the city's signature local dish, including Hot Shot Bakery (47 Cordova St., map; Tuesdays and Thursdays only) and O'Steen's Restaurant (205 Anastasia Blvd., map).
The Hyppo (48 Charlotte St., map) serves its handmade and locally sourced gourmet datil ice pops from street carts, shops, and restaurants around the city.
Datil-pepper-sauced chicken wings are a thing around town; try 'em at Sunset Grille (421 A1A Beach Blvd., map) or Barnacle Bill's (14 Castillo Dr., map).
Pepper Palace (2 St George St, #102, map) in the historic district has hot sauces from all over the country, including local datil products. Tastings are available at the counter.

Where to Try a Datil Pepper Outside St. Augustine
Try a sauce or condiment via mail order an online shop like Datil B Good or Minorcan Datil Pepper Products.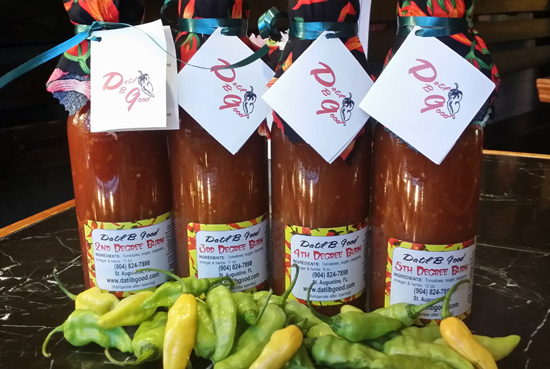 Courtesy of St. Augustine, Ponte Vedra & the Beaches Visitors & Convention Bureau
About the author: Mary Charlebois is a freelance travel writer and photographer who lives in coastal Northern California. See more of her work at MaryGo.