The best mushrooms you will ever eat, from Bar Ganbara in San Sebastian
Basque pintxos ("peen-shos") are little culinary treats, generally either bite-size morsels or small plates of food. They are found all across Spanish Basque Country, proudly displayed on the tops of bars or made to order. To us, they always seem like tapas times 10: more artful, more delicious, more fun to eat. They generally cost about one to three euros each, and can comprise any number of things, making good use of the region's abundant local produce, meats, and fresh seafood—from the super simple (pulpo, perfectly sautéed) to the superbly innovative (anchovy-derived sorbet). Most common are the towering bites of crusty bread topped with any number of things: sublime jamón Ibérico, mushrooms, and Idiazábal cheese; or perhaps a crispy-fried pepper stuffed with bacalao (salt-cured cod). Or a hundred other things.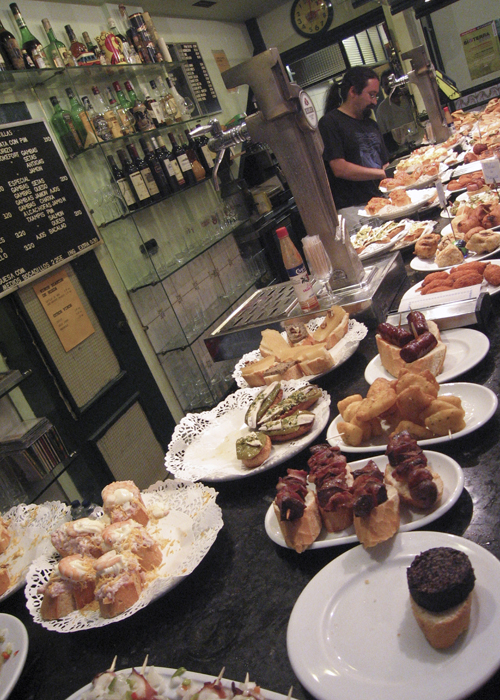 A pintxos spread in Basque Country
Pintxos are generally displayed during lunchtime, but their finest moment comes later in the day, during the happy-hour, bar-hopping ritual of txikiteo. During txikiteo, the idea is to head out with some friends a few hours before dinner—the Basques eat late, so this means around 7pm—and hit up a handful of bars, spending about 10 minutes in each one. Stand at the bar, have a pintxo or two, down a short glass of beer (zurito) or wine (often txakoli, a tangy, fizzy native white poured from above to maximize effervescence), tell the bartender what you ordered, pay your bill. Repeat for four or five bars, and good luck saving room for dinner. (America, I'll never understand why we don't do something like this. New York? Anyone?)
The pedestrian-only cobblestone streets of San Sebastián's Parte Vieja (Old Quarter) are ground zero for pintxo-hopping. You can't really go wrong, but we will say that following the genteel older couples is always a smart idea—and a lot of napkins discarded on the ground is a surefire sign of popularity. Here are our top five spots for pintxos in San Sebastián.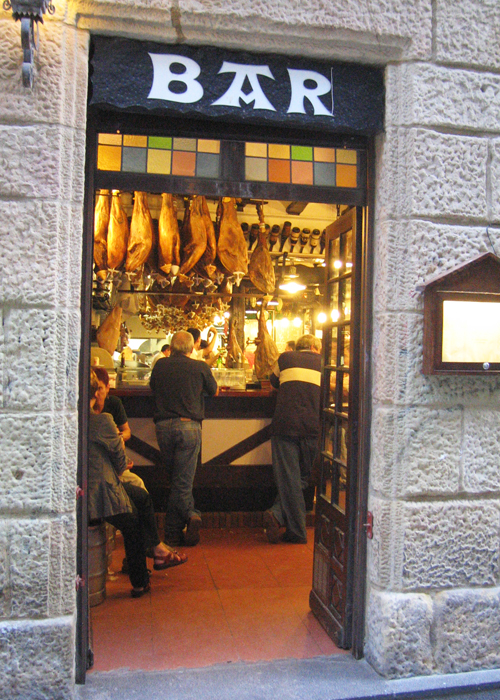 Inviting, much?
Bar Txepetxa (Calle Pescadería 5, map): We never knew how transcendent anchovies could be until eating here, where the marinated fishies—the specialty of this century-old family-owned spot—sing via a variety of preparations, including atop toasted bread with a creamy txangurro (spider crab) sauce. One very traditional pintxo found here is the Gilda, consisting of anchovies, pickled peppers, and olives skewered on a toothpick.
Borda Berri (Calle Fermín Calbetón 12, map): Modern and classic collide at this popular bar. Try the excellent foie gras toast, stuffed peppers with tuna, mushroom risotto, and the delicately crispy bacalao tempura.
Bar Ganbara (Calle San Jeronimo 21, map): The sautéed wild mushrooms here are expensive (about 17€ for a plate), but we literally still dream about them. And we send everyone we know to this place for them! Those are a must, but you might also try the mini croissants filled with jamón, rich spider crab tarts, baby squid, or anything else blanketing the bar.
La Cuchara de San Telmo (Calle 31 de Agosto 28, at end of alley, map): This restaurant does excellent made-to-order small plates. Selections can vary, but carrilleras de ternera (veal cheek) is a favorite, and you might see creamy risotto with gorgonzola cheese, grilled apple jelly-topped foie gras, and/or txipiron relleno (stuffed squid) among the blackboard scrawl. Bonus: There is a sweet little terrace on the sidewalk—a nice break from the usual elbowing at the bar.
Casa Gandarias (Calle 31 de Agosto 23, map): Under the hanging legs of ham, nosh on the beloved solomillo (perfectly grilled steak and green pepper atop crusty bread), lamb brochettes, bacalao crepes, moist tortillas de patata (potato omelets), and, of course, that beautiful jamón Ibérico.

Pintxos are so much fun, you may forget about the top-notch restaurants in the San Sebastián area (Arzak, Elkano, Asador Etxebarri, Mugaritz, to name a few). But you don't want to miss that experience, either (you will need to reserve well in advance). So be sure to rein yourself in during txikiteo…or at least set aside a pintxo-free night for a blowout meal in one of the best food destinations in the world.
PIN THIS TO SAVE!