Housemade charcuterie from Chef Joe Sparatta/Heritage
Nothing beats eating the local foods of a region while you're on the ground in that region—tracking down the traditional dishes, tasting the modern updates, drinking the local beer, perusing the markets, trying what you cannot try "back home." That is, after all, the founding principle of this website. But we're grateful that here in New York City, sometimes the local foods of far-flung places—and the chefs who work magic with them—come to us. Lately we've been on a kick with the regional foods of small(ish)-town America, which actually makes it all the more interesting—cities we'd never before considered in a culinary sense are surprising us left and right (see "A Taste of the Ozarks in N.Y.C."). A few nights ago that city was Richmond, Virginia.
On behalf of the Visit Richmond PR gals, we were treated to a five-course meal, with wine and local-beer pairings, prepared by three chefs from Richmond restaurants (Heritage, The Roosevelt, Pasture) and a brewmaster (Patrick Murtaugh of Hardywood Park). Our small group of diners got to eat inside the kitchen at Astor Center, making it all the more intimate as each chef introduced his dish and fielded our questions (it was not the most romantic lighting, but it was great for food pics!). Since we were more or less dining with the chefs, it was a damn good thing we loved the dishes we were served, many of which referenced the South while making great use of regional seasonal produce, house-cured meats, and the chefs' relentless creativity. Brunswick stew was uplifted by shredded duck, foie gras, and shaved truffle (from Chef Lee Gregory/The Roosevelt); "broken" Carolina Gold rice grits turned congeelike while Virginia mushrooms and house-cured ham kept it rooted in the Southeast (from Chef Jason Alley/Pasture). The beers, too, were delicious and thoughtfully planned; one particularly memorable pairing was the refreshing Virginia Blackberry wheat beer with Chef Joe Sparatta's wonderful housemade charcuterie plate (pictured at top).
We left with four new reasons to get ourselves down to Richmond in the flesh (before we'd had just one, to eat the lauded Szechuan food of elusive roving chef Peter Chang, whom we read about years ago in The New Yorker and who's finally set down roots, in Richmond). On our way out Chef Joe invited us and our seven-month-old to stay with him, his wife, and their young son whenever we come to town. "We have a big house!" he said. Careful, chef. We just may take you up on that.

Some iPhone photos from the night:
A selection of Hardywood Park brews
Roasted scallop with Brussels sprouts, sweet potato puree, boiled peanuts, cranberry mostarda
Duck Brunswick stew with foie gras & truffle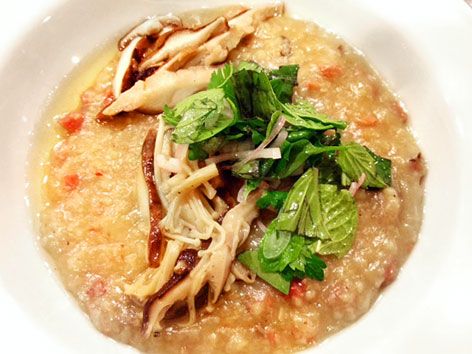 Carolina Gold rice grits with pickled & fresh VA mushrooms, house-cured ham, "city garden" herb salad
"Bacon & eggs": Mini bread brioche pudding, bacon custard, smoked maple emulsion, layered inside an egg shell. French toast & bacon.