The Wisconsin State Capitol building in Madison
We're always happy to visit Madison, Wisconsin. One of us went to school there; the other once wrote a guide to biking and beer-tasting in the state capital. We both had a lot of fun.
On a recent whirlwind weekend trip, we didn't have a ton of time to explore, but did get to revisit some favorite regional foods and taste some new ones. Here's our weekend cheat sheet to delicious local eating in Madison.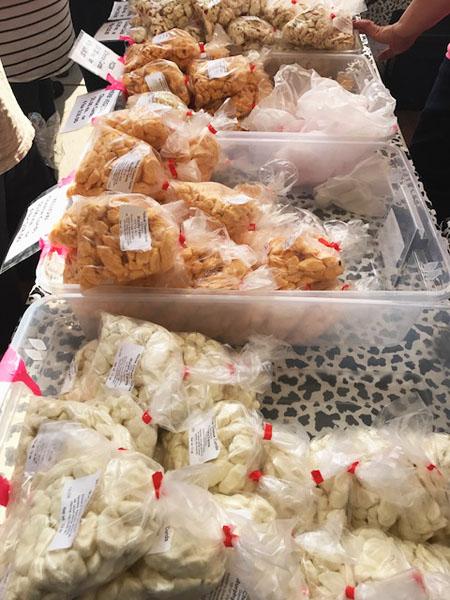 Fresh cheese curds from the Dane County Farmers Market
Fresh cheese curds + local cheese
If you're not from around here (or a similarly dairy-minded state), you may not even know what cheese curds are. They are simply little bite-size pieces of curdled milk…which may not sound the most appealing, but know this: They're mild and salty, not sour, and when they're fresh, they squeak, thanks to water and air inside them that has not been pressed out in the cheese-making process Fresh cheese curds have this rubbery, springy texture unlike anything else. They are fun to sample in their many flavor iterations and make a perfect souvenir (and in-flight snack) to take home.
And of course, aside from the novelty of cheese curds, Wisconsin boasts tons of local cheese, something to suit every taste.
Where: The Saturday morning Dane County Farmers Market is truly a must for food (and flower!) lovers. Vendors peddling everything under the sun surround the graceful state capitol building downtown, and because it's a producer-only farmers market (the largest in the nation), the person behind the stand is the person who grew/produced that food. There will always be several dairy farmers present; we liked the Murphy Farms stand for its sheer variety of cheese curd flavors, all of which could be sampled, and for other cheeses, the Hook's Cheese Company stand, where we snagged the excellent "Triple Play" cheese made with goat, sheep, and cow's milk (the number of samples and products there were dizzying too). Also don't miss the Brunkow Cheese stand, which also features squeaky curds and yummy skillet-"baked" cheese.
Restaurants doing local cheese plates, like The Old Fashioned and Graze, are also great spots to cheese-taste. They're likewise fabulous places to try …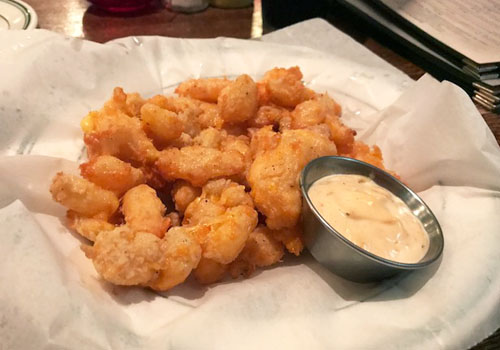 Fried cheese curds from the Old-Fashioned

Fried cheese curds
Remember cheese curds? Now imagine them battered and fried and served in all their hot, crispy, gooey glory. These are kind of like bite-size mozzarella sticks. In other words: irresistible.
Where: We're not alone in loving the beer-battered fried specimens at The Old Fashioned, on Madison's Capitol Square. But it's no wonder they show up on so many "best Madison foods" lists: These are fried cheese curd perfection, served with a tasty creamy paprika-flecked dipping sauce. We've also enjoyed these at the Great Dane Pub & Brewing Company, and have heard that Graze, just down the street from The Old Fashioned, is a great bet too.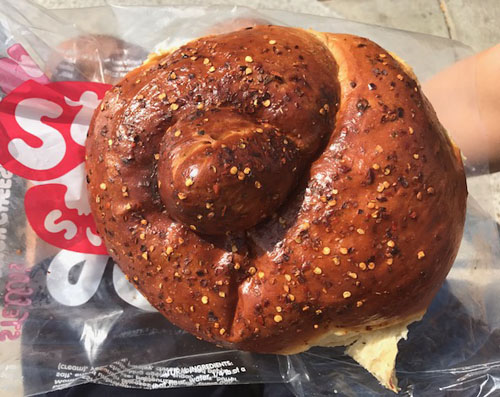 Amazing hot and spicy cheese bread
Spicy cheese bread
This was a new discovery to us, but it turns out Stella's Bakery has been producing this gem for well over 25 years: Hot & Spicy Cheese Bread. Oh, my God. This thing is a must: It's a gigantic disc of sweet dough baked with Wisconsin provolone and monterey Jack cheeses inside, sprinkled with hot red pepper flakes, and baked to perfection. Served hot, it's spicy, it's gooey, it's sweet, it's savory—and it pulls apart into perfect bite-size pieces. It's your new obsession.
Where: Get it at the Dane County Farmers Market, or hit up Stella's brick-and-mortar bakery downtown. Do not balk at the size or the price ($12): It will last you for days. And even if you're scarfing it down the following night at 2am at room temperature in your hotel, or two days later on the flight home, it will still be delicious. It's the gift that keeps on giving.
Mint chocolate chip + chocolate peanut butter, baby.
Ice cream
Not just any ice cream, but ice cream made by the Babcock Hall Dairy Plant right on the University of Wisconsin campus, where it's been churning fresh, smooth, creamy ice cream since 1951 (UW, which boasts a renowned dairy science program, is one of a handful of U.S. universities producing its own ice cream). It's kinda famous around here, and for good reason: This ice cream is born of the freshest high-quality ingredients—milk fat from local cows (including those in the school's own herd), real cane sugar (no corn syrup)—combined with cutting-edge processing and an exacting attention to detail and flavor courtesy of the resident food-science experts. This is academia, after all. And science has never tasted so good.
Where: You can visit the original Babcock Hall Dairy Store on Linden Drive (where students are known to have ice cream for breakfast) or one of its satellite locations, such as The Daily Scoop at the Memorial Union. Good luck choosing a flavor; they all sound amazing.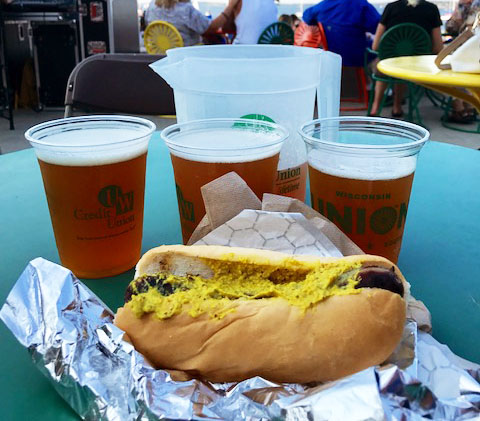 Beer and brats on the Memorial Union Terrace

Brats
A nod to the state's German settlers, bratwurst sandwiches, aka brats, are an integral component of classic Wisconsin cuisine. Locals are more likely to consume their brats at home—they're big at backyard BBQs, not surprisingly—or at sporting events (they like sports around here), but there are plenty of brats available in town for all of us visitors. You'll probably find the sausages (pork, beef, or veal, or a combo thereof) grilled, or sometimes parboiled in beer, making it a "beer brat" (and extra Wisconsin-y). You know what to expect here; there's nothing groundbreaking going on. But slather on some mustard and/or sauerkraut and it's pretty damn satisfying.
Where: The brat (and beer, its natural partner) pictured is from the atmospheric lakefront Memorial Union Terrace, a part of the university that's really just a central hangout for anyone in the city—and a Madison visitor's must. You can score both items at the seasonal outdoor bar or inside from the German-beer-hall-inspired Der Rathskeller (but do bring it out to eat). Or, out on the town, try another Badger favorite and hit up State Street Brats, where you can choose from red (smoked beef-pork) or white (pork) brats, and plenty of beer.

A freshly pulled pint from the Great Dane

Beer
Beer has long been big business in Wisconsin, the birthplace of Pabst, Schlitz, and Miller, and perhaps that's why the state had an early-thriving craft brewing scene. Additionally, some breweries, like New Glarus, managed to achieve cult status among nationwide beer drinkers for their inability (or refusal) to export their award-winning beers across state lines. Nowadays, Madison is no exception from many American cities in having countless breweries, brewpubs, and beer bars to call its own, but there is a certain pride here in Wisconsin, like you're in the minority if you're not drinking WI brews. Not that there's any pressure to stop drinking your Budweiser, but, well, we don't recommend it. After all, most of this beer you can only drink in this state!
Where: It's not hard to find a place to drink WI beer in Madison. The aforementioned Memorial Union Terrace makes for a picturesque setting to share a pitcher of New Glarus (or the house Rathskeller Amber Ale), and we like the Great Dane Pub & Brewing Company downtown for house-brewed beers, but there's also the experimental Vintage Brewing Co., Next Door Brewing, Karben4 Brewing, the massive Ale Asylum (bonus: it's right next to the airport!), and the popular Capital Brewery in nearby Middleton. For beer-mecca-type bars where you can sample lots of breweries in one night, hit up Dexter's Pub or The Old-Fashioned. Where you might also try an…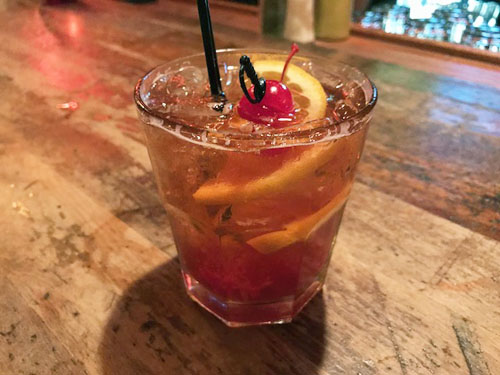 A classic Brandy Old-Fashioned in Madison
Old-Fashioned
Old-Fashioned cocktails are something of a thing in Wisconsin, but particularly those made with brandy instead of whiskey. In fact, brandy Old-Fashioneds are kind of the unofficial state cocktail. How did this happen? One commonly cited story dates to the Chicago World's Fair of 1893; apparently California brandy distiller Korbel was showcased (and brand-new at the time) and, as Germans in general prefer brandy over whiskey, Wisconsinites got hooked on the stuff. Korbel remains the popular brandy of choice in WI Old-Fashioneds, joined in the glass by bitters, sugar, water, a splash of 7-Up, and a cherry and orange-slice garnish. Yes, it's a bit of a sweet take on the cocktail.
Where: Naturally, The Old-Fashioned! This bar offers nine different kinds of Old-Fashioneds; the cocktail gets its own damn page in the menu. While bourbon versions exist for the "non-natives," we recommend trying the classic, with Korbel brandy, or the applejack, made with Madison's own Yahara Bay apple brandy. This is also a great place to drink beer and eat local cheese, fried cheese curds, a traditional Midwestern fish fry and, if you're feeling brave, the beer cheese soup. You gotta love a restaurant with the motto "Where Wisconsin Is King." (Or at least we do.)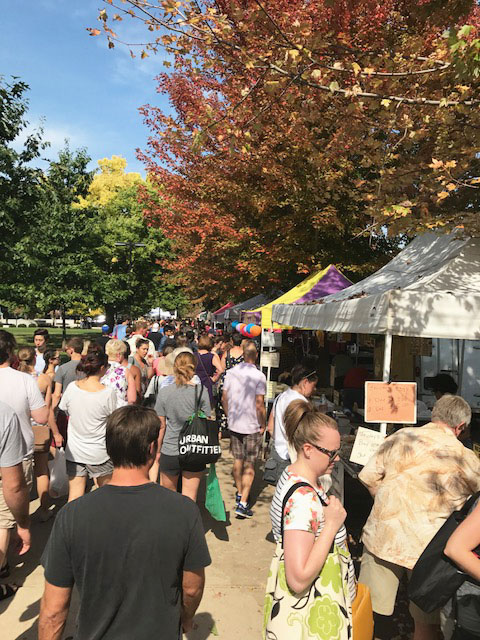 The Dane County Farmers Market in Madison (where everyone must walk counter-clockwise!)

A few other things we noticed but didn't have the time (or stomach space) to explore: Beef jerky and sausage sticks were popular items at the farmers market—just grab a stick and walk with it—and Ian's pizza by the slice is the spot for late-night (or anytime) pizza noshing…there's a mac-and-cheese slice that sounds especially amazing for, well, drunk people. Eat up!