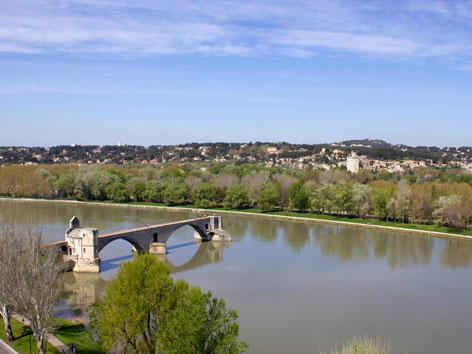 View of Avignon's famous broken bridge and Villeneuve-lès-Avignon beyond.
All photos by Naomi Bishop
Avignon is the sweetheart town of the Provence region of France, its historic buildings and papal mansions held fast within the 14th-century ramparts. Local cuisine is, like elsewhere in France, a product of the terroir: Beyond the old city walls, the region's Mediterranean climate lends warmth, sunshine, and just a little rain—idyllic conditions for vegetable growing—while the proximity of the Med to the south offers dream-worthy seafood spreads. Cultural influences from Spain to the west and the rest of France to the north mean that the superior ingredients are put to creative use. It could be overwhelming, but Avignon is something of a small town, so quality restaurants are easy to find and good food is hard to miss. There are, of course, a few local specialties any voracious visitor should seek out. Allow us to make an introduction:
PIEDS ET PAQUETS
Calling a dish "feet and packages" might not make it an instant classic, but in Avignon, dishes are more than menu trends, and besides, the components here—tripe (stomach) and trotters (feet)—are no subtler than the graphic name. The tripe is wrapped into the namesake packets along with cured pork, parsley, and garlic, all of which flavors the final sauce after an endless braise to tame the typical offal chew. The finished dish is unadorned—you get just the packets, the trotters, and their braising liquid, reduced down until it's sticky with the gelatin emanating from the meats, rich with the time and effort put into the dish.
Where to Find It: Hiély-Lucullus resides grandly on the second floor of a building just off the main square, looking every bit as elegant as it does old-fashioned. The menu brags that its recipe for pieds et paquets, like the restaurant itself, dates to 1938. 5 Rue de la République
FOIE DE VEAU EN PERSILLADE
Unlike the obtuse pieds et paquets, the name of this dish spells out its simplicity: veal liver with parsley sauce. Thinly sliced, the young liver is mild in taste, a ready sponge for the pungent garlic and parsley flavors laid upon it. There are no complicated techniques or ingredients here, making this a simple bistro favorite.
Where to Find It: Le Caf Thiers is a neighborhood joint, a fact apparent in that it stays open on Mondays, while many of the more tourist-focused bistros shutter (the area's big draw, Les Halles market, is closed that day). The servers greet friends with beers in hand, and everyone orders without a glance at the menu. Now you can too—go for the foie de veau. 12 rue Thiers
ASPARAGUS
Asparagus may be only a seasonal vegetable, but in Avignon, that season is revered and celebrated. Nearly every menu in the region lists fresh asparagus soup, roasted or grilled green asparagus, or lightly sautéed, gently sauced dishes of the white variety, pale in color, but bursting with grassy spring flavor. From day to day, restaurant to restaurant, the spears vary: twine-thin or fat enough to be a stand-alone dish; colored purple or ombré, a rainbow of shoots on the plate.
Where to Find It: In spring, it might be harder to find a place that doesn't serve asparagus, but the single-spear-as-course at L'Oustau de Baumenière in the nearby hilltop town of Les Baux distills the local asparagus experience into a small but powerful package. During my visit, the dish featured the famous green asparagus of Pertuis, another Provençal town about an hour away. Chemin départemental 27, Les Baux-de-Provence
CHARCUTERIE
If this is the first time you've heard that a charcuterie plate is a must while in France, you gotta get out more! But it's especially imperative in Avignon, where the longstanding traditions of Provençal sausage making and curing—the markets overflow with stands selling 15 to 20 types of sausages each—are spiced up by the traditions of nearby Spain and Basque country.
Where to Find It: With a branch in both Avignon proper and its sleepy suburb Villeneuve-lès-Avignon, AOC serves up a wonderful spread that includes traditional Provençal saucisson, Spanish chorizo, a cured sausage with cheese mixed into the meat, pâté, rillettes, and, crowning it all, two of the best butters in the world, including one spiked with piment d'esplette, a French chili pepper. 5 Place Jérusalem, Avignon; 2 Rue Victor Basch, Villeneuve-lès-Avignon
TARTARE
Lunch, dinner, starter, main, salmon, beef: Tartare in Avignon is a matrix of choices, which thankfully has no wrong answer. The dish of raw meat (or fish) chopped and mixed with ingredients that both bind the meat together and mesh the flavors is featured in a variety of forms throughout the region. Massive piles of meat held together with rich egg yolks serve as lunch at a bistro, while a light salmon tartare reigns supreme on lazy afternoons, paired with a bright rosé. In the evening, fancier restaurants will brag of their steak from Limosin beef, a premium meat from Limoges, about five hours from Avignon.
Where to Find It: AOC, mentioned above, does a mighty fine beef tartare, but this salmon version comes from another Villeneuve-lès-Avignon restaurant, La Salamandre. Situated in the center of the town square, the restaurant is ideal for basking in the sun over a long lunch, as is commanded by the town mascot, a lizard, who wishes everyone to spend some "lizard time" in Villeneuve. 13 Place Jean Jaurès,Villeneuve-lès-Avignon

About the author: Naomi Bishop is also known as the GastroGnome. Being a GastroGnome does not mean sitting idly on the front lawn of culinary cottages, but rather exploring the wide world of culinary creations. You can read more from the GastroGnome at www.thegastrognome.comand find her on Twitter @gastrognome. She last wrote about a Seattle craft distiller for Eat Your World.