What is Andorran food? Here are 10 local dishes worth seeking out.
Photo by Jordi Troguet Ribes
With a population of only 85,470, the Iberian country of Andorra may be tiny, but it has plenty of attractive lures for visitors: dramatic, craggy mountains; lush forests and meadows; pristine lakes; wintery slopes ideal for snow sports. Not least of all, Andorra is home to an exciting range of foods and flavors, with a cuisine heavily influenced by the country's unique location in the Pyrenees, sandwiched between Spain and France.
The effect on Andorran food is palpable: The region carries strong infusions of neighboring cuisines, especially Catalan and Provençal, and produces some truly exceptional food. The natural resources of the area—such as plentiful freshwater fish, Mediterranean produce, and abundant livestock (cow, goat, sheep, pig)—offer a smorgasbord of interesting flavors, which the Andorran people have combined into impressive recipes, both traditional and modern. Amid so much variety, we chose the top 10 dishes visitors must check out in Andorra.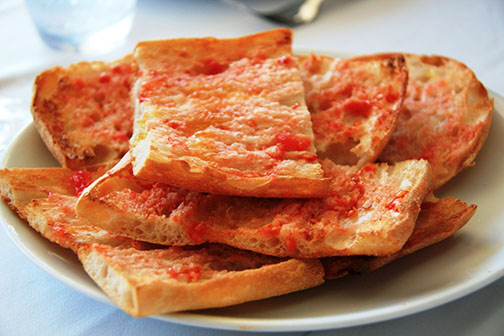 Photo by Javier Lastras
Pa Amb Tomaquet (Bread with Tomato)
Traditionally served alongside almost every meal, especially with meat dishes, pa amb tomaquet will be inescapable on your Andorran travels. But don't let its basic name or constitution fool you: This typical Andorran side dish is pure perfection.
As in neighboring Catalonia, the custom is to first rub a clove of garlic on toasted slices of rustic bread, followed by a halved tomato, and finally top it off with a drizzle of olive oil and pinch of salt. All of that deliciousness soaks into the bread without overwhelming it, and the result is a flavor explosion, with a crunchy yet soft texture. So simple yet so satisfying, and great combined with cold cuts of meat or just on its own as a snack.
Trinxat
This popular potato dish, traditional to Andorra and the bordering Cerdanya region of Catalonia, is in many ways similar to a potato rosti, or Britain's bubble and squeak. Trinxat literally means "chopped" or "shredded"; the main ingredients are chopped cabbage, potatoes, and leeks, usually combined with bacon fat or chopped pork, that are formed into a patty and then pan-fried. But when spiced and topped with seared, mouthwatering Andorran cansalada, or gammon (a type of bacon), this is an ideal appetizer or side dish. In a more modern iteration, trinxat is also quite delicious on top of a hamburger made with prime Andorran beef.

Photo by Calafellvalo
Escudella
Andorra's national dish is a filling, hearty stew typically served in the winter, and hugely popular across the entire principality. In the darker months it's hard to find any place that doesn't have some version of this soup on its menu. The base is almost always the same: broth with cooked pasta, vegetables, and pulses. However, escudella's other components take an anything-goes approach, as traditionally it's made with whatever is available. The "authentic" recipe, then, calls for an astounding variety of meat, including white and black butifarra (sausage), chicken, veal, homemade meatballs, pigs' ears, snouts, and trotters!
If the sheer variety of that boggles your mind (or makes you queasy), rest assured that many modern variations of escudella are much simplified. But if you crave the heartier, old-school one, seek it out in one of Andorra's many bordas, converted traditional barns serving rustic fare. Alternatively, you can visit the capital, Andorra la Vella, for the annual Sant Antoni celebration: Every year on January 17, crowds flock to Village Square to share and enjoy escudella prepared by the Brotherhood of Escudellaires, guardians of the winter soup's traditional recipe.
Formatge (Cheese)
Andorra is famous for its production of excellent cheese, and given its mountainous terrain, it stands to reason that the majority comes from the multitude of sheep and goats that roam the high plains. The high-altitude principality, and the adjacent French department of Ariège, produces some of the best soft and sharp sheep's cheese, as well as harder, tangy goat's cheese. In the summer, your best option is to sample a fresh, seasonal goat cheese salad. Many excellent restaurants in Andorra la Vella—such as La Cava or Plat'in—offer delicious seasonal salads made with the very best Andorran cheese and produce.
Torrijas
These sweet treats are typical Andorran grandma fare, traditionally served at Lent and Easter. Torrijas are slices of bread or buns soaked in milk or wine with honey and spices, then dipped in egg and pan-fried. The result is much like French toast, but far sweeter and more flavorful. The custom is to roll the torrija in sugar after frying; many people prefer some rich strawberry jam on top, too. Lots of Andorran restaurants also offer torrijas topped with a generous dollop of ice cream, for a modern take that we call making a good thing better.
Photo by Biblioteca BCBL
Cargols (Snails)
Just like its neighbor France, Andorra loves its snails. They are served in a variety of ways here, the most popular and simple being cargols a la llauna (oven-roasted snails), ideal as a main dish or a shared platter: The snails are slow-roasted with salt, pepper, and a drizzling of olive oil, and are served either with aioli (garlic mayonnaise) or an olive oil-based vinaigrette with paprika.
The dish can also be found in slightly altered, equally delicious versions such as cargols a la llauna amb tomata, in which the snails are roasted in chopped tomatoes, or the decadent cargols a la llauna Girona, where the snails are bathed in a creamy tomato sauce with garlic, bay leaves, and Andorran sausage. Try a couple of them and you'll soon be asking, "Escargot who?"
Crema Andorrana/Catalana
Like crema Catalana in the south and crème brûlée in the north, the go-to dessert of Andorra largely consists of a creamy, custard-based dish. But whereas the Catalan and French varieties are content to top off the base with a layer of crispy caramel, the Andorrans opt for a different, altogether more decadent version: Atop the milk-and-egg-based custard, they add a huge dollop of fresh, thick double cream. Then they lash caramel sauce on top of it in thick drizzles that seep down into the custard, creating a dramatic effect that, fittingly, looks rather like those craggy, snow-topped mountains surrounding Andorra itself. Just as those incredible peaks are unmissable, so too is this smaller, sweeter, incredibly satisfying one.
Photo by Consell Comarca Baix Emporda's photostream
Embotits
Embutido, or Andorran sausage, comes in many different forms, but it's nearly always abundant at the Andorran dinner table. Andorra loves its pork in general, and the province is famous for its homemade sausages, seasoned with salt and pepper for flavor as well as conservation. Usually served cold on a platter in a few varieties—including white and black sausage and fuet, a dry-cured pork sausage—and eaten alongside pa amb tomaquet, this staple makes a delicious appetizer.
One of the most famous types of embotits in Andorra is obach, produced in the quaint mountain town of Organyà, where traditional recipes of slow-burn drying and curing have been perfected over generations. The town, situated just over the Catalan border and flanked by a stunning plateau-topped mountain, offers a shop with a selection of some of the best, freshest meat in the Pyrenees.
Steak Tartare
Andorra is well-known as a world-class destination for skiing, and the vast influx of winter tourism has opened up the food scene of Andorra la Vella, offering up culinary choices that Andorrans of old could have only dreamed of. Although it's not an Andorran dish per se, strong ties with France and the excellent quality of Andorran beef have always ensured the popularity of steak tartare in one way or another. And now the gourmet restaurants of Andorra la Vella have unofficially gained a reputation as the place to enjoy a steak tartare par excellence. Classy capital haunts such as Versailles, Restaurante Coma, and 13,5° Winebar each offer highly rated, elaborately prepared versions of the dish using tender Andorran beef, a luxurious protein hit after a day on the slopes. Don't tell France, but once you try steak tartare in Andorra, you won't want it anywhere else!
Truta a la Andorrana
You might have noticed that Andorrans have a soft spot for all things pork, but the country is also known for its sparkling rivers, which produce a bounty of freshwater fish—most notably salmon and trout.
Perhaps the best of these fish dishes is the one that perfectly combines Andorra's two great loves: fish and pork. Truta a la Andorrana is a delicious combination of freshly caught, grilled or pan-fried trout topped with succulent Andorran gammon. It's hard to beat the fundamentally simple combination of these two great Andorran foods. Drizzled with lemon and served with fresh vegetables, it makes for a truly satisfying and authentic taste of Andorra.
About the author: Edith Nkwocha is a writer/translator and lover of all things food and cooking.
WANT TO SAVE THIS ARTICLE FOR LATER? PIN IT HERE.