Photos courtesy of Experience Jackson
Michigan's food scene isn't all about Detroit. In this sponsored post, meet Jackson County, birthplace of the beloved Coney dog and so much more.
Jackson County, Michigan, is known for its diner-style pit stops and family-owned eateries. Whether you are looking for a place to dine in or take out from, eat a regional specialty or devour BBQ, enjoy doughnuts or chow down on desserts, Jackson County's food scene puts its focus on genuine personality, atmosphere, and taste.
So, what makes Jackson County's approach to food stand out?
Historically operated eateries are around every corner. Many of them have been serving the community for close to a century. With so many places standing the test of time, it's evident they're doing something right. And if they don't share their neighbors' long-standing tenure, these restaurants exceed the local expectation with their unique atmosphere and stylistic approach to preparing food. Great ingredients and family-secret recipes aren't just a tagline around here—they are a reality in Jackson's best restaurants.
A day here starts with a hearty breakfast full of your favorite eats. Jackson's breakfast scene is where you'll find some of the longest-operating establishments in the region. The county is home to the best doughnuts in the state, as declared by MLive. Family-friendly diners scattered around the county offer omelets, French toast, and more to-die-for breakfasts.
For lunch and dinner, you're looking at another wealth of delicious choices. Try one of Jackson's many diners that will transport you to the '50s through classic food and a convincing interior aesthetic. You may even find a jukebox or two. Be wary of trying some of the local pizza joints; you may have a tough time going back to delivery.
Most important, you can't say you've eaten in Jackson until you've visited one of its many Coney dog joints. Jackson is the birthplace of the Coney dog, a local delicacy now widely associated with Michigan (particularly Detroit). The secret is in the chili sauce, heavy on meat rather than beans.
Where specifically to try these local eats? These nine restaurants feature the food, that authentic Jackson atmosphere, and more, exemplifying the culture of Jackson County.
Jackson Coney Island: Here's where you try the Original Coney Dog, a grilled hot dog topped with meaty Coney Island sauce, finely diced onions, and mustard served on a freshly steamed bun. In business since 1914, Jackson Coney Island has received multiple awards through the years; after one bite, you'll know why. 615 E. Michigan Ave., map
Hinkley Bakery: Since 1913, residents of Jackson County have not had to think twice about where to get their baked goods. Everything in this fourth-generation family-owned shop is handmade, from chocolate crescents to glazed doughnuts and so much in between. Hinkley's reputation is known for miles, and its list of accolades is no short read. MLive voted their doughnuts "Best in Michigan" back in 2014. 700 S Blackstone St., map
Schlenker's Sandwich Shop: Another local classic, Schlenker's first opened in Jackson in 1927. You'll have trouble finding a better burger anywhere, as it's had more than 90 years to perfect it. Fresh beef is fashioned into patties daily, no frozen meats here. While it's mostly known for its quick and easy takeout, a U-shaped bar surrounding the kitchen allows for some seating inside. Be warned: This old-school diner keeps it cash only and closes on Sunday and Monday. 1104 E. Ganson St., map
Roxy Café: Roxy Café's great taste has been around since 1926, and its quirky traditions have stood the test of time. Hungry visitors have been entering through the kitchen for as long as anyone can remember. (Entering through the front door will certainly mark you as a tourist in the eyes of the locals.) Come any day of the week before it closes at 1pm and Roxy Café will serve you a great breakfast, from omelets to corned beef hash to cinnamon rolls. The imaginative creations satisfy cravings of any sort! 606 N W Ave., map
Rudy's Drive-In: Burgers and Coneys and root beer galore! This family-owned drive-in exemplifies food culture in Jackson and has been satisfying customers for almost 50 years. The quirky carhop service has charmed patrons for decades. In addition to the signature Coney dog recipe, homemade root beer is made in house daily. And pets are encouraged! Bring your pup in for a complimentary dog treat. 4061 Page Ave., map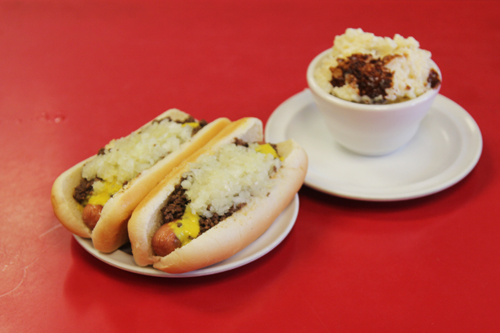 Virginia Coney Island: For another take on Jackson's famous Coney dog, check out Virginia Coney Island. It's ranked the sixth-best Coney dog in the state, so you know you're biting into something special at this local favorite. In true Jackson tradition, the dog comes topped with all-meat (no beans) chili, chopped onions, and yellow mustard. 649 E Michigan Ave., map
Klavon's Pizzeria & Pub: When it comes to pizza, Klavon's doesn't mess around. This Jackson restaurant is so popular, it had to open a second location to keep up with demand. Its claim to fame is stuffed pizza, an original take on Chicago-style deep dish, but you'll find that the entire menu shines. 6010 Clinton Rd., map, and 1361 E McDevitt Ave., map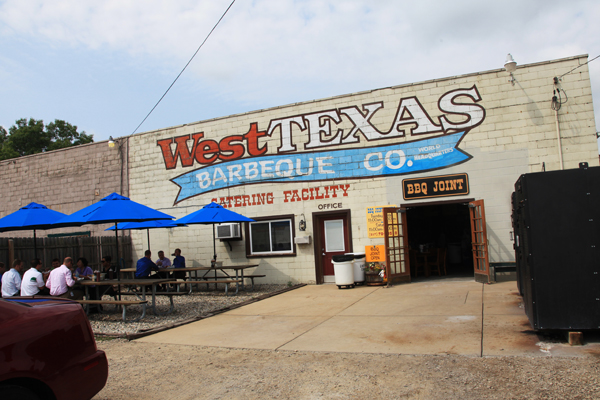 West Texas Barbeque Co.: No need to travel south for your fix of good barbecue: No-frills West Texas Barbeque Co. brings the real-deal stuff straight to Jackson. Come in with an empty stomach and expect to leave with your top button undone—these slow-cooked meats from the hickory-and-oak-fired pits are sure to make short work of your hunger. 2190 Brooklyn Rd., map
Grand River Brewery: If you're looking to enjoy a drink with your food, look no further than Grand River Brewery and its host of craft beers on draft, including its house-brewed originals. Its Monkey Mouth IPA was awarded "Best American IPA" by the New York International Beer Competition. The food menu takes some tasty liberties with your average bar food, but still has all the crave-worthy classics. 117 W Louis Glick Hwy, map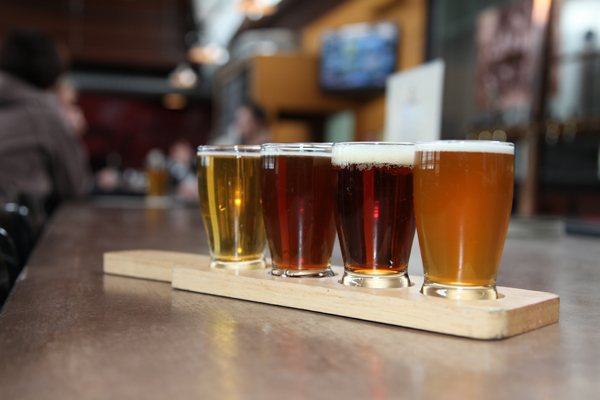 Cheers!
All of these great eats and more await you in Jackson County. Whether you're in town for breakfast, lunch, or dinner, or making time to enjoy all three, you will not be disappointed. For more on what to eat in Jackson County, check out Experience Jackson.
This is a sponsored post.