As I slurped up the last bit of spicy broth from my lunch of ramen noodle and bok choy, I felt full and satisfied. That is, until I took a final look at my bowl: Hiding at the bottom, alongside a few stray bean sprouts, was an indiscernible hunk of fatty flesh on bone. Chicken? Beef? Pork? My contentment quickly dissipated. What on Earth did I just eat?
I've been a vegetarian for 13 years, a pretty significant part of my life. I'm now in Cambodia in the Peace Corps, and when I first applied, I was warned that one of the unwavering rules is to be open to whatever challenges and new experiences come your way, including having to change your diet. Desperate to prove my flexibility, I nodded along with the interviewer and said, "Oh, sure, I'd be down to eat meat if I have to." And, really, I thought I would be. I hadn't become a vegetarian for religious reasons, nor were my moral convictions so strong that I thought I couldn't cross that line. I was just an eccentric kid who decided, at age nine, that being a vegetarian would be pretty cool, and I've stuck with it.
When I got to Cambodia, I was ecstatic about the colorful fruits and vegetables I saw crowding the local markets. But my excitement was tempered by my host mom's interpretation of a vegetarian diet—starchy rice and noodles for my every meal, resulting in a quick 10-pound weight gain—and by the deception of restaurant dishes that looked vegetarian but hid meaty surprises within, resulting in stomach bubbles and more. And although I ate a frog once to be polite, I've come to realize that eating meat is not something I can compromise on. So it's become my mission to scour Cambodia's markets and restaurants to find true vegetarian delights, and I've just about mastered it. Here are my tips for staying relatively vegetarian while traveling through the Kingdom of Wonder.
Key Phrases
All spellings are phonetic.
Aht saight: "Without meat." This is your go-to phrase when dining anywhere in the country. Be warned, however: The Cambodian interpretation of "without meat" usually means a dish with the meat plucked out. And the broths and oils could be meat-based, too. You might want to take the out-of-sight, out-of-mind approach.
Bon lie: the Khmer word for vegetable. There are a few standard meat-and-rice and meat-and-noodle dishes in Cambodia. Typically they're all stir-fried in a wok. Adding "bon lie" to the end of your order will let your server know you'd like to swap the meat for vegetables.
Mainstay Dish: White Rice
It's a staple in Cambodia, and while some of my colleagues have come to dread the heaping dinnertime spoonfuls, rice is often my saving grace. If you ever find yourself at a table full of questionable dishes, load up a bowl of plain rice with the customary fixings: pickled vegetables, fried egg, and chili sauce. If you're a ginger fan, ask for chaa kinyie, or stir-fried ginger. It's a wonderfully savory way to spice it up.

What to Order
The market is the hub of every village and city in Cambodia, and venturing in for a bite is a great way to experience Khmer culture. While Phnom Penh's Orussey market has four vegetarian stalls (stalls 132, 133, 169, 170) serving up mock-meat dishes like chicken drumsticks and duck, food vendors most everywhere else stick to a few traditional dishes, and you won't find any menus. Larger Khmer restaurants have laminated menus on hand, but ordering dishes sans meat will still take a bit of finessing.
BREAKFAST
Locals generally stop at the market for breakfast before going to work in the rice fields or their shops. Rich, hearty soups in a meat broth are a breakfast staple in Cambodia, but you can have them modified: Ask for tuk cadao soh to nix the broth for plain hot water.
Bor bor: This stick-to-your-ribs rice porridge is a safe bet for vegetarians, and you'll have your choice of toppings. (For more on bor bor, check out Recipes from Afar.)
Mee sop [above]: Cambodia is where I learned the joys of ramen noodles. In college, I shied away from the late-night go-to and ate it only in times of desperation, subbing out the "chicken flavor" packets for olive oil and sea salt. Cambodia's ramen soup is the gourmet older brother to Cup Noodles—this is not Japanese-style ramen we're talking about, but it's satisfying and great for vegetarians. Order it with vegetables and you'll get anything from cabbage to spring onions, carrots to bean sprouts piled on.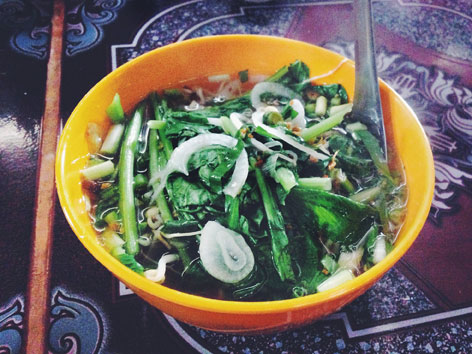 Guitiyo (pronounced "gwe-tee-yo"; above): This traditional Khmer soup, made with glass noodles and topped with sawtooth coriander, scallions, bean sprouts, and blanched lettuce, is light, nutty, and spicy with citrus undertones.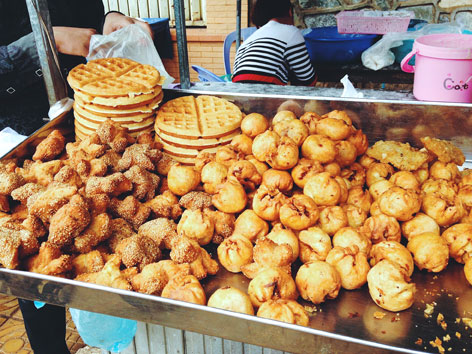 Pastries [above]: If you don't want a savory breakfast, you're in luck—Cambodians have a major sweet tooth. Ladies with wide trays of treats perched atop their heads stalk the streets and markets offering Khmer-style Belgian waffles sweetened with coconut milk and dense, star-shaped sweet bread sprinkled with sesame seeds.

LUNCH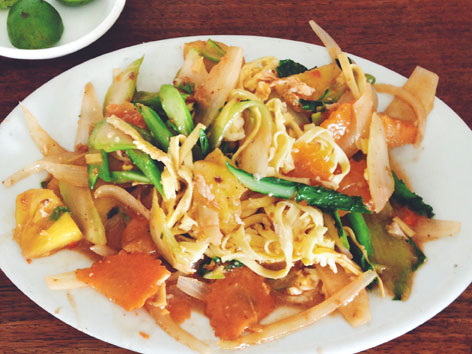 Mee cha [above]: While I'm sure stir-fried noodles are adding pounds to my waistline, I can't get enough of them. At a food stall, 75 cents will score you a big plate of flat rice noodles tossed with scallions, bean sprouts, and the leafy green veggie of the day. Restaurants tend to add more extras, like pineapple, carrots, and onion. Simple yet satisfying.
Nom kah chai: Dense rice cakes get stuffed with chives and Chinese kale, and then fried. Eat them with a bit of garlic and chili sauce—heavenly.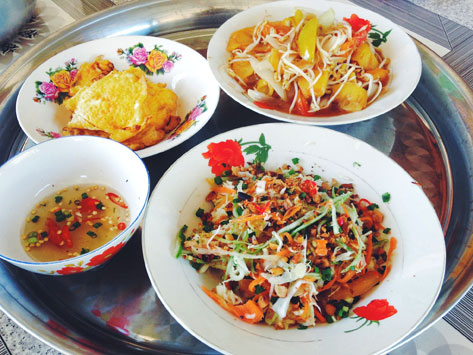 Bok lahong [above]: Julienned, unripe green papaya is tossed with cherry tomatoes, fresh red chile, shredded carrots, string beans, and roasted peanuts to create an addictively spicy salad.
Num bahn chuk: This noodle dish is a Khmer classic. Long rice noodles are doused with a fish-based curry made of lemongrass, turmeric root, and kaffir lime, then topped with fresh mint, bean sprouts, green beans, banana flowers, and cucumbers. Delicious!

DINNER
Chaa bon lie: This term for stir-fry vegetables covers a range of dishes from chaa la põe (pumpkin; pronounced "cha-la-po") to chaa tra coon (morning glory). The following are my personal favorites. (Bonus: Some restaurants may even have tofu; ask for tahu to get it added into the stir-fry.)

Chaa traut (eggplant; above): Sauteed in a rich oyster sauce with plenty of crushed garlic.
Chaa plaii manoah nung bang bawh (pineapple and green tomato): Whenever my host mother makes this for dinner, my eyes light up. The fresh taste of the green tomato pairs perfectly with the sweet and acidic flavor of the pineapple.

Chaa kat nah (Chinese kale; above): Flash-fried in the wok, this dish is sweet and crunchy, with a kick.
Saht-gko lohn p'nohm ("cow climbs mountain"; pronounced "site-go-lon-phnom"): This dinner meal is perfect for sharing: Think hibachi, but Khmer style. Specialty restaurants will put a hot plate at your table with a side of fresh veggies—onion, green pepper, tomatoes, carrots—and let you do the cooking.

SNACKS
Jake jien [above]: Flattened and battered, these fried bananas are the stuff dreams are made of.
Nom kruwa: Inspired by Chinese cooking styles, Khmer scallion pancakes are rolled out then fried in hot oil. Doughy and delicious.
Plaii chuuhr (pronounced "ply-chure"): Look for plastic displays of fruits at food stands, and you'll find smoothies, perfect to combat the scorching Cambodian sun. You won't get to choose your own ingredients, but standard offerings include yummy frozen mango, durian, and coconut with a dash of condensed milk.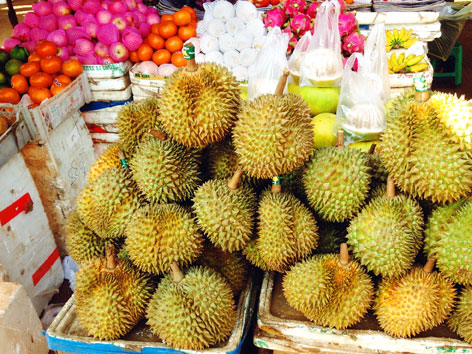 Fruit: Cambodia's bountiful tropical fruits invite exploration—don't be afraid to try the unfamiliar! Merchants at roadside stands fill coolers with chilled coconuts and sliced mangos and pineapples, while bananas, dragonfruit and pomelos [pictured below], mangosteen, durian [above], and clementines take up residence at markets, along with bunches of fleshy, lychee-like sao mao and plaii meun.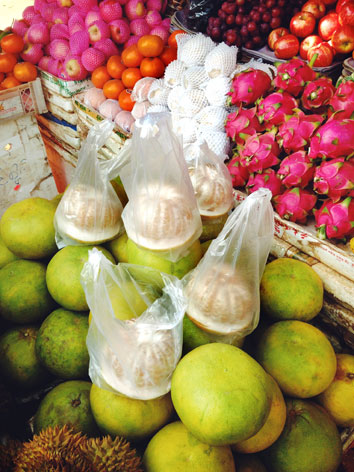 FOR THE DARING VEGETARIAN
Bpon tia brine: I was initially apprehensive about these duck eggs preserved in brine, but I'm now hooked on their smooth, salty taste. If you're not vegan and want to experiment with eggs for protein and taste, try this popular delicacy.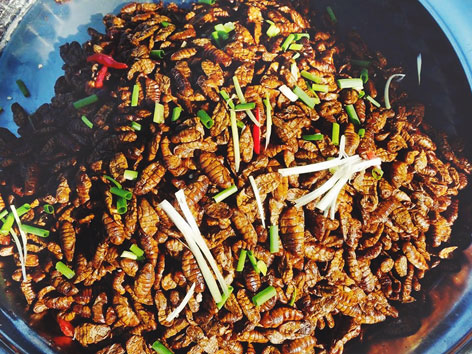 Bugs [above]: Vendors pushing carts piled high with crunchy critters are aplenty. Red ants, water bugs, and crickets are popular, but Cambodia is most famous for their fried tarantulas. I haven't mustered up the courage to try them…yet.

Restaurant Guide for Vegetarians in Cambodia
In the larger cities where more tourists frequent, there's a wider choice of restaurants, both Khmer-owned and international, with menu offerings specifically for the vegetarian, including grilled tempeh and fresh vegetable wraps. Here are some to try:

PHNOM PENH
The Vegetarian
158, Street 19 off Sihanouk Blvd, Phnom Penh
The name says it all. One of my favorite haunts, this place has an extensive, mouth-watering vegetarian menu. Settled on a side street under the shade of wide banana leaves, the eatery is a green oasis. Try its fresh fruit and vegetable juices and vegan pho.
ARTillery
Street 278, Phnom Penh
Head here for creatively crafted raw, vegan, and gluten-free eats in a laid-back environment. Try the falafel plate and, afterward, indulge in key lime cashew-cream cheesecake.
Friends
215 St 13 (at north of National Museum, Central), Phnom Penh
Though not completely vegetarian, this spot has a great selection for non-meat eaters. The food, especially the tapas menu, is delicious. Even better: Restaurant proceeds go to Tree Alliance, a nonprofit established to help get street kids into homes.
BATTAMBANG
Mercy House
La He Road (diagonally opposite Asia Hotel), Battambang
This is an awesome spot for affordable veggie dishes—the mushroom burger is a must.
Ahaa Boer Vegetarian Food
505 La He Road, Battambang
Stop here on a bus ride up to Siem Reap for quick takeout noodles.
Chinese Noodle
Group 8, Kampong Krabey village, Sangkat Svay Por, Battambang
Grab a seat and watch the owner craft fresh, delicious vegetable dumplings. I haven't stopped dreaming of them since my visit last October.
SIEM REAP
Chamkar
The Passage, Old Market, Siem Reap
The extensive menu here includes organic wine, fresh fruit drinks, sandwiches, and stir fries. Try the sweet potato and tomato soup with coconut milk and Khmer cardamom.
Taj Mahal
Street #7 Old Market Area, Siem Reap
Cambodia has incredible Indian food. Take a trip to Taj Mahal for vegetarian thali, a platter of rice, chutneys, lentils, and bread.
Peace Cafe
Street 26 off River Road (at Wat Bo, turn left upriver & right on 2nd lane, cross river from Old Market), Siem Reap
Peace Cafe has an awesome vegetarian menu and boasts an onsite bakery, cooking classes, a fair-trade shop, and an open space for yoga and meditation. It's also kid-friendly with swings, sandpits, and children's games.

KAMPOT
Sisters II
On the road from the 2000 statue, toward the riverfront, Kampot
This branch of Phnom Penh's Sisters restaurant is great for all-day breakfast.The pumpkin-spice pancakes are to die for, and the cook is open to making vegetarian substitutions.
Rikitikitavi
Riverside Road, Kampot
Offering both Khmer and Western vegetarian-friendly dishes, this cozy, not-to-be-missed spot in Kampot is also great for cocktails.
About the author: Native New Yorker Glynn Pogue is a travel writer and food lover currently serving a two-year stint as a Peace Corps volunteer in Cambodia, where she teaches English. View more of her work at glynnpogue.com.