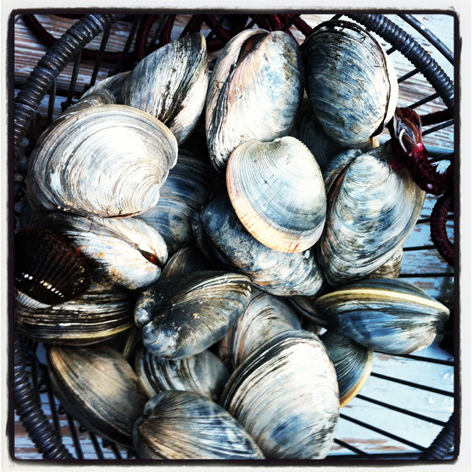 The buildup starts on the long drive north. There's traffic getting out of the city, traffic in Connecticut—where we might stop for pizza in New Haven—and traffic navigating around Providence, Rhode Island. But we're giddy with anticipation for what's always our favorite weekend of the summer, when we visit dear friends on Cape Cod.
For the past 10 years, we have been fortunate to have insider access to the Cape and its endless nooks and crannies. Our friends there share our love for adventure, but even better, they have the skills and means of making our wildest summer dreams come true. Over the years these have included: spontaneous flights to Nantucket, catching and grilling lobsters right on the beach, island-hopping via their boat, fishing when the mood strikes, filleting just-caught stripers on the sand, camping and biking in Provincetown, night swimming among bioluminescence, filling buckets with clams we dug up ourselves, bocce ball and dark-and-stormys on deserted beaches. To say we've been spoiled, especially on the local-food front, is an understatement (even more so since our hosts planted a huge garden and began raising bees and chickens). That we have too much fun to work and have grown accustomed to our friends' hunting-and-gathering lifestyle are the two main reasons we haven't fully covered the regional foods of the Cape yet.
These went from trap to grill in about 15 minutes.
Our favorite semi-private beach off Buzzards Bay
But there is one dish we don't make ourselves, and we absolutely must have it at least once a day while in town: clam chowder. Creamy white New England style, of course; none of that red Manhattan crap. We never eat it outside of New England—last we covered the dish was while we were in Boston—but even more so than Boston, the Cape lives and breathes clams (or quahogs, as they're known here). Clams are on every menu. Nearly anyone you meet with a boat will have a clamming license. In fact, walk a few feet off any shore, feel around with your feet under the silty surface, and there's a good chance you'll find one for yourself. This is clam central.
Our clam chowder explorations on the Cape have been fairly unscientific so far (and mostly centered around the lower Cape), but a few clear favorites have emerged over the years. Here are five we like:
Pie in the Sky, Woods Hole
It's a cozy little coffee/pastry/sandwich shop with killer popovers and house-roasted coffee, but they've got great chowder too, of the very thick variety. We loved the chunky red potatoes and super creamy texture, though it was too thick for some in our group. Pie in the Sky, 10 Water St., Woods Hole
PJ's, Wellfleet
Down Cape in stunning Wellfleet, we loved everything we tried at PJ's, a casual seafood shack. It's particularly popular for fried seafood—and the fried, plump whole clams were something special—but we loved the clam chowder here, too. It's different from most typical New England styles, much thinner in texture, more like Rhode Island's clear chowder. But the clam flavor was so beautiful and pure, we quickly adjusted and slurped the whole cup down. PJ's Family Restaurant, 2616 Route 6, Wellfleet

Green Pond Fish Market, East Falmouth
Trying to decide how many pounds of scallops you want for dinner? Try this market's clam chowder while you wait! It has a nice medium-bodied textured, not too thick nor thin. Very tasty. Green Pond Fish Market, 767 East Falmouth Hwy, East Falmouth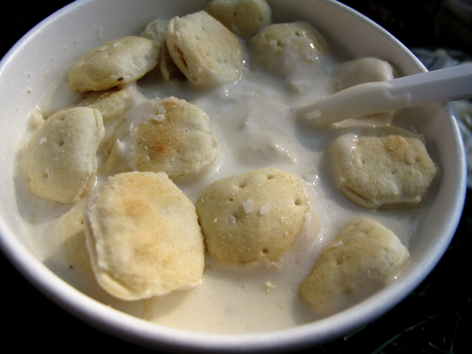 Larsen's Fish Market, Menemsha, Martha's Vineyard
Also in the fish-market category, this family-owned spot is better known for its local steamed lobsters and excellent Menemsha oysters (harvested about five minutes away!) and Katama Bay oysters, from the other side of the Vineyard. Take some of those and a cup of this shop's delicious clam chowder to the nearest grassy knoll for a taste of summer heaven. Larsen's Fish Market, 56 Basin Rd., Chilmark, MA
Cape Cod Bagel Co., Falmouth
This is the one we keep coming back to. Chock-full of clams, red potatoes, and celery, this homemade chowder has a perfect creamy, medium-thick body and all the flavor of the sea you want in a paper cup. Summer after summer, it's our local go-to. The bagels aren't bad either. Cape Cod Bagel Co., 508-548-8485, 419 Palmer Ave., Falmouth

We have so many more to try! Anybody else have a favorite clam chowder in Cape Cod?