It doesn't get much more tipico than this deceptively basic rice-and-beans breakfast, reports contributor (and Costa Rica resident) Chelsey Perron. Meet gallo pinto, Costa Rica's ultimate local dish.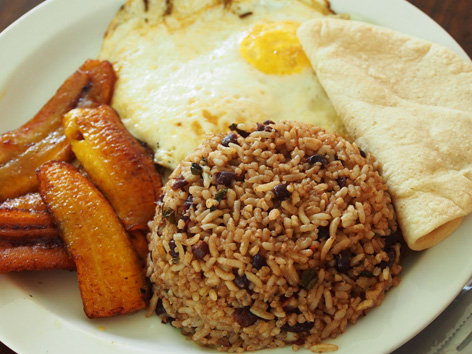 A typical breakfast plate with gallo pinto, from a roadside
soda
. Photo: Chelsey Perron
Costa Ricans—Ticos, as they're called here—wake up to a different kind of rooster than most. Gallo pinto, or "spotted rooster," is so commonly consumed most mornings in local households, it could easily be renamed "breakfast" for many families in this Central American country. The recipe is deceivingly simple: rice, beans, and olores, typically a scant mixture of red sweet peppers (optional), onions, and cilantro. And yet, no two renditions of this dish—and you will eat several if you're in the country for more than 24 hours—taste the same, despite it having only two main ingredients. How do they do it?
Some of the best foods in the world originate from necessity, and the humble gallo pinto is no different. The dish makes use of the two most typical ingredients in any Costa Rican household: the ever-versatile black bean (also commonly found stuffed into empanadas, served alongside steaks, and boiled down with bananas) and white rice, which is grown throughout the country. Condiments aren't big here—with the exception of Lizano, a bottled brown salsa poured over most everything in Costa Rica by its loyal fans—so the utmost importance is placed on the rice, beans, and seasoning. Although many preferences exist depending on who's doing the cooking (to toast the rice or not? Long-grain rice or short? Dried beans or fresh? Lots of bean broth or just a bit?), one thing is for sure: a steaming pile of pinto is best served with a runny egg on top, alongside a cup of just-brewed coffee. Add a few maduros, or golden-fried ripe plantains, and a slice of super-fresh tico cheese and you've got yourself a perfectly satisfying casado: a typical dish.
Gallo pinto can be found everywhere from the Four Seasons hotel to a host mother's house, but perhaps the best place to sample Costa Rica's unofficial dish is at a soda, those local restaurants just big enough for a few tables and, ideally, a wood-stoked fire. Ticos swear by pinto made "a la leña," slow-cooked over the fireplaces of generations past, when you can be sure that the healthy portion you're served isn't without the secret ingredient that's made it a favorite of Costa Ricans everywhere: a mother's hands to stir the pot, and lots and lots of love.
Find Gallo Pinto:
–In San Jose, try Restaurante La Criollita in Barrio Amón; it's well known for delicious gallo pinto and other platos tipicos.
– Some of the best pinto can be found in local sodas, small, often roadside cafes that are favorite spots for locals to eat. Look for the word "soda" (usually followed by a name, e.g., "Soda de Pablo" or "Soda Don Juan") in the signage, if there's a sign at all.
– Near Manuel Antonio National Park, there's a great hostel called Backpackers Paradise Casa Linda that has a US$4 breakfast including coffee, tea, a big plate of gallo pinto, eggs, pancakes, and fresh fruit. (Tip: You don't have to be staying there to eat the breakfast!)

About the author: Chelsey Perron is a lover of all things Latin America, especially when it comes to feasting on Argentine choripan and fresh-from-the-sea ceviche. She spends her days hunting for the most unique tours, attractions, and accommodations in Latin America, and is obsessed with discovering amazing eco-lodges and sustainable options, like treehouses that deliver farm-to-table meals. Follow her travels at taproottravel.com or tweet her hello @ChelseyEnroute.