Some background on Tunisian food—and what to eat in Tunisia.
A market in Kairouan. All photos by Giulia Blocal except where indicated.
Thanks to its strategic position at the crossroads of southern Europe, northern Africa, and the Middle East, Tunisia has always been a hub for spices, which have been traded in its suks for centuries. Cumin, curcuma, saffron, ginger, cinnamon—Tunisian food is quite spice-forward; even salads have a strong taste. As the saying goes, a man can tell if his wife loves him from the amount of spices she puts in the food: If the food isn't hot, her love isn't strong.
Tunisian cuisine is based on typical Mediterranean ingredients: cereals, vegetables, fruits, garlic, and olive oil from the eastern area of the country (olive oil is an important source of national income). Along the Mediterranean coast, fresh fish reigns supreme both at home and in local restaurants, while in the country's interior it is more common to eat meat, which is always cooked with some spices.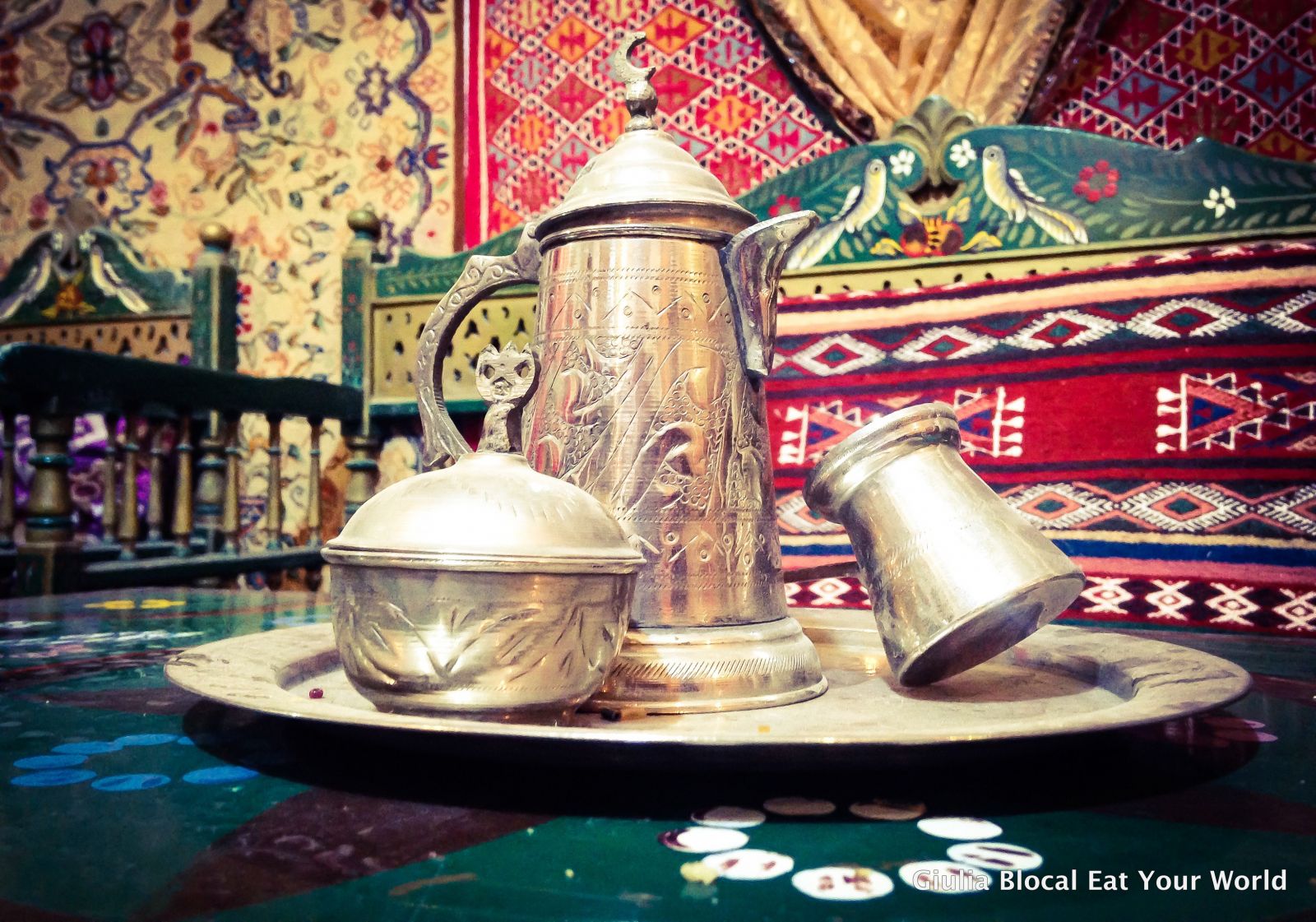 Tunisia has produced amazing wines for 2,000 years and, despite it being a Muslim country, it's very easy to find alcohol there. The best production comes from the northern areas, especially the Cap Bon region, where red wines are strong and full-bodied.
Traditional dishes are a mix of Berber cuisine and influences from various neighbors and colonizers over the centuries, from Roman to Arab, Jewish, Turkish, French, and Italian. For example, coffee is prepared in the Turkish style and then flavored with orange blossoms or rose water, while the Maghrebin mint tea—traditional all over the Greater Maghreb region (which comprises most of northern Africa west of Egypt)—is spiced up with almonds or pine nuts in Tunisia.
Here are five more essential foods to know (and eat!) in Tunisian cuisine.
Market in Douz
Harissa: the red-hot chili pepper paste
Chili peppers were imported into Maghreb during the Spanish occupation, and they're now at the core of Tunisian cuisine. They are cultivated mostly in the areas of Nabeul and Gabes and often turned into this traditional paste, whose name means "chopped." Harissa is made with dried chilies, curcuma, garlic, and salt. It can be spooned into soups and stews to add a kick, or served as an appetizer blended with olive oil and spread on bread. Regional versions of harissa abound, differing for the inclusion of additional spices such as cumin, coriander seeds, or saffron.
Chorba: the Tunisian soup
Both lunch and dinner are traditionally opened by a chorba, which means "soup." There are many versions of chorba, of course, and each family adds its own secret ingredient. Usually soup here contains small pasta or barleycorns and is made with lamb or chicken, although in the region of Sfax, a town on the coastline, the traditional chorba contains fish and spices. One popular variant, chorba frik, is named after green wheat, meaning the grain has been picked at an early stage.
Couscous: the undisputed star of Maghrebin cuisine
Berbers introduced couscous to Tunisia. It can be made in a hundred different ways, although Tunisia differentiates itself from the popular lamb-and-vegetable version that's widespread throughout northern Africa, because here couscous is also served with fish. Undoubtedly the most iconic food in northern Africa, couscous is somehow an element of synthesis between cultures, and a versatile dish that can be turned into a main course or a dessert. In Tunisia, couscous is enriched with spicy harissa.
Courtesy of Rusty Clark/Flickr
Brik: the half moon with a soft heart
The classical brik is a thin, deep-fried half-moon-shaped pastry stuffed with an egg. The stuffing is skillfully cooked so that the white of the egg congeals while the yolk stays liquid. Often other ingredients are added to this traditional stuffing, such as capers, onions, tuna, parsley, anchovies, or ubiquitous harissa; while the sweet versions are made with almond paste or sesame seeds. It is eaten with hands, after being sprinkled with lemon juice.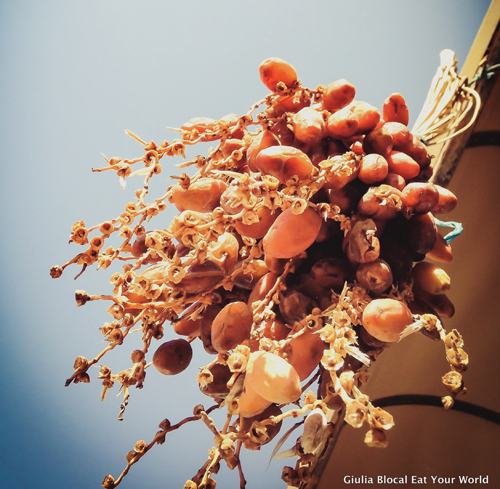 Dates: the pride of the Tunisian kitchen
This sweet fruit is the protagonist of Tunisian cuisine. Date palms represent 50 percent of all cultivations in Tunisia, and more than half of Tunisian dates are exported. There are more than 100 species of dates, and every part of the palm, from the trunk to the leaves, is used; until not long ago, inhabitants of the Sahara Desert depended exclusively on this plant. A staple food of the Middle East for thousands of years, dates are eaten out-of-hand or used as the main ingredient in many sweet recipes, such as the makroud: a deep-fried pastry made with semolina and filled with date paste, traditionally served in Kairouan, in central Tunisia.

About the author: Giulia Blocal blogs about unconventional destinations, offbeat spots, street art, outskirts, and urban landscapes at www.blocal-travel.com. She lives in Rome, but her heart belongs to the Balkan countries. Follow her on Twitter @Blocal_.