One can get well-acquainted with the Tibetan (and Nepali) momo in Jackson Heights, Queens. It's traveled a long road to get here.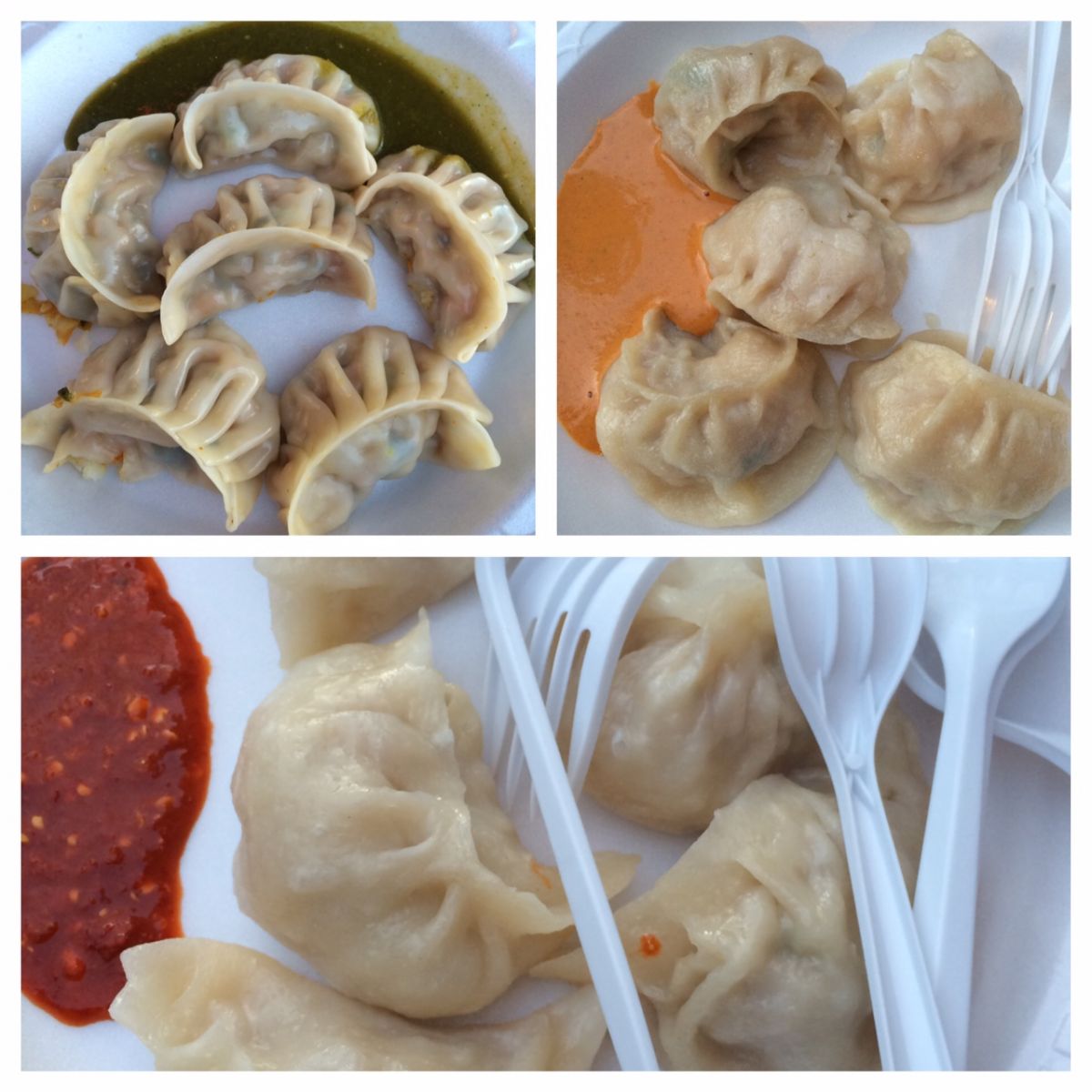 "Local food" is the name of the game here at Eat Your World. But what is local food? Sure, we define it every which way on our FAQ page, some of it being quite obvious: native dishes, locally produced foods. It's the gray area surrounding our definition of "traditional," however, that always keeps things interesting:
If not actually invented there, it is traditional to that place (i.e., historically eaten there, perhaps because the place was settled by immigrant group A two decades ago, or because a dish has long been served by a local institution so as to become a part of the area's culinary landscape).
For this reason, we count Middle Eastern food as "local" to Detroit and consider Ethiopian cuisine quintessential in Washington, D.C. And if we were to take the same reasoning to the hyperlocal level and consider Jackson Heights, the super diverse Queens neighborhood we've called home since 2008, we'd be hard-pressed not to place the Tibetan momo at the top of our local-foods list.
How did this happen? And, wait—
What's a Momo, Anyway?
Momos are, simply, thick-skinned Tibetan dumplings, shaped into crescents or knotted into purses and filled with seasoned mixtures of beef, chicken, or vegetables (in Tibet and Nepal, yak and water buffalo, respectively, are more common). A special-occasion food in Tibet, where wheat is scarce, they are humble things, but also very easy to love—particularly the juicy flavorful ones.
As with many dumplings, there's clearly a Chinese influence, but these are proudly Tibetan. Thanks to the Tibetan refugee diaspora, momos have spread to Nepal—which has adopted the momo as its own (our nonscientific observation is that Nepali versions are thinner-skinned and tend to involve a few more spices)—as well as to India. I recall their popularity in New Delhi when we last visited there.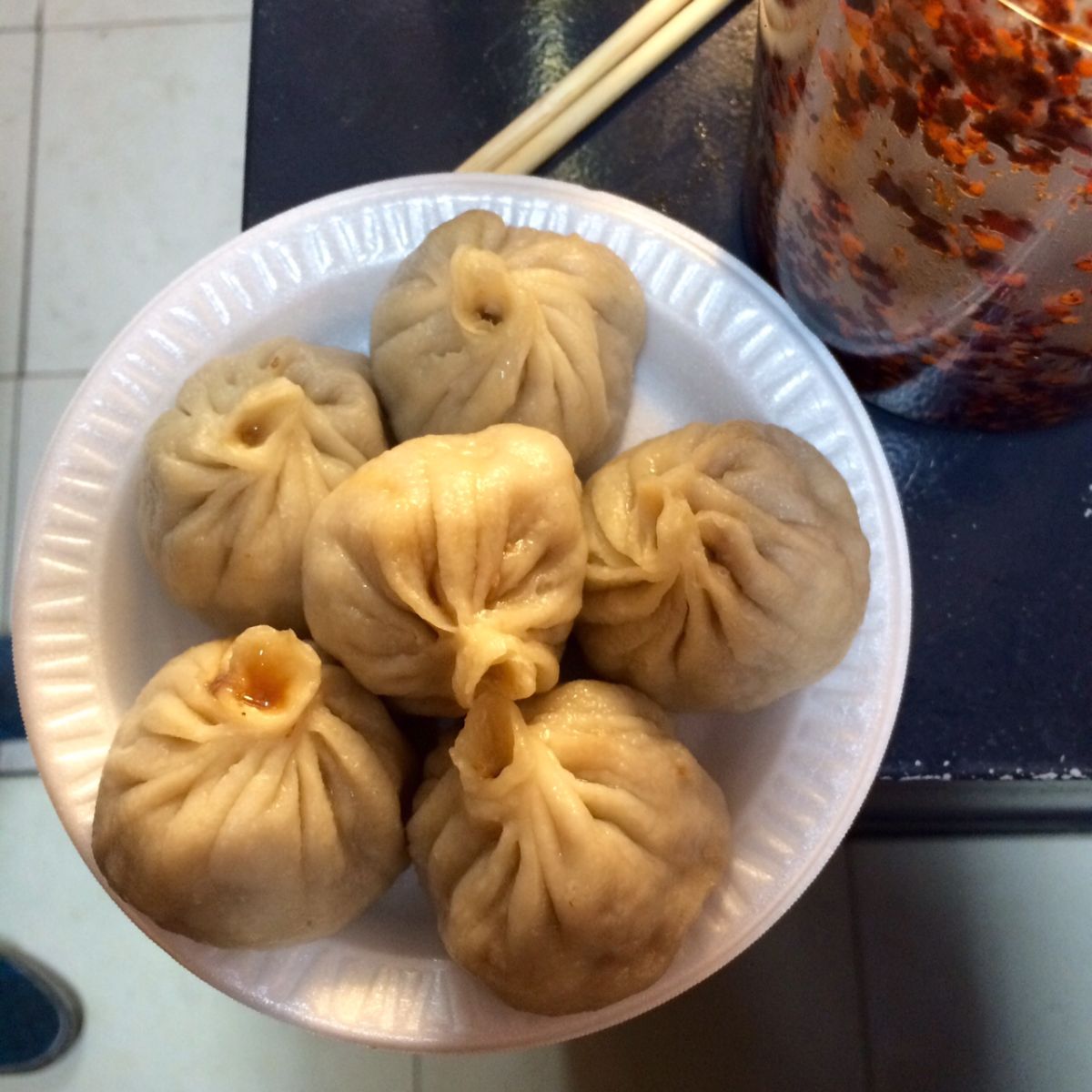 Momos from Lhasa Fast Food in Jackson Heights
The dumpling itself is only half the equation though: No momo is complete without some homemade hot sauce alongside it. And some of it is very hot. Generally some variation of what's called sepen in Tibet, it can be paste-like or smooth, bright red and chile-strewn, sometimes tingling with Szechuan peppercorns. Nepali restaurants tend to offer more variety, including my own personal favorite: a subtly spicy orange-hued sauce, typically made with sesame seeds or peanuts, that goes down much easier than the deep-red fiery stuff also offered. But every place is a little different.
A Growing Himalayan Community
New York City is home to some 8,000 Tibetans, the largest community in the U.S.—a mix of refugees, asylum seekers, Tibetan-Americans, and American-born Tibetans. The floodgates opened in the 1990s with the passage of the Immigration Act of 1990, which granted 1,000 immigrant visas to displaced Tibetans living in India and Nepal. Many of them settled in New York, specifically in Queens, and over time their families joined them.
Jackson Heights and the neighborhoods around it became a Tibetan hot spot. (Jackson Heights, it should be noted, has also historically been a hot spot for Colombians and then Indians; around the same time as the Tibetans, Nepalis flocked here, too.) And thus, the neighborhood known as Little Colombia and Little India has become more and more recognized as Himalayan Heights.
Which brings us back to the momo. With the immigrants have come a slew of restaurants and food trucks; a new one appears every few months, it seems. More than 20 of them, Tibetan and Nepali both, now serve momos, and given the different fillings and seasonings and hot sauces, every momo is a bit snowflake-like in its uniqueness. A few years ago it occurred to a food-loving local resident, Jeff Orlick, that perhaps it'd be fun to taste them all. The Momo Crawl was born.

The map
Crawling for Momos, and More
What started as an event for 30 of Jeff's friends became, in the span of a few short years, a self-guided tour for hundreds of people from across the city, and beyond. Along the way, it's picked up a little more meaning, and the accessible momo has morphed into the vehicle through which more eaters can be introduced to Tibetan food. "It became something about community and unity for the neighborhood," Orlick, now a Queens-based cultural ambassador of sorts, tells us, as well as "a defense of small business." A win for everybody.
Last week marked the 4th Annual Momo Crawl, with 23 participating vendors, $1 momos, and more than a thousand estimated crawlers using Jeff's photocopied map to get around. There were momo tattoos and a custom-made Momo Trophy awarded to the winner, the Amdo Kitchen food truck, for its righteously juicy chicken and beef momos.
We joined in a little late (blame the napping toddler, who most definitely wanted to participate) and made it to eight of the vendors, trying to hit up the few we hadn't already tried on our own. Like Bhanchha Ghar, which makes the most (pleasantly) tomato-y dipping sauce we've ever seen paired with momos, and Hamro Bhim, where the veggie momos were served with a pool of dark green cilantro sauce. We couldn't resist grabbing some of our own favorite standbys too, like Lali Guras' gingery chicken specimens and Lhasa Fast Food's soupy beef dumplings.

The scene inside Lhasa Fast Food
We missed the actual voting in the outdoor plaza—a very scientific who-gets-the-most-cheers affair—because we were too damn busy chowing down last-minute momos. But as I looked around at the boisterous crowd milling about afterward, the smiling vendors, the satiated crawlers putting their cameras away, it struck me what this day really was, and what the momo has perhaps come to represent here: a celebration of diversity, of immigrant-owned businesses and cross-cultural curiosity, things we are lucky to have in spades in this wonderful polyglot community we call home. Let's remember that many of the Tibetans in Jackson Heights had been refugees, or the family members of refugees. Just about 24 hours after the terror attacks in Paris—and days before the resultant wave of xenophobia that swept our nation—we didn't yet realize how poignant this was.
It is a lot of weight for a dumpling, however thick-skinned, to carry. But then it's traveled a long way to get here.

Our mini momo eater

Post-momo crawl seemed a good time to get the littlest one's passport picture taken…