Finding local oysters in Sierra Leone.
After a full day village-hopping along the Freetown Peninsula's beautiful coastline, in Sierra Leone, we hit our last stop, Bureh beach. We didn't plan on saving the best for last; it just happened. On this idyllic stretch of palm tree-studded sand—with a river flowing directly through it, emptying into the sea—not another soul was in sight. Laura, Mark, and I jumped into the warm waves and washed off the dirt and sweat from the day's journey. It was just us three; our guide for the day, Daniel; and a Bureh local named Tom, who found us within seconds of our arrival.
Tom, clearly the town proprietor of goods of all kind, shot off a verbal menu of local fish, oysters, art, and illegal substances before we even had a chance to breathe. (Tom's also one of the guys behind the new surf school the community in Bureh is building.) To silence the bombardment, we agreed to the fresh oysters, which Tom had personally dived for, and off he went to get them. After a swim that rivals one of my finest ever, we indulged in the salty, delicious oysters, shucked on the spot, and promised one another we'd be back the following afternoon, as it would be our last night on the peninsula. It was just that good. To no one's surprise, Tom overheard and said he'd be waiting for us.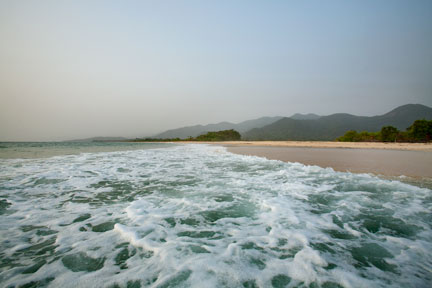 And so the following afternoon, as the sun dropped steadily toward the horizon, the three of us hiked the two miles or so on deserted, jungle-backed, sandy beach from John Obey (where we were staying at Tribewanted) to Bureh. Just as we remembered, the water was spectacular, glowing in the soft pink sunlight. While swimming we were spotted by some locals from afar, and right on cue, running down from the village, Tom appeared, waving excitedly.
From a distance, we watched him strip down to his shorts, swim across the river, climb up on shore, and dive into the ocean. He reached us within minutes, and was clearly someone who'd known these waters from birth. Would we like more oysters, fresh fish, a tent on the beach for the night? We settled on more oysters and, still in the ocean, watched Tom swim all the way back to land and hike back up the hill to town.
He returned within 15 minutes, the oysters in a bowl and a knife in his hand. Once again, he dove into the water, swimming to the sandy spot between river and sea where Laura sat on the beach. Dripping wet, with a genuine smile and hardly a lost breath, Tom got to work, shucking the 14 large bivalves with unflinching ease and producing a few small limes from his short pockets. By the time Mark and I got out of the waves, Laura was already slurping down oysters.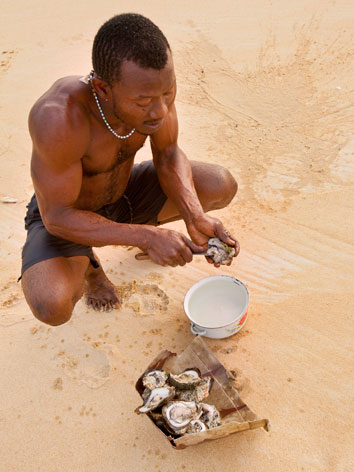 It being our second visit, Tom—now "Tommy" to us—gave an extra-fair price on these oysters, charging us just Le25,000, or about US$5.60. We paid him extra. Bellies full, we started the long hike back in the fading light.
Surely none of us will ever forget the legend that is Tommy the oyster diver, deliverer, and preparer—a man with astonishing persistence and dedication who desired to make his beach the one you'd want to hike to again and again. He succeeded.
For more on local seafood and other foods typical of Sierra Leonean cuisine, see our full Sierra Leone food section.