Our lucky contributor goes behind-the-scenes of barbacoa making in Mexico City.
All photos by Lydia Carey except where indicated.
In every region of Mexico, you will find barbacoa steaming on streetside stands, taking center stage at family gatherings, and being sold by the kilo to hungry market goers. Barbacoa is Mexico's Sunday brunch, its method is as old as time immemorial, and its recipes continue to evolve at the hands of each barbacoa master, who adds his or her special touch to one of the country's most quintessential dishes.
The origin of the word barbacoa is most likely from the West Indies, where it describes a type of grill for cooking meat. In Mexico it refers to goat or lamb that is wrapped in agave or banana leaves and slow-cooked in an earthen oven—an ancient cooking method in this part of the world. Long before the Spanish introduced grazing animals to the Americas, the Maya people who inhabited the land from southern Mexico to parts of present-day Honduras were burying wild game in pits, or pibs, under the ground (see cochinita pibil, in Coastal Yucatán). The barbacoa we know today is the delicious result of this marriage of indigenous and colonial cultures.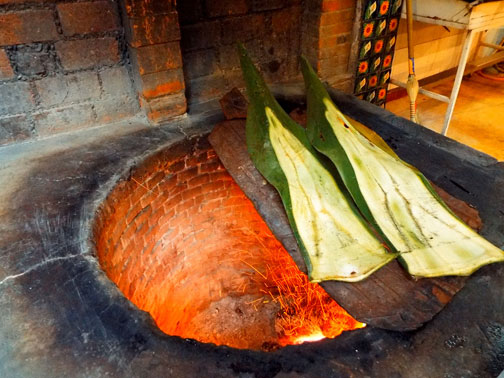 Warming the agave leaves for barbacoa
Each barbacoa master has his or her secrets: the type of aromatic leaves used to infuse the meat as it cooks, the spices added to the consomé (broth typically served alongside the meat), the kind of wood used in the oven—each adds a particular flavor note to the finished product. Family-owned Barbacoa Renatos, in the southern Mexico City neighborhood of Azcapotzalco, has been in the barbacoa business for more than 50 years, specializing in Hidalgo-style barbacoa (pit-roasted mutton, that is); it's been dubbed the city's best barbacoa by its fans. The family started with a simple streetside stand and now operates a bustling restaurant on the bottom floor of their home that's open only on the weekends. Seeking an up-close look at this iconic dish, I tagged along this past June with Renatos' master barbacoa makers to witness the process from start to finish. It was a four-day affair.
Salsa Shop
Barbacoa, like many dishes, begins at the market. On day one, Don Raul, owner of Barbacoa Renatos, and I slipped into the still-sleeping city at 6am to shop at the Mercado Merced. This market is D.F.'s second-largest bulk market; purveyors of all kinds come here to purchase good for their restaurants, tiny neighborhood shops, and streetside stands.
Mexico City markets are another shadow of the country's pre-Hispanic past: In the 1950s, the city's sprawling outdoor tianguis—markets where indigenous farmers sold and traded—were replaced by brick-and-mortar structures (you can still find small tianguis scattered across the city's various colonias, or neighborhoods). Don Raul has been coming to this particular market for more than 50 years—first with his mother; now with his son, Bruno—to buy supplies for the family's barbacoa business.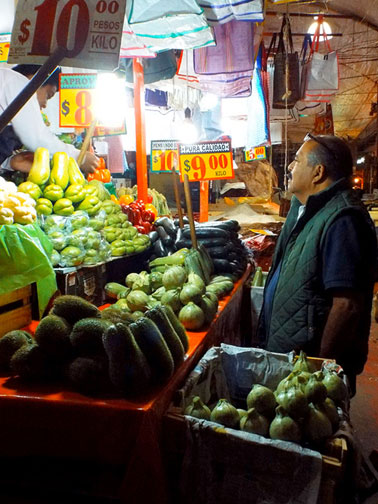 The majority of what we purchased that day would go into the salsas—Roma tomatoes, several handfuls of cilantro, 20 kilos of onions, a kilo of hot peppers. Also, avocados—which would be ripe in exactly two days, no more, no less. In a few hours, the shopping spree was finished, and by 10am I was back in my apartment watching the rest of the city start to wake up.
Local Meat + Agave Leaf
The next day I learned what a rastro is. Somewhere between a butcher shop and a slaughterhouse, rastros attract buyers as early as 5am for their pick of the freshest meat as it's unloaded off covered pickup trucks. Imported meat used to be king here, with most of it coming from as far away as New Zealand, but the dropping peso (which raised the price of imports) along with increased interest and stricter hygiene standards have brought about a boom in Mexican lamb and goat farmers. A husband-and-wife team from the state of Mexico are delivering meat this morning.
Carcasses hang in a room that doubles as a giant meat cooler. The owner of the slaughterhouse hopes to sell quickly, as the meat is so fresh that in a few hours it will lose several kilos of its weight by draining blood and bodily fluids.
Our shopping list for the day includes three young male sheep, a few sets of hearts and lungs for grinding into pancita—a kind of organ-meat sausage—and a sheep's stomach in which to stuff the pancita. When we get the meat back to the restaurant, we will spend more than an hour meticulously cleaning and shredding the organs we've purchased, and cleaning and salting the cuts of meat that will become barbacoa.
Agave leaves
The meat is stored overnight, and in the morning wrapped in warmed agave leaves, along with a few select herbs. These leaves have also been brought in from the state of Mexico. Agave-leaf sellers are careful to select plants that are mature enough (about 10 years old) to have their leaves cut from them, and always cut from the outside, preserving the plant and its "heart," whose sap is used for another ancient practice—making pulque.
Prepping the meat
The Slow-Cook
Once tightly wrapped the following day, the meat is placed inside the restaurant's below-ground oven. Unlike traditional earthen pibs, this oven—more than four feet deep—is made from brick and mortar, and sits in the restaurant's central patio. Bruno sets the oven ablaze in the wee hours of the morning and tends it until it's hot enough to begin cooking. He places a giant metal pan snugly into the oven's round opening, and then a metal cage containing the agave-wrapped meat on top of that.
Into the bottom pan is thrown a handful of garbanzo beans, a sachet of fresh herbs, grains of rice, and water. The pan will catch the meat's juices throughout the 22-hour cooking process and collect them for a deliciously smoky consomé, the broth that's eaten alongside the meat and tortillas. The oven is covered with a metal lid, then wet newspapers, and then fresh earth, and left to smolder until the next morning.
Photo by Anais Martínez
When the barbacoa finally emerges from the underground oven on Sunday morning, it's smooth as silk and falling off the bone. The strong lamb flavor has been mellowed by the avocado leaves it's been steamed with, but not eliminated altogether. I'm served sopes (thick, open-faced tortillas) topped with barbacoa, cheese, and avocado; salsa borracha ("drunk salsa," made with chiles and beer); the smoky consomé; and finally, a handful of unadorned meat fresh from the oven—and some warm, hand-pressed tortillas to eat with it. It's heavenly.
While this type of preparation is typical to central Mexico, you will find different variations all over the country—in parts of Chiapas, barbacoa is cooked with a spiced broth; in Coahuila, it's made with guajillo chiles and sun-dried tomatoes; in Guerrero, you can find chicken barbacoa. For some of the best barbacoa in Mexico City, though, be sure to check out the following:
Barbacoa Renatos, Jacarandas 443, Colonia Pasteros, Azcapotzalco, map
La Hidalguense, Campeche 155, Colonia Roma Sur, map
Barbacoa de Santiago, Km 152.1 Mexico-Queretaro highway, Palmillas, Queretaro, map
About the author: Lydia Carey is a freelance writer and translator in her adoptive hometown, Mexico City. You can find her online at her blog, MexicoCityStreets.com.