All photos courtesy of Javier Ornelas, except where indicated.
"Bubbles eventually pop, and we, as a community, have to figure out how to sustain a middle class while maintaining Tulum as a vibrant tourist destination."—Javier Ornelas, of Hotel Ginger in Tulum
Mexico's food culture is increasingly global.
As the influx of immigrants from all over the world continues to swell, notions about what is "authentic" Mexican food evolve beyond the "tacos and tequila" stereotype.
This is especially true of Tulum, an idyllic, tropical paradise bordered by lush jungle and the Caribbean Sea. Here, you are just as likely to find a German bakery, Italian and Thai restaurants, and Japanese sushi—prepared with techniques passed down from generation to generation—as easily as cochinita pibil or chile rellenos.
Tulum (photo by Eat Your World)
Globalization brings the challenges and opportunities of cooking, running a successful business, and creating unforgettable gastronomic experiences for diverse visitors while staying true to one's cultural and culinary roots.
Javier Ornelas, a chef, caterer, and owner of Hotel Ginger in Tulum, came to the area 13 years ago from his native Mexico City. Steeped in Tulum's food culture, he uses the creative tension between international influence and local ingredients to put a modern spin on traditional Mexican dishes.
For example, he likes to make duck mole with fresh plantains. He uses sous vide to precisely cook pork with a crusted edge and a medium-rare center. A favorite dessert (created for his wife) is a traditional corn cake (pan de elote) with lavender baked in, served with whipped coconut cream.
Ornelas caught our attention among the array of celebrity and talented chefs in Tulum because in many ways he represents Mexico's past, present, and future.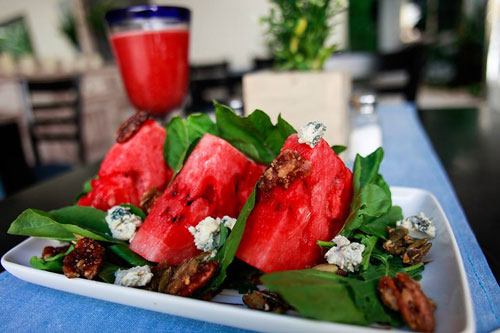 Ornelas' watermelon salad with goat cheese, from the Ginger Hotel
What is your job title?
I'm a chef/hotelero [hotel owner]. I am also a catering chef.
What led you to become a chef?
When I was a kid, I would get up very early on the weekends, before my parents woke up, because I knew I had time to make whatever I wanted. So I would experiment in the kitchen, making different kinds of pancakes—my favorite was chocolate. And every time my mom would cook I'd be her sous chef and learn from helping her. I always loved experimenting in the kitchen.
What's the best part of your job?
I left the day-to-day restaurant business to do catering because I could spend more time with my growing family. When I left it, my wife and I had two kids and now we have three, so it's great to be able to spend every day with them. When I cater weddings, I am part of a huge, important event in a couple's life—one of the happiest days of their life—and I love to deliver delicious food for them and their guests.
Ornelas' fish ceviche at the Ginger Hotel.
How does your food speak to the culinary landscape of Tulum?
Tulum has become a place of high expectations. Ninety percent of the people who come to weddings here have never been to Mexico. I love to show them the best parts of Mexican food and culture, so that they come away with a positive impression of my country and its people.
How do you balance regional Mexican culinary traditions with the global influence of Tulum?
I try to do the best we can with what we have. It's a small town and not much grows here, but there are traditions from all over the country that I've incorporated into my dishes. I've had couples who come here to get married, and the bride and groom are from different countries. I try to give them something that they recognize and feel comfortable with, along with something new from my country that I can introduce them to.
Name some local dishes that a visitor should not miss while in Tulum.
Cochinita pibil from Don Honorio. Tacos de canasta from Acá Tacos, El Canastón or la Hija de Acá Tacos. Ceviche and the fried whole locally caught fish from El Camello.
Cochinita pibil tacos in Tulum (photo by Eat Your World)
What is your favorite place to eat in Tulum, other than your own restaurant?
I have eaten at Honorio at least once a week since I came to Tulum 13 years ago. For date night in town with my wife, we love Cetli and Claudia's moles. La Chula is fantastic for the fresh seafood and tostadas. On the beach, we love Arca with chef José Luis and his amazing dishes. When we spend the day on the beach, we go to Coco Tulum; the kids have wood-fired pizzas and we enjoy the aguachile and ceviche. [Disclaimer: Javier and his wife are two of Coco's owners.]
Eat Your World focuses a lot on a city's historic, traditional foods. What do you think is the future of food/drink in Tulum?
Tulum right now has a lot of growing pains, with extraordinary growth and a large divide between the entrepreneurs and the working class. As that divide begins to balance out, there will be, and already is, a demand for reasonably priced but high-quality food for the people who live and work here.
Bubbles eventually pop, and we, as a community, have to figure out how to sustain a middle class while maintaining Tulum as a vibrant tourist destination. There is something magical about Tulum and there always will be. We have to figure out who we are as a community and with the very talented chefs and entrepreneurs that we have here, and who love Tulum. That will be a journey I am very much looking forward to.
On EYW, we ask users to share short food memories related to travel, a favorite meal, growing up—anything. Can you share a brief food memory with our readers?
This past year my family went on a trip to Oaxaca, and we had an amazing time…"amazing" doesn't even begin to describe it. My wife and I ate at the best restaurants in the city almost every night. They had innovative tasting menus, great pairings, and fantastic service at every restaurant we went to. Tulum has the capability of doing that, with the right amount of time and effort. I look forward to being part of that.
About the author: Kerra L. Bolton is a freelance writer living in the Riviera Maya of Mexico.