Courtesy of Lew Chilre
"Forget the imported shrimp and foreign fish; now it's all about fresh, local, sustainable and even weird."—Lew Childre, Alabama oyster farmer, Shellbank Selects
For years, Gulf Shores and Orange Beach, Alabama, were secret havens for fresh seafood and beautiful beaches that only the locals frequented. But as the South's population grew, this beach location became a getaway for families from all over.
Restaurants are plentiful in Gulf Shores and Orange Beach, and many specialize in oysters. While many visitors enjoy dining on them, few are likely aware how much they benefit the waters. Statistics say that one oyster filters 50 gallons of water each day. We talked with a Gulf Shores oyster farmer, Lew Childre of Shellbank Selects, to get the inside scoop.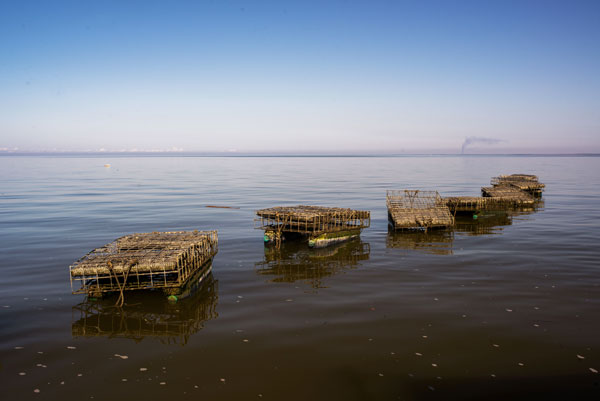 All photos courtesy of Malika Bowling except where indicated.
Tell us about your job.
At Shellbank Selects Oyster Farm, I am part owner/head of marketing/accountant/customer relations/salesman, as well as the weak mind and strong back, every Saturday and Sunday.
How did you get into oyster farming?
I grew up on the water working both in the charter and commercial fishing community. Quite simply, I missed working on the water, and the love for the fishing community of Bon Secour, Alabama (15 minutes west of Gulf Shores). Since I was a child, I watched the community I grew up in slip away and transition as families left the water to find careers elsewhere, losing a lot of that love and community feel. Plus, I wanted to spend time with my best friend, Jarret, who stayed in the fishing industry. Oyster farming for us really started as an afterthought … like, we'll see if we can make it sorta thing, and it just kind of snowballed from there.
What's the best part of your job?
On the farm, it is the boat ride to and from the farm. It's the best 20 minutes of my week. My mind is free, and my thoughts are clear. For that 20 minutes I am truly free.
How do your oysters speak to the culinary landscape of Gulf Shores?
ROOTS!! Long before the beach was the place to be, "the Island" communities were built on the citrus industries of Orange Beach and the fishing and oyster communities surrounding Oyster Bay and the Bon Secour River. Long before Apalachicola [Florida] was known as the best oysters of the Gulf region, Bon Secour was known as the best. This held for centuries until changes to the bay ecology decimated the oyster beds in the 1950s and 1960s. Tourism then was considered folks from Mobile at the furthest, coming to stay a week to catch mullet or shrimp or take a fishing trip on one of the old wooden charter boats. I, for one, want to go back in part to the days of old.
Name some local dishes that a visitor should not miss while on the Gulf Coast.
Well, obviously, visitors should not miss out on the chance to eat Shellbank Selects oysters! They are served at the Royal Oyster in Gulf Shores and SALT at San Roc Cay in Orange Beach. I tell people all the time they are worth their weight in gold and will whet the appetite of any oyster lover visiting the island. My personal favorite dishes are truly local, though, and may be hard to find—fresh fried mullet or cobia backbone or a trigger fish throat. I know, I know … it's not sexy or elegant, but being from the commercial end of the spectrum, we got to eat what the other folks threw away.
What is your favorite place to eat in Gulf Shores/Orange Beach?
I grew up eating at the old Wolf Bay Lodge, before it burned several years ago. My grandparents loved to eat there, and the smell was always amazing. The stuffed flounder and stuffed shrimp were legendary, and now Wolf Bay has two locations—one at Zeke's Marina in Orange Beach and one just north of Gulf Shores in Foley. But nowadays I chase the unique, the different, like the Royal Oyster in Gulf Shores and Anchor Bar in Orange Beach, both fun changes to the food scene with exciting small menus done right. And places like SALT at San Roc Cay and Fisher's at Orange Beach Marina seek to explore the different tastes of the unknown and cool.
What do you think is the future of food and drink in Gulf Shores?
I love where things are trending of late. Forget the imported shrimp and foreign fish; now it's all about fresh, local, sustainable and even weird. I love the odd foods, be it oyster drill snails or lionfish, or even underutilized species such as jack crevalle, ladyfish, and shark. The future is local, the future is aquaculture, and it is an exciting time if you are a foodie living on, or coming to, our island.
On EYW, we ask users to share short food memories related to travel, a favorite meal, growing up—anything. Can you share a brief food memory with our readers?
I love to eat and try new things, and one of the best was eating fresh sea scallops we caught while diving in the Gulf of Mexico. But my favorite was when my father and I would go shrimping out of our camp in Terry Cove (located in Orange Beach). The remains of the tarp cabana can still be seen from Orange Beach Marina. We would slip out about an hour before dark, make three or four drags and have a shrimp boil. We would invite all the neighbors, sometimes having 20 or more people around this old wooden table that we would just pour the shrimp over. Many of those people have since passed away, but the smiles and laughter of those great times will live with me forever.
Interview has been edited for length and clarity.
About the author: Malika Bowling is a freelance food and travel writer based in Atlanta and Editor at Roamilicious.com. She's the author of Culinary Atlanta: Guide to the Best Restaurants, Markets, Breweries and More! She has been featured on HGTV and the Huffington Post and has been a contributing writer to USA Today. Malika has also served as a judge at various culinary competitions and food festivals. Follow her on Instagram and Twitter @Roamilicious.