All photos courtesy of Trinchero Napa Valley
"[At a family-owned winery], you can think with your heart—it's not about meeting a bottom line." –Mario Monticelli, Napa Valley winemaker
If you're like us, you've always wondered 1) what's it like to live and work in the gorgeous Napa Valley, and 2) what's it like to be the person responsible for creating some of the fabulous wine that comes out of there. We recently had the opportunity to learn both from Mario Monticelli of Trinchero Napa Valley Winery, a beautiful, state-of-the-art winery (and one of the wildly successful Trinchero Family Estates' brands) whose family legacy stretches back to 1948, when two Italian immigrants purchased an abandoned winery to build their own.
What is your job title?
Trinchero Napa Valley winemaker.
What led you to your line of work?
My father came over from Italy at a young age, and always wanted to be a farmer. I grew up driving tractors and picking grapes. I'm fourth generation—my grandfather was a winemaker, my great-grandfather was a winemaker. I just always loved wine and it was a part of the family—that's really why I became a winemaker. There was a moment when I was 14 that was like an epiphany, enjoying a delicious, oaky, buttery chardonnay at Easter with my family. I knew then that I wanted to go to UC Davis and become a winemaker.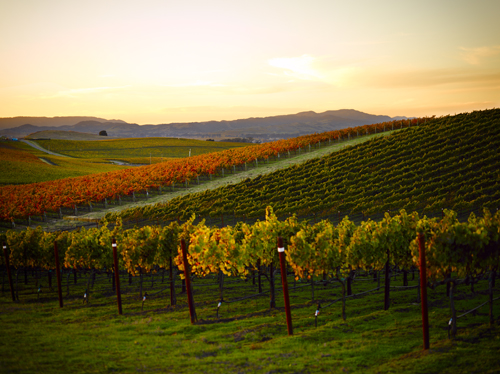 What's an average work day like for you?
It's very seasonal. During harvest it's very different. An average work day during harvest I generally spend mornings in the vineyard and afternoons in the cellar. Right now? I'm tasting wines every single day, getting samples from all the tanks, tracking fermentation and deciding on barrels for the wines.
What's the best part of your job?
I love my job, it's all the best part! My favorite moment of the winemaking process is enjoying the fruits of my labor with friends and family…creating wine that makes people happy.

"Handcrafted small-lot wines from estate-grown fruit"—this is Trinchero's philosophy, and it sounds great! But what do those buzzwords mean for the average wine consumer?
I like to focus on "estate-grown" as the key term. On the label it's a legal term vs. other words that you don't have to prove. Estate-grown means you own that fruit, own your own winery and your wine was crushed, fermented, and aged at that winery. "Handcrafted" and "small lot," on the other hand, are not legal terms. There are many buzzwords on labels that mean nothing from a legal perspective, like "old vine" and "unfiltered"—there are no filtration police checking that your wine isn't filtered. That's why I like to focus on estate-grown. Handcrafted and small-lot at Trinchero Napa Valley means we pick small lots (our smallest is less than half a ton) at optimum ripeness. I have complete control over viticulture decisions—when and how we pick each vineyard block. Finally, we triple-sort so only the best berries make it into the wine.
What's the significance of working for a family-owned winery?
None of this is possible if we weren't family-owned. You can think with your heart—it's not about meeting a bottom line. We're about quality, family, legacy…as opposed to being corporate, and just trying to make shareholders happy.
On Eat Your World, we discuss what particular foods reveal about the culinary landscape of the places in which they are found. In the wine world, we talk about terroir, of course. Can you give an example of how a Trinchero wine communicates the Napa Valley's terroir?
Our wines are all terroir-driven, showcasing mountain and valley floor appellations. All of our wines are estate-grown and most are vineyard-designated, meaning 95 percent of the fruit comes from a particular vineyard. Soil gives nuance to the wine, so all Trinchero Napa Valley wines communicate a very specific terroir. Each vineyard site impacts the aromas and flavors in every glass of wine.

What's your favorite place to eat (and drink) in Napa Valley?
The places that have the friendliest workers and the best bartenders! Honestly, there are so many places that I visit regularly, I couldn't decide how to endorse one place over the other. Napa has so many options. The best pasta, the best chicken liver crostini, the best burgers…you name it, Napa has it.
On Eat Your World, we ask users to share short food memories related to travel, a favorite meal, growing up—anything. Can you share a brief food memory with our readers?
I was studying and working at Antinori in Italy, working seven days a week for three months. It was a Sunday and the cellar manager asked if I could go pick olives. So I got to his house—he had this beautiful plot of land—he showed me his chicken coop, his sheep, and rabbits. He asked, "Which one do you like?" I was a little shocked, but he grabbed a rabbit and that was the one they cooked up for lunch. So there I was, picking olives all day long, and seeing where the rabbit, eggs, and lamb came from. They stewed the rabbit for three hours, and it was beautiful.