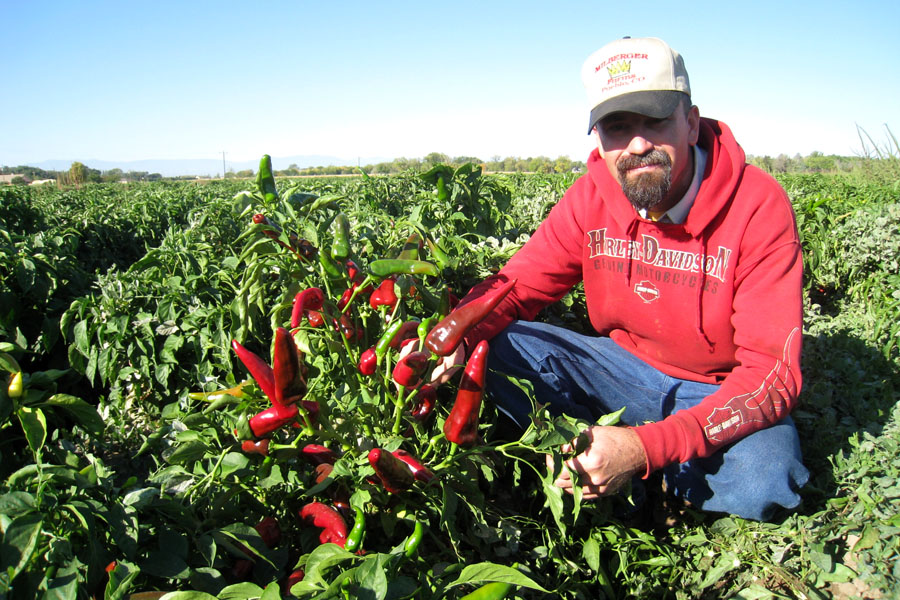 "I like to irrigate and cultivate. I like to farm. It's like painting a picture: With a swipe of a brush you change the whole picture." –Shane Milberger, owner of Milberger Farms, a chile pepper and vegetable farm with a roadside deli and produce stand
Tell us about your job.
I have 300 acres; of that, 40 acres are chile. We grow mild Anaheim, hot Anaheim, extra hot, Fresno, and the Mira Sol, also known as the Pueblo chile pepper.
This time of year [September] we're packing chile, we're harvesting. So I start the mornings off by going out to the shed and making sure everything's ready to go, the guys are ready to pack, we go over what we're packing and check what supplies they need. The chile roaster guys are out there roasting, I'm taking orders so I can call the field guys and tell them what they can go harvest, calling my buyers to see what I can sell today, taking care of all the issues on the farm and on my [roadside] stand, among several other things. It's a very big managerial job right now.
What led you to your current position?
My dad sort of pushed me into it. It was my sophomore year in high school, and he didn't want me out running around with my friends, so he got me into farming. My grandfather farmed for several people out here, and we had a large garden and animals, so I'd been around agriculture since I was three.
Three years ago my son and wife wanted to do a roadside stand, so we took over this building here. The first year it was only produce, then last year my sister got involved. She wanted to do the deli and food service. We don't do a lot of advertising, but we're doing well.
What's your favorite part of the job?
My favorite part is when I can go out and get a little solitude. I like to irrigate and cultivate. I like to farm. Whatever you do to the ground when you till it, it refreshes it. It's like painting a picture. With a swipe of a brush you change the whole picture. You drag a disc over the ground; it stirs the ground up and brings up fresh soil and changes it. It gives you a little self-pride when you can look at a field and plow it, and you smell the fresh soil—that's why we do it.
How do chiles fit into the culinary landscape of Pueblo?
Everything in Pueblo has something to do with chile. You can go to the knickknack shops down on Union Street, and every one of them will have something to do with chile, be it a chile apron, a chile shirt, a chile necklace, chile pens. Every restaurant in town serves chile in some way.
In our store here we make goat cheese with chiles; we have breads—more than half of our sandwiches in the deli have chile on them. Chile is a very large part of Pueblo. And of course, there's the annual Chile & Frijoles Festival.
We had some delicious chile dishes there—ice cream with pepper fudge sauce, a pepper wrap with the Pueblo chile. What's your favorite way to eat chiles?
With olive oil and garlic, a little salt and pepper, and a fresh piece of bread.
Is there any other food you'd recommend a visitor try while in Pueblo?
Another Pueblo food is the slopper [a burger covered with chili verde, a green chile stew], but of course that's made with green chile. There's also the grinder, an Italian sausage sandwich.
What do you think is the future of food and drink for Pueblo?
More chile! I do some processing and sell to restaurants, and my business is growing. They're putting the chile in salsas and ketchups, and they're becoming more popular versus the more well-known Hatch chiles from New Mexico.
What's the difference between your chiles and New Mexico's Hatch chiles?
It's like night and day. They have a lot of hot days down there. The peppers don't beef up as much as they do here, because we have the cool nights. Hatch is well known for what they do because they are so big down there. The average Hatch farmer has probably 400 acres of just chile. The average farmer up here doesn't have 400 acres.
On EYW, we ask members to share short food memories related to travel, a favorite meal, growing up–anything. Can you share a brief food memory with our readers?
My favorite food memory is something simple that I grew up with: fried potato, pinto beans, and chili [verde]. In fact, we had it two nights ago for supper. We throw it all together: the beans on top of the potatoes, then the chili on top of that—and maybe a little cheese.
For more on these distinct Colorado chiles, see Origins: Pueblo Chile.